Why trying to be all things to all people never works
Want to build your reach while becoming known as a trusted authority in your field? So that when your ideal client is looking for support you are THE choice vs just a choice for them? 
Then when it comes to your message and what you offer – don't try to be all things to all people. 
Because the broader your message is, the longer it'll take to build your reach OR be seen as a trusted authority.  If ever.  
Because your message will get lost in the noise.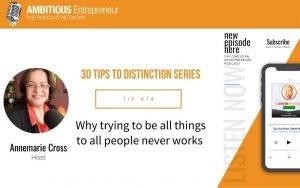 As I mentioned in Tip #12 to be irresistible you need to speak to an audience of one. 
When you do focus on that audience of ONE, each piece of content you share will speak into the challenges he/she faces, along with the desired outcomes he/she longs, as well as invaluable insights on HOW they can begin to achieve that. 
And, because you're consistently sharing that consistent message across multiple platforms it won't be long before your ideal client will instantly think of you when someone asks them "Who do you know that does [fill in the gap]." They'll recommend you. 
And, when they're ready to make an investment – they'll hire you. 
Because YOU are the person they instantly think of and couldn't imagine working with anyone else. 
For today's Action – have a look over the pieces of content you've been sharing over the last few months? Is there a consistent message and theme coming across in your content? Or do you need to refine it? 
YOUR NEXT STEP: 
Are you a coach or consultant who is struggling to stand out online? Do you feel unnoticed, unheard, invisible?  
Access my free Masterclass, on how to become Distinguishable, Uncopyable and Irresistible to your ideal client – even if you're in a crowded marketplace. 
Go to: www.IndustryThoughtleaderAcademy.com/DistinguishableMessage 
Post a review and share it!
If you learned something by tuning into this podcast, do not hesitate to write a review and share it with your friends. Help us help them grow their business and create positive impact. For more updates and episodes, visit the Ambitious Entrepreneur Show website. You can also subscribe through Apple Podcasts, Google Podcasts, Spotify, Stitcher, Email, RSS and more! 
You can also follow us through Facebook. Want to build a scalable business you are passionate about? Join The Influence Alliance – the Business Building Community for Change Makers. Want to launch your own Thought Leader Podcast? Access my 'Are You Ready to Launch Your Podcast' Quiz here, and have a chat with me. Have any questions? You can contact me through these platforms: 
To staying ambitious, Annemarie