Leveraging
LinkedIn
for Lead Generation
Welcome to another episode which is part of our special series specifically focusing on Lead Generation for your Coaching and Consulting business.  
Are you leveraging LinkedIn as part of your lead generation and is what you're doing working? 
Joining me today is Mary Henderson is an internationally recognised Personal Branding & Digital Business Specialist. 
She helps Service Based Business Owners, Coaches and Consultants systemise, digitalise and commercialise their knowledge, wisdom and skills into a scalable & profitable online business and brand so they become an authority in their niche or industry. 
Mary has 20+ years' experience building 7 & 8 figure businesses & building high-performance sales teams in the IT sector and 15 years delivering online solutions for large and small businesses. She has been featured in many publications and is regarded as a thought leader in the Digital sector. 
In particular LinkedIn.  
Welcome Mary.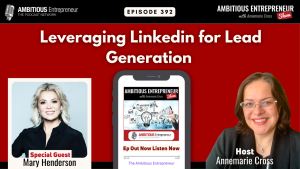 Here are three reasons why you should listen to the full episode: 
Why LinkedIn?

 

What are the components coaches and consultants need to have in place in order to leverage Linkedin successfully to generate leads?

 

How can we leverage LinkedIn to generate leads for our coaching and consulting businesses?

 
LISTEN NOW:
KEY TOPICS: 
Topic: Opt-ins and giveaways
Identify leads with specific interests or problems by offering valuable resources that capture their details.
Topic: Likes, comments, and DMs:
Don't solely rely on these metrics to gauge interest or needs.

Consistent nurturing and messaging are essential for converting leads into customers.
Topic: Cohesion in content
Lack of clear and cohesive messaging can lead to confusion and disinterest among your leads.
Topic: Challenges coaches face
Inconsistent messaging and unclear marketing strategies can hinder lead generation efforts for coaches.
Topic: Strategic approach on LinkedIn
A high-volume "spraying and praying" mindset is not effective for B2B social selling.

Instead, focus on building relationships, providing value, and support.
Topic: Human connection on LinkedIn
Building trust and rapport is crucial.

Avoid immediately jumping to selling your product and focus on networking and connecting genuinely.
Topic: The power of low resistance and patience
Following through on promises and providing value creates a positive impression, leading to positive feedback and potential leads.
POWERFUL QUOTES:
LinkedIn: "You've still got under a billion members on LinkedIn… only 3% of those 900 million members are creating content. So can you imagine the opportunity that is ripe on LinkedIn when it comes to creating content and also connecting with your target audience? Because I can guarantee you that your audience is 100% on LinkedIn."
— Mary Henderson 00:02:1600:03:25
LinkedIn Strategy: "Spraying and praying no longer works, actually doesn't work on any of the platforms, but LinkedIn in particular… we mustn't get seduced by that idea that a viral post is what I need to be seen and heard. Absolutely not. What we need is a very strategic and a deliberate approach in particularly on LinkedIn."
— Mary Henderson 00:04:0000:07:42
The Power of Lead Generation on LinkedIn: "What I know for sure is that today my post is going to generate about ten qualified leads. I know that for sure because I have a predictable system in place that's going to deliver exactly what I needed to deliver, irrespective of how many comments, likes, et cetera, I get on my post."
— Mary Henderson 00:08:4600:11:18
Content Strategy and Providing Value: "When I'm creating content, not only am I creating strategic content so that every step of the way, in other words, Monday to Friday, you're not going to see random content from Mary. It's going to be almost like I'm telling you micro stories every single day, and then I'm still going to post almost like an ad, but it's a post, and I consider that more like my retargeting."
— Mary Henderson 00:11:4200:18:18
Effective LinkedIn Outreach Strategy: "I'm not interested in selling anything to you. I just want to connect with you."
— Mary Henderson 00:19:0300:22:22
Creating Predictable Results: "The system is automatically in place. It's automatically activated. It delivers the results, predictable results, mind you, because the system works for me and there's no automation at all."
— Mary Henderson 00:23:0300:24:49
The Importance of Systems in Business: "Without a feedback loop, how do I make my business better, smarter, faster, et cetera? I cannot. So I need the data. I need the feedback loop in place, which is what systems give us."
— Mary Henderson 00:25:5600:28:33
Creating Qualified Leads: "The only thing I'm interested in is if you have requested my lead magnet, then you are a qualified lead."
— Mary Henderson 00:29:2800:30:44
The Power of Consistency: "We've got to stop following what everyone else is doing. We have to stop hacking, hacking, hacking. We have to stop looking at our competitors spending all day long on Insta, Facebook and LinkedIn and thinking, oh my God, maybe I should do that, maybe I should do that. You know what, you can do whatever you like, but this is how I do it. And there's no right and there's no wrong. The key is to be consistent and congruent."
— Mary Henderson 00:32:2100:35:46
Enjoy This Podcast?
If you enjoyed today's episode of the Ambitious Entrepreneur Podcast, then hit subscribe now! 
Post a review and share it! If you learned something by tuning into this podcast, do not hesitate to write a review and share it with your friends, so they can find out more about how to generate returns from a Google Ads account. 
For more updates and episodes, visit the Ambitious Entrepreneur Show website. You can also subscribe through Apple Podcasts, Google Podcasts, Spotify, Stitcher, Email, RSS, and more! 
You can also follow us through Facebook. 
Want to build a scalable business you are passionate about? Join The Influence Alliance – the Business Building Community for Change Makers. 
Want to launch your own Thought Leader Podcast? Access my 'Are You Ready to Launch Your Podcast' Quiz here and have a chat with me. 
Have any questions? You can contact me through these platforms: 
To staying ambitious,