How to remain successful at selling as a business owner or sales leader 
In today's ever-evolving business landscape, staying ahead of the competition requires a deep understanding of sales strategies, effective communication, and the ability to adapt to changing customer needs.
Meet Peter Strohkorb , the mastermind behind the groundbreaking buyer-focused sales funnel that can turn your sales success around in just a few weeks. Peter will share real-world examples and actionable tips that you can implement right away to transform your sales strategy and align it with the needs and expectations of today's buyers. Together, we'll dive into the core principles behind Peter's approach, examining how to identify and understand your target audience and create an optimized sales funnel that guides prospects through their buying journey.
So, whether you're a business owner, sales leader, or a sales professional looking to achieve remarkable results, this episode is a game-changer. Get ready to take notes and prepare to revolutionize your sales approach.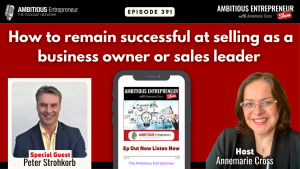 Here are three reasons why you should listen to the full episode: 
 Why selling has become harder.

 

 

 What business owners and sales leaders must do now to remain successful at selling. 

 

 

 Actionable techniques to take back to your business. 

 

 
LISTEN NOW:
WATCH NOW (and check out the Resources and Episode Highlights below):
RESOURCES: 
POWERFUL QUOTES:
The Importance of Engaging Your Audience: "If you want to reach a decision maker or even a member of a decision making committee, in large organizations, they have these committees that make a decision jointly because it defrays the risk and also the accountability, by the way. But if you want to reach out to them, then you absolutely need to engage them at their level in their language about their industry and about their business."

 
— Peter Strohkorb [00:07:13 → 00:08:57] 
Inbound vs Outbound Selling: "So we must differentiate between inbound selling and outbound selling… Inbound is when you make yourself visible online and in the right place at the right time to your ideal buyer and your ideal customer profile… Outbound, on the other hand, means that we have a very clear idea of who our ideal customer profile is… It is absolutely the entire journey right from the top of the funnel to right down the bottom and then back again."

 
— Peter Strohkorb [00:10:54 → 00:12:13] 
"The Buyer Doesn't Like to Be Rushed": "The buyers don't like to be sold. As we started the conversation with what they now want and what everybody wants, and I suggest you do too, is that you would like to speak to somebody who can help you make an informed buying decision, somebody who can give you advice and guidance."

 
— Peter Strohkorb [00:14:36 → 00:15:40] 
Selling to Buying Committees: "So if we can address them individually and talk to them in their language about the finance, about the IT, about the tech, the support, about how easy it is to use, then when they meet as a committee to decide which vendor they want to go with…they miraculously discover that you tick all the boxes."

 
— Peter Strohkorb [00:17:26 → 00:21:15] 
The Consequences of Failure: "You know, what would it mean to your reputation? If your reputation goes down south, what would that mean if all of a sudden, let's talk about SMEs. So it's the business owners, if they then have to spend a whole bunch of time at the office to sort it out again, how happy is the family environment going to be?"

 
— Peter Strohkorb [00:22:10 → 00:23:14] 
"The Power of Opening: Opening is the new closing, and if you haven't opened right, you'll still need to handle objections at the bottom of the sales funnel."

 
— Peter Strohkorb [00:26:03 → 00:27:13] 
Intriguing Ways to Engage with Senior Executives: "There's only three ways that you can engage with a senior executive or a business owner to engage with them. And that is either you make them aware of a business opportunity they didn't know they had. Yes, you're helping me make more money, make more sales, be more successful. I'm interested. Or you help them to understand that they have a risk that they didn't know they're exposed to. Oh, you're helping me get out of trouble or stay out of trouble. You're helping me to avoid looking silly and dumb. But both those ways are pretty difficult to pull off because you got to understand the industry, you got to understand the company, and you got to understand the concerns and the issues that they have, and you got to do research first."

 
— Peter Strohkorb [00:29:56 → 00:31:07] 
"Psychologically speaking, it must be their idea. They must discover that they actually have a need for what you're selling, not you telling them that they need it."

 
— Peter Strohkorb [00:31:14 → 00:32:25] 
Intrigue your audience with controversial statements:

"But if you can leave with something that intrigues them, like a headline or maybe even something controversial, something that they disagree with, doesn't matter if they disagree with it because they'll get curious and they say, why do you say something I disagree with? What don't I know that I don't know?"

 
— Peter Strohkorb [00:36:14 → 00:37:24] 
The Importance of Process Before Lead Generation: "I implore every business owner out there to put the horse before the cart."

 
— Peter Strohkorb [00:37:53 → 00:39:35] 
Enjoy This Podcast?
If you enjoyed today's episode of the Ambitious Entrepreneur Podcast, then hit subscribe now! 
Post a review and share it! If you learned something by tuning into this podcast, do not hesitate to write a review and share it with your friends, so they can find out more about how to generate returns from a Google Ads account. 
For more updates and episodes, visit the Ambitious Entrepreneur Show website. You can also subscribe through Apple Podcasts, Google Podcasts, Spotify, Stitcher, Email, RSS, and more! 
You can also follow us through Facebook. 
Want to build a scalable business you are passionate about? Join The Influence Alliance – the Business Building Community for Change Makers. 
Want to launch your own Thought Leader Podcast? Access my 'Are You Ready to Launch Your Podcast' Quiz here and have a chat with me. 
Have any questions? You can contact me through these platforms: 
To staying ambitious,