Social media marketing: How to use it effectively for your business
The importance of social media marketing today has made it vital for businesses to learn how to use it profitably.  While it's true that marketing on social media can drive your business to great success, a strong social media strategy must be accompanied by a solid SEO strategy. The key is creating and posting quality content on a regular basis.
In today's show, Annemarie is joined by Brandon Leibowitz to talk about how to use social media for your business, what SEO (Search Engine Optimization) is and how it can benefit your business.
If you're a small and medium – sized business owner looking to increase traffic online and generate more sales and leads, this show is for you.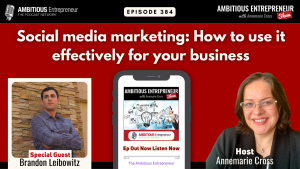 Here are three reasons why you should listen to the full episode: 
Learn SEO techniques for increasing traffic to a website

 

Discover what you can do to get more leads and sales from your website

 

Use social media marketing effectively for your business

 
LISTEN NOW:
WATCH NOW (and check out the Resources and Episode Highlights below):
RESOURCES: 
Episode Highlights
[2:43] What is SEO 
SEO is search engine optimization which means optimizing websites to rank on essentially Google.
Backlinks are important. The more websites talk about you, the more trust Google will give you and the higher your ranking will be.
In general, the more text you have, the easier it is for search engines to read, understand, and know the keywords you are focusing on.
Google searches display the SEO title tag underneath the black text underneath the clickable link.
The title tag is about 60 characters. The Google algorithm stops looking at keywords after 60 characters, so you want to include as many keywords as possible without repetition.
[8:00] Few Tips to Improve SEO
Put as many keywords without repetition on the SEO title tag
When uploading images, upload them with a file name that has descriptive words in it. The alternative text and file name of your images will help you show up on Google.
Google can't read images. They rely heavily on texts.
Your site structure and hierarchy – how you build your site and categorize it is important too. If Google can't navigate through how you have set up your website, that will hinder the way you are found by the search engine and the way you are ranked.
[15:56] How to Get High Quality Backlinks 
 Look at your competitor's back links. See who ranks on that first page of Google for your keywords. Start reaching out to those sites that link to your competitors, and try to figure out how they get a backlink.
Check if they wrote an article or if they were featured. Ask the person who interviewed them if they can interview you as well.
It is likely you will be rewarded with similar rankings by Google if you have a similar set of backlinks.
[17:39] SEO Strategy for Podcasts
A lot of audio content or a lot of video content, but no text supporting them, isn't going to be of much help.

Transcribing or timestamping or summarizing will really help out in text and will have a big impact

If you upload an episode, it should have a descriptive file name that describes the episode.
[18:38] How to Use Social Media to Market Your Business
Know your audience and what platforms they're using.
Only Twitter posts appear on Google among social media posts. Everything else has been blocked by Google.
Whenever you write a tweet, be sure to include some keywords. You can also use hashtags.
The more websites that link to you, the higher your ranking.
10 Powerful Quotes
[3:37] "Right below the ads [Google ads] are the organic listings, and there's 10 spots on that first page of Google. SEO is just trying to get you in the free listing so you're not spending money on paid ads."
[4:25] "The more text you have, the easier it is for search engines to read, understand, and actually know what keywords you're focusing on."
[9:52] "If you optimize your images, they potentially could show up in the Google search results, or you could even search Google images for specific images, and you could show up there and just tap into more free traffic."
[13:08] "If Google can't navigate its way through how you've set up your website, it's going to inhibit the way that you are found and the way that they place you in the search search engine."
[14:08] "For SEO, one page means you can only target three to five keywords. So if you wanna target more keywords, you gotta create more pages and make it easier for Google, because one page doesn't give Google much context about what that website's about."
[15:03] "For someone who really wants to position themselves as a trust authority, you're better off really having a website that will allow you to focus on specific areas and and keywords and create great, valuable content that others will wanna link to."
[17:45] "Google can't read or understand images or videos or audio yet, so if you just have a lot of audio or a lot of video content, but no text supporting it, it's not gonna help out much."
[18:52] "You just need to know who your audience is and what platforms they're gonna be active on. You don't need to be everywhere."
[21:13] "You want people coming to your website. You don't wanna be linking out to other websites."
[23:01] "Twitter does have some impact in the search results, whereas everything else is gonna be blocked where it's not gonna show any recent status updates. But Twitter will show the most recent tweets in there."
About Brandon:
Brandon Leibowitz runs and operate SEO Optimizers since 2007.
They are a digital marketing company that focuses on helping small and medium-sized businesses get more online traffic, which in turn converts into clients, sales, leads, etc. 
You can connect with Brandon thru his Website | Twitter | LinkedIn |EMail | Instagram
Enjoy This Podcast?
If you enjoyed today's episode of the Ambitious Entrepreneur Podcast, then hit subscribe now! 
Post a review and share it! If you learned something by tuning into this podcast, do not hesitate to write a review and share it with your friends, so they can find out more about how to generate returns from a Google Ads account. 
For more updates and episodes, visit the Ambitious Entrepreneur Show website. You can also subscribe through Apple Podcasts, Google Podcasts, Spotify, Stitcher, Email, RSS, and more! 
You can also follow us through Facebook. 
Want to build a scalable business you are passionate about? Join The Influence Alliance – the Business Building Community for Change Makers. 
Want to launch your own Thought Leader Podcast? Access my 'Are You Ready to Launch Your Podcast' Quiz here, and have a chat with me. 
Have any questions? You can contact me through these platforms: 
To staying ambitious, 
Annemarie