Distraction or a Valuable Opportunity: 7 questions to find out which to avoid becoming unfocused
Distraction or Opportunity? How do you gauge whether a project you're considering is a valuable opportunity or a distraction? 
This is something I've often struggled with over the years. 
 For those of you who have worked with me on their Signature Brands (with the Branding with Archetypes system I use) my leading Archetype is Explorer. So, of course new projects, shiny objects, learning something new (which can take me off in another direction from what I was originally focusing on) can be an issue for me.  
 And, as I'm also a Quickstart on the Kolbe A scale, that's a double-whammy when it comes to my love of starting new projects. So, if I'm not careful – I can become my own worst enemy. 
 Then, when it comes to daily (and what I call 'minor') distractions, I can have the best of plans laid out, however an unexpected telephone call, a notification on one of my social platforms that someone has just commented on one of my posts, an email notification that flashes across my screen can change all that. 
 These types of distractions are easy to identify and manage – just shut off your devices, block out time in your calendar, and ensure you're able to focus on the task at hand. 
 But, what about when an opportunity or a new project comes your way – how do you know whether it is something you should consider doing now, or whether it's going to be a distraction, and taking you away from what you are currently focused on?  
 That's a great question I asked myself several years ago. And, it's what prompted me to come up with 7 key questions to see whether a project or opportunity I was considering, was a distraction or not.  
 Because a lack of focused and continuously getting distracted is a HUGE bottleneck to the growth of your business – trust me!  
 So, if this is something you're struggling with, too – you're in luck. In today's episode I'll share the 7 questions so the next time you have an opportunity/project in front of you – you can ask yourself these 7 questions.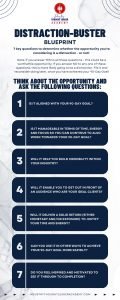 LISTEN NOW:
RESOURCES: 
Enjoy This Podcast?
If you enjoyed today's episode of the Ambitious Entrepreneur Podcast, then hit subscribe now! 
Post a review and share it! If you learned something by tuning into this podcast, do not hesitate to write a review and share it with your friends, so they can find out more about how to generate returns from a Google Ads account. 
For more updates and episodes, visit the Ambitious Entrepreneur Show website. You can also subscribe through Apple Podcasts, Google Podcasts, Spotify, Stitcher, Email, RSS, and more! 
You can also follow us through Facebook. 
Want to build a scalable business you are passionate about? Join The Influence Alliance – the Business Building Community for Change Makers. 
Want to launch your own Thought Leader Podcast? Access my 'Are You Ready to Launch Your Podcast' Quiz here, and have a chat with me. 
Have any questions? You can contact me through these platforms: 
To staying ambitious, 
Annemarie