Why Your Voice Is Your Branding
Listening to someone speak, we tend to notice two things: what they are saying and their characteristics.  It is amazing how much information we can learn about someone by listening to their voice – what they are feeling, where they're from, and who they are.
The voices we use matter just as much as the words we use. In our voices, we convey meaning and convey our emotions. We can exercise control over our speech, improve effectiveness and do so with confidence when we know how to use our voice properly. Having a powerful message that combines with a strong voice will give us confidence and clarity. Our voices have the power to awaken the senses, convey our message clearly as to why we're here, and lead others to act. And keeping it in check can keep us sounding confident and strong.
When was the last time you listened to your own voice? We don't give much thought to our voices – or what we sound like. But when we do, it can feel as if we have no choice but to live with whatever voice we were born with.
However, our voices can be improved and built on as we go along.  We have Dr. Muluna Fausch joining us on today's show. Her talk will cover how significant your voice is to your branding and how you can make your voice work for you.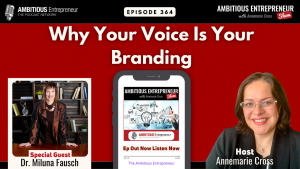 Here are three reasons why you should listen to the full episode: 
Why your voice is your branding – how to gain more clarity in your message and movement

 

How to tap into your Inner Voice for more personal power, influence, and ability to persuade

 

Why your Sovereign voice archetype is the one that leads your company

 
LISTEN NOW: 
WATCH NOW (and check out the Resources and Episode Highlights below):
Resources
Episode Highlights
[2:00] How Dr. Miluna Started
Miluna studied spiritualism and religion for years and realized that we have four phases of life.  A woman, for example, has four phases: maiden, mother phase, good queen, and lastly, the wise woman or elder phase.
She realized these archetypes can be applied directly to a recipe for each person. And it's slightly different for every venue and stage that they're in.
[3:30] How Your Voice Contributes to Your Message and Movement
Most of us are visual, and when we look at some who's leading his or her company, we expect that their voice matches their profile.
We have to use our voices for good as it is our brand. Clear your throat and refrain from using filler words like so, you know, or words that we repeat that really serve no purpose.
Speak intentionally, consciously, and purposely. Choose your words and learn how to communicate what you are here to do.
Your words may be interesting but how you deliver it can make or break your presentation. If you have a message you want others to listen to, share that in your voice. Be consciously aware of the pitch of your voice and strengthen your voice.
[8:00] How to Tap Into Your Inner Voice
Miluna recommends to establish a stillness practice or a presence practice – to learn to actively listen and respond versus react.
Second is breathing correctly. Deep breathily. Imagine that you're expanding your lower belly and imagine your ribs are expanded as well. Your chest is lifted. Your neck is long and lean to provide a perfect channel for that air and voice.
Third is to audio record yourselves. We don't hear ourselves as others do. Doing and audio record and listening to yourself will help you understand what is working and what you can change. Listen to your voice and think about what you love about it and what you want to change or develop so that you can speak your message clearly.
Work out your voice just as you work out your body to build a better voice. You can open up the range, you can open up the volume, you can open up the energy on your voice so that you begin to feel better.
As an exercise, Miluna recommends to think about your big toes and center in your body. Lie down on the floor. Put a book on your lower belly and practice moving the book up and down. You may also lean over from your waist so that you can feel your midsection and you can feel the natural expansion of your body.
[20:oo] Why Our Sovereign Voice Archetype is The One That Leads 
The sovereign voice is the voice that knows your worth, your vision, your superpowers, and your genius. It's a strong voice. And a voice that you could trust.
It is a voice of authority and credibility.
What do you think about yourselves? Are you confident in your skills and abilities? Reflect on what you need to do before you speak because only then will you have that sovereign voice.
Refrain from apologizing as this would inhibit your ability to step forward confidently and powerfully. Support your selves by creating the right environment that can enable you to share your story in the best way that leaves a right lasting impression.
10 Powerful Quotes
[4:30] "So I say our voices, our brand use it for good. And when we get clear on our message, what do we do? Who are we here to serve? We let go of release what I call static interference."
[7:12] "I like to also invite us to think of our voice as multi-dimensional. So it's always up and out. It's not back and down or in the throat as I was demonstrating, but it is active. So for me, the voices I want to hear and lean into have height, and width, and depth. I can feel the love. I can feel that it's authentic to that person. It is a healthy voice. It's well produced."
[10:52] "Everyone has an opinion. Everyone has a belief. There are so many things you can do, classes you can take, and coaches you can hire, but the ultimate is, are you listening to yourself first? Your heart, your deepest self, is the one that knows that next step… We must learn to live from the inside out because the inside is the one that knows our true worth and our true value."
[12:27] "Let's begin to free ourselves from judgment in order to observe and just witness. Be as kind to ourselves as we would someone else."
[12:55] "The more you like yourself, I promise, the more you will like and accept your voice as well."
[13:35] "I think most folks breathe very shallow. It's a very shallow breath. Some folks think it's here, I believe our shoulders, or we're lifting up or it's up, which of course, causes stress and a higher pitch. And that's not a centered voice, that's not a voice that is anchored in the body."
[14:10] " To me, your voice is your instrument and it's your entire body. "
[19:21] "It's often those that are so highly skilled that make it look so easy, but it's anything that."
[24:42] "Some folks just say, 'I'm sorry, I'm sorry.' They apologize for their own presence, and I'm sure at this point they're not even aware of that. But folks, you have nothing to apologize for. You are a beautiful creature, you're a divine being."
[30:10] "It's the 'What impression do we want to make?' Cause we can make a bad impression. We can be not forgotten for all of the wrong reasons. It is our story. You're just communicating the best of you. All of these years, all of the experience, whatever that looks like, the biggest failure that you had. Sometimes we get interviewed on things like that. Well, I'm going to say that's also one of our biggest teachers.
About Miluna
Miluna is an executive coach, actor, and Forbes Author. She created her proprietary Vocal Archetypes℠ to train conscientious C-suite executives and Professionals in confident, high-frequency speaking and presence.
Dr. Miluna has degrees in Music Business and Holistic Psychology and is certified as a Miracle-Minded Coach by Marianne Williamson.
You can connect with Miluna thru her Website | Twitter | LinkedIn |EMail | Instagram
Enjoy This Podcast? If you enjoyed today's episode of Ambitious Entrepreneur Podcast, then hit subscribe now!
Post a review and share it! If you learned something by tuning into this podcast, do not hesitate to write a review and share it with your friends, so they can find out more about how to generate returns from a Google Ads account.
For more updates and episodes, visit the Ambitious Entrepreneur Show website. You can also subscribe through Apple Podcasts, Google Podcasts, Spotify, Stitcher, Email, RSS, and more!
You can also follow us through Facebook.
Want to build a scalable business you are passionate about? Join The Influence Alliance – the Business Building Community for Change Makers.
Want to launch your own Thought Leader Podcast? Access my 'Are You Ready to Launch Your Podcast' Quiz here, and have a chat with me.
Have any questions? You can contact me through these platforms:
To staying ambitious,
Annemarie