Your Potential to Achieve
Greatness –
Inspirational Tip
Everyone has the potential to achieve greatness – whatever 'greatness' means to you. 
For you, it may mean reaching a level of success and accomplishment you never thought was possible. 
Or perhaps, it's making a much bigger impact in the lives of your clients and community, by facilitating life-changing transformation. 
Or maybe, it's a combination of the two – you have a mission- and a purpose-driven focus to make a difference in the world by being the difference while growing their business as a consequence of being able to make a much bigger impact through your work. 
Do you believe it? 
I do – with every fiber of my being. I believe it's possible for you, for me, and for everyone… 
So, why is it that so many people never reach this level of achievement, you may ask? 
Mindset.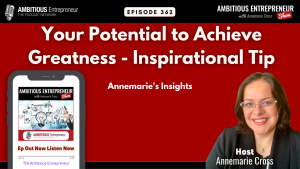 So, in today's episode, Annemarie shares: 
The Importance of Mindset 

 

Do you have the mindset that'll attract opportunities, learning, and, growth?

 

Resource to transform your mindset around money and opportunities.

 
RESOURCES: 
LISTEN NOW: 
Enjoy This Podcast?
If you enjoyed today's episode of Ambitious Entrepreneur Podcast, then hit subscribe now! 
Post a review and share it! If you learned something by tuning into this podcast, do not hesitate to write a review and share it with your friends, so they can find out more about how to generate returns from a Google Ads account. 
For more updates and episodes, visit the Ambitious Entrepreneur Show website. You can also subscribe through Apple Podcasts, Google Podcasts, Spotify, Stitcher, Email, RSS, and more! 
You can also follow us through Facebook. 
Want to build a scalable business you are passionate about? Join The Influence Alliance – the Business Building Community for Change Makers. 
Want to launch your own Thought Leader Podcast? Access my 'Are You Ready to Launch Your Podcast' Quiz here, and have a chat with me. 
Have any questions? You can contact me through these platforms: 
To staying ambitious, 
Annemarie