How to Get Crystal Clear with Your Brand Identity
Brand identity plays a crucial role in establishing a successful business, as it can strengthen and differentiate your business from your competition. You must take this step to run your business successfully. Your brand helps you stand out in a competitive market by making your business memorable. Creating a positive perception of your brand in the mind of your clients is unquestionably the most important step that a business can take.
However, building your brand isn't an easy process. It will take a long time before your clients will truly understand your brand, and it will take some time for them to understand why they should do business with you. This is why consistency is key. A brand identity can only be built through a consistent effort that takes time and energy.
On today's show, we'll talk about building a strong and memorable brand identity that will surely take your business to the next level.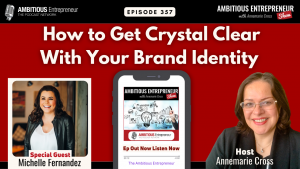 Here are three reasons why you should listen to the full episode: 
Learn how you can combine the most powerful organic and paid traffic strategies

 

Learn how Funnel Marketing Strategy works

Understand the importance of having a clear brand identity and message
LISTEN NOW: 
WATCH NOW (and check out the Resources and Episode Highlights below):
Resources
Episode Highlights
[2:47] Powerful, Organic, and Paid Traffic Strategies
In general, people do the same marketing strategies and others are stuck wondering which to choose. You can select the marketing strategy that feels right to you and your target audience.
In terms of organic strategies, make sure you are utilizing your network effectively. Make sure that you are utilizing your connections and knowing how to position yourself in front of audiences that you wouldn't otherwise reach.
The organic strategy can also be like paid traffic, since you will reach this audience without spending any money, and you will gain instant authority and credibility by being invited by someone who is targeting the same audience as you.
[6:48] Things That Should Be in Place When It Comes to Relationship Building and Networking
If you are in any coaching programs or if you go to live events, be in person and talk to people. Figure out what they're about.
Bring the conversation back to the people you are talking to. As much as you need to give your credentials about yourself, you still have to go into what's in it for them. Compliment them and show them what you can bring to their audience.
Get to know their audience and what topics they discuss, and find out how you can add value.
Be open to having a conversation. You might find that there's some reciprocal relationship there. Share your goal so you'd know then if they are interested or not.
Take advantage of your connections of connections. People will be more open knowing that you both know the same person.
[12:47] Combining Organic and Paid Traffic Strategies
If people find you through a paid ad, they will check what else you are offering. And if there's nothing else there, if you don't have high-quality content that you've created organically, there's nothing else for them to consume.
Organic and paid traffic work together. Before promoting any paid traffic, make sure that your organic marketing is strong because once you start running ads, people are going to go back to your organic following.
[15:29] Creating a Funnel Strategy
There is always some kind of marketing funnel wherever you go or whatever you buy
Michelle looks at the Funnel Strategy as three funnels. First is having the paid traffic funnel, second is the actual landing page funnel, and last is the email funnel.
You bring brand awareness and get people in the consideration phase with your paid funnel. And then you move on to sales and make it buying decision, so you have your actual landing page funnel. After that, you need your email funnel where you have all the email sequences built.
 When you bring people for a lead, nurture them into a sale to become a buyer. Move them to your next level of the essential model.
Those who just learned about may not be in the buying stage yet, but they're looking because your content has made a positive impact on them. If you are consistently following up with them and you are showing up, and then they hear about you from someone else or you are recommended, you stay on the top of their minds until they are ready.
Don't focus on the gaps in your funnel but also look at the whole everything working together.
Retargeting ads are meant to get people back into areas where they have fallen out. You could very well be leaving money on the table by not reaching out to them while they could be waiting.
[22:58] The Importance of Having a Clear Brand Identity and Message
If your brand message and identity are not clear, none of what you're doing is going to get noticed. It's just gonna get lost in the noise.
When you look at your branding, do market research and do it often to make sure that your messaging is on point. Determine your client's issues so you can serve as their guide and provide them with the solution.
You would want to get those people to make those connections and shift their beliefs.
Having a good understanding of your market is essential to strategizing effectively.

10 Powerful Quotes
[5:51] " I consistently fall back to the podcasts and one-on-one connections, having conversations such as we are doing today because I'm learning but I'm also developing relationships. We're co-creating content that I know is gonna be valuable for my community. And it's fun."
[8:23] "It's not what you say. It's how you say it. So when you're approaching somebody, that's totally cold and you're like, 'Oh, I really want this.' You have to be honest with yourself, cuz if they're at a certain level or have a certain number of people following them, they're probably going to want to have higher-level people on their show. And I know that sounds terrible to say, but that's the way it goes. Right? Cuz we're all looking to up level. So you need to open up the conversation by showing that you've heard the show, you love this specific episode, you connected with them on this."
[9:00] "As much as you need to give your credentials about you, you, you really still have to go into what's in it for them. You compliment. And then you kind of show what you can bring to their audience."
[12:56] "Even though I run Facebook ads (and I think everybody should), you can't have all your eggs in any page strategy, to be honest… Organic marketing will only get you so far. So even if you're saying right now, 'I'm able to do this, the real question is, 'Are you exceeding your goals?'"
[15:06] " I think it's all just about what's in now. You wanna start doing that as quickly as possible when the trend comes and not like, think about it because before you know what the trend will be gone and then you're late to the game."
[16:00] "No matter where you go in your life, they are a funnel. Whether it's a technology landing page or it's an in-person."
18:14] " When you bring them in for a lead, you're gonna wanna nurture them into a sale to become a buyer."
[19:45] "Someone who just comes to know you now may not necessarily be in the buying stage, but they are looking because you've made an impact with the content you're sharing. And the consistency in following up and you are showing up, and then they hear about you from someone else or you're recommended, that continues to put a tick against your name to the point that when they're ready, you are top of mind."
[23:06] " If your message isn't clear, if your brand identity isn't clear, none of what you're doing is really going to get noticed. It's just gonna get lost in the noise."
[24:34] "One of the things I always say is to do market research and do it often to make sure that your messaging is on point, you are repeating back what are, what they, how they are describing their pain struggles, dreams, or desires."
About Michelle
Michelle is a Facebook & Instagram Ad Strategist and Funnel Expert. Her marketing agency, Michelle Fernandez Media creates strategic ad campaigns and highly converting funnels for coaches, course creator & online experts.  
She is an expert in branding and a vital force behind the continued growth and scale of multiple 6 and 7 figure businesses.
You can connect with Michelle thru her Website | EMail | Instagram
Enjoy This Podcast?
If you enjoyed today's episode of Ambitious Entrepreneur Podcast, then hit subscribe now! 
Post a review and share it! If you learned something by tuning into this podcast, do not hesitate to write a review and share it with your friends, so they can find out more about how to generate returns from a Google Ads account. 
For more updates and episodes, visit the Ambitious Entrepreneur Show website. You can also subscribe through Apple Podcasts, Google Podcasts, Spotify, Stitcher, Email, RSS, and more! 
You can also follow us through Facebook. 
Want to build a scalable business you are passionate about? Join The Influence Alliance – the Business Building Community for Change Makers. 
Want to launch your own Thought Leader Podcast? Access my 'Are You Ready to Launch Your Podcast' Quiz here, and have a chat with me. 
Have any questions? You can contact me through these platforms: 
To staying ambitious, 
Annemarie