Developing a healthy Money Mindset
Hi, this is Annemarie – welcome to another episode of the Ambitious Entrepreneur Show.  
In today's show, I'll be talking about how to develop a healthy mindset around money so you can attract a higher-level client and charge what you're worth as a trusted authority in your industry.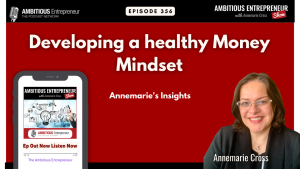 Here's what I'll be covering in this show: 
Why your relationship with money can either hinder or help you;

 

What's your story around money;

 

Money Mindset Impact Grid;

 

Your Money Archetypes;

 

Do you have a Scarcity (Just Enough) or Abundance Mindset when it comes to money, and much more

 
Let's dive in. 
RESOURCES: 
 LISTEN NOW:
About Annemarie 
Annemarie Cross is a personal branding strategist and award-winning podcast host. She has been podcasting since 2008 and is a pioneer in the podcasting space. Annemarie's expertise includes brand marketing, content strategy, social media marketing, digital marketing, lead generation, and business consulting, among many others. 
Annemarie is also the founder of The Ambitious Entrepreneur Podcast Network and has made significant contributions to several organisations, including the Industry Thought Leader Academy, THe Influence Alliance, and Podcasting with Purpose.  
You can connect with Annemarie: Website | LinkedIn | Twitter 
Enjoy This Podcast? 
Content is everything when it comes to marketing. Digital technology has made it possible to access a wide range of content, and we need to make sure we produce content that is both unique and valuable.  
If you enjoyed today's episode of Ambitious Entrepreneur Podcast, then hit subscribe now! 
Post a review and share it!
If you learned something by tuning into this podcast, do not hesitate to write a review and share it with your friends, so they can find out more about how to create effective and valuable thought leadership content. 
For more updates and episodes, visit the Ambitious Entrepreneur Show website. You can also subscribe through Apple Podcasts, Google Podcasts, Spotify, Stitcher, Email, RSS and more! 
You can also follow us through Facebook. 
Want to build a scalable business you are passionate about? Join The Influence Alliance – the Business Building Community for Change Makers. 
Want to launch your own Thought Leader Podcast? Access my 'Are You Ready to Launch Your Podcast' Quiz here, and have a chat with me. 
Have any questions? You can contact me through these platforms: 
To staying ambitious, 
Annemarie