Launching & Growing a Business as a Busy Parent
Starting a new business is not easy especially if you are a parent. Being a parent can take up a lot of time and energy which makes it even more challenging to start up a business. However, this doesn't mean that you can't make your entrepreneurial dreams come true.
It will require faith, determination, and a lot of hard work.
Many busy parents are able to launch their business and make it grow successfully. With the right amount of planning, strategies, and tips, you can balance being an entrepreneur without sacrificing time with your children.
Let's learn some tips you can use to manage the responsibility of being a busy parent and a successful entrepreneur.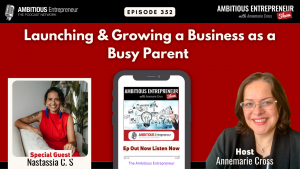 Here are three reasons why you should listen to the full episode: 
Get insights on how to launch and grow your business as a busy parent

 

Learn the obstacles and opportunities a woman of color in leading a business has

Understand how white supremacy and patriarchy can get in the way of your entrepreneurial success, and what to do about it

 
LISTEN NOW: 
WATCH NOW (and check out the Resources and Episode Highlights below):
Resources
Episode Highlights
[2:54] Navigating Work and Caring for Children Through the Pandemic
 Nas started to write her book which was a guide for people who are not only starting a family but also starting their own business.
Nas launched her business when her firstborn was about four months old. When the pandemic hit, she already somewhat knew how to navigate the new reality.
If you have that entrepreneurial ambition or desire, however, you came to be the one taking care of the children, there is still room for you to create something.
[5:24] Questions You Should Ask Yourself Before Starting A Business
Think and contemplate what lifestyle you want before starting a business. Figure out why you want to start. Create the lifestyle that you want and create your business based on that lifestyle.
Most people start a business because of the freedom it gives. Looks for the aspects of freedom in your business that you want, may it include caring for your children, as it is going to determine your business model.
Create a business model and program which can help you navigate through. Think about what you want to achieve from that business so that the business doesn't start running you. When you have a plan, you are able to better track and monitor how you are going against the plan so you can make decisions, change things up, during the process, and don't have to wait until you get to the end.
Nas' suggests that you have the end goal in mind first, visualize and shape the lifestyle that you want, put numbers to it, and then form your business plan or model around that end goal of lifestyle that you want.
[14:07] Leading a Business as a Woman of Color
As an immigrant and a woman of color, Nas had to face a lot of obstacles. As most of her clients tend to be women of color, she realized that there are two types of obstacles: systemic obstacles which we don't have control over and internal obstacles that we can control.
Nas shares some stories that women of color get less funding and women founders to have to create emails with male names in front of it just so they can get their emails to read. These are samples of systemic obstacles.
Internal obstacles are the limiting beliefs and the generational held beliefs that women of color tend to hold.
[15:53] Creating the Right Mindset
 Identify your reasons for starting your business and develop the right mindset. Sit down and think about what you truly want to achieve.
Acknowledge the things that you can and can't do so it's easier to tackle and overcome them. Having the right mindset will help you deal more effectively with the day-to-day of your business.
Positive affirmations help. Keep telling yourself that you can so you can slowly start to form new beliefs so that eventually you can overcome those limiting beliefs.
[24:55] How White Supremacy and Patriarchy Can Get in the Way of Entrepreneurial Success
The systems that we lived in have created a certain status quo. There's a lot of opportunity for entrepreneurs who try to find ways to break away from the system.
The pandemic broke the status quo. A lot of people realized that there are different ways to do things. It's made people realize that it's possible for us to have a global network and work with people from all over the world and still run the business efficiently.
Cultivate community and step away from individualism. Be part of a community rather than doing things all by yourself. Build a team and bring the idea of a community-based work of inclusion and a sense of belonging. Lead with integrity rather than leading with growth.
[33:24] Nas' Workshops
You may head to Nas' website minddesignerworkshop.com to check on what workshop she's currently running. If interested in joining, enter the code "Ambition".
She also does diversity equity and inclusion work for large organizations. If you have a large organization that wants to have DNI as part of your DNA, you may connect with Nas.

10 Powerful Quotes
[6:01] "Figuring out what that freedom looks like. I think it's a really great first step, right? Because for a lot of people, maybe freedom really does look like, 'You know what? I wanna start a business because I love to spend time with my kids and I wanna do more of it. I want to have all this free time during the day so that we can play and learn from the world and take him out doing extraordinary things all over our city or our town or all over the world. And I want to create a business that fits that can allow me to do that. Or, freedom could look like, 'No, I want the freedom to have 18 nannies so that I never have to do this again.'"
[6:48] "I really encourage folks to sit down and, and determine again like that lifestyle that they will hope to create. Because that will really help you inform how you're gonna run your business and it might help you inform what kind of business you're going to run at all."
[11:37] "So as you're creating that lifestyle, as you're really thinking through what that lifestyle you wanna have for yourself, part of that is sort of creating that backward budget, right? So you create that lifestyle that you want and tag a price to each of those things so that you know the monthly cost would be to have that ideal lifestyle so that then you can formulate a business model around that amount of money that you wanna make."
[12:53] "So it's really keeping in mind that end goal first, and then just shaping that lifestyle first, visualizing it, putting numbers to it, and then forming your business plan, your business model, around that end goal of lifestyle that you want."
[13:32] "When we have a plan then we are able to better track and monitor how were' going against that plan and we can make decisions during the process. We don't have to wait till we get to the end and develop or build a million-dollar business and then turn around and go, 'You know what? I'm not feeling fulfilled, there's no meaning in this or vice versa.'"
[25:52] "Our systems have been very patriarchal, right? Most of our leadership around the world is of the male gender. Historically, the systems that we lived in have been white supremacists and so those systems have created certain status quo that we don't even realize comes from that system."
[28:45] "We are working with people, we're working in a community. What does it look like to maybe care a little bit more about creating a lifestyle for all the folks working within your organization, where they can all thrive rather than oppress some folks just so that you can have a better return on your investment or press some folks so you can create a better margin of profit, right? "
[29:15] "Being the first, we have so many opportunities here to do things differently. And yet I think a lot of us fall into that autopilot because the only examples that we have, have done things in X, Y, and Z ways."
[31:59] "I'm all about the challenge. The status quo. If someone said, 'Well, we've always done it that way. So what, break the molds. Break the molds. Don't just do what we've always done. Otherwise, we're just gonna get the same old, same old results."
[32:28] "If someone says to me, 'You can't do that.' I mean, I have guidelines and principles. I'm a Christian. So if it says in the Bible that it can be done, I'm gonna do it. "
About Nas
Nastassia (Nas) is the founder of Perfect Startup Incubator and Mind Designer Consulting. Her expertise comes from her journey as an entrepreneur and a decade as a business development expert. Today she focuses on leading women through launching and finding joy in running their businesses.  
You can connect with Nas thru her Website | LinkedIn | EMail | Instagram
Enjoy This Podcast?
If you enjoyed today's episode of Ambitious Entrepreneur Podcast, then hit subscribe now! 
Post a review and share it! If you learned something by tuning into this podcast, do not hesitate to write a review and share it with your friends, so they can find out more about how to generate returns from a Google Ads account. 
For more updates and episodes, visit the Ambitious Entrepreneur Show website. You can also subscribe through Apple Podcasts, Google Podcasts, Spotify, Stitcher, Email, RSS, and more! 
You can also follow us through Facebook. 
Want to build a scalable business you are passionate about? Join The Influence Alliance – the Business Building Community for Change Makers. 
Want to launch your own Thought Leader Podcast? Access my 'Are You Ready to Launch Your Podcast' Quiz here, and have a chat with me. 
Have any questions? You can contact me through these platforms: 
To staying ambitious, 
Annemarie