Be the Best You with Dre Baldwin
Why do you do what you do? Are you working because you think you're supposed to work, or do you have a reason? You might think to answer with logic, but becoming the best you require a deeper look into your why. 
In this episode of Ambitious Entrepreneurs Show, Dre Baldwin builds on his years of coaching experience and shares how he keeps his 'game' in business, sports, and life from the inside out. He also describes the importance of having anchors to maintain the discipline to get up every day. Dre also shares his take on the Shiny Bright Object Syndrome in this information age and provides practical tips on overcoming and power through confidence-related hurdles.  
Listen to the episode to learn how you can work on your game towards becoming the best you!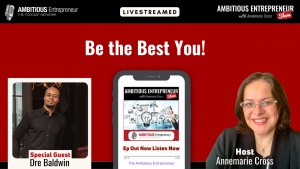 Here are three reasons why you should listen to the full episode:
Understand the importance of having logic and emotion-based anchors in achieving your goals.
Learn ways to tap into and sustain your highest confidence level for success. Become the best you!
Gain practical tips on maintaining your focus on your goals.
LISTEN NOW: 
WATCH NOW (and check out the Resources and Episode Highlights below):
Resources
Episode Highlights
[01:12] Dre Baldwin's Professional Journey 
Dre used to be a high school bench player before starting his nine-year professional basketball career in Europe.

 

His audience found him through his YouTube channel, not because of his sports career.

 
Dre is now the CEO of

Work On Your Game,

a company specializing in helping people dominate their game in business, sport and life. 

 

His podcast, Work on Your Game Daily, has over 4 million listens as of this posting.

 

He has published over 15,000 pieces of original content, written 29 books, and given four TEDxTalks on discipline, confidence, mental toughness, and personal initiative. 

 
[03:13] Dre's Message to His Younger Self 
You'll regret what you did not do. You'll regret the risks you did not take and the chances you didn't take advantage of. 

 
Every experience is a lesson you can learn to become the best you.

 

Our experiences help shape our character and allow us to move forward.

 
[04:30] The 'Third Day' Concept  
People are usually ecstatic on day one of any situation. On this day, we have all the ideas and grand visions. 

 

On day two, people still follow up but are a little less enthusiastic. 

 
The third day separates the pros and amateurs. People realize that what they signed up for is actual work. Pros show up on day three. 

 

Ask yourself: Are you the type of person who only shows up when it's fun and exciting? Do you only work when you feel like it?

 
[08:13] Having a Discipline Anchor 
You need an anchor with a pull strong enough that you discipline yourself.

 

To know your discipline anchor, you can ask yourself this: what is the outcome or result you are looking to achieve? 

 
Mere motivation isn't enough. It comes and goes.

 

Merely showing up is not enough. You

need ambition and

a definite chief aim. What do you want out of your life?

 

It's not that people do not have talent, ability, energy, or motivation. Sometimes, their 'discipline anchor' is not as strong or doesn't feel worth it. 

 
[10:45] Knowing Your Emotion-based Reason 
The best discipline anchor is an emotion-based one. We usually express our thoughts through logic, but what really moves us to action is emotion.

 
Ask yourself 'Why?' six times to know your emotion-based reason. Keep asking until you get your reason.

 

Knowing your emotional reason will make it easier to understand your logical, rational reasons. 

 

Some people usually ask practical questions, but this is the wrong approach. You need a more profound reason, something emotional to drive you. 

 
[15:58] Tapping Into Your Highest Level of Confidence 
Confidence is a matter of mindset. You already have the abilities you need to succeed. 

 
It is not 'faking it until you make it.' It's doing it until you make it. 

 

We often limit ourselves to what we think people want us to be and conform to society's labels. 

 

You have to permit yourself to step out of what you've always been. 

 
[21:56] Achieving and Sustaining Excellence to Become the Best You 
You have to choose to show up every day and perform at that highest level. 

 
Compared to amateurs or teenagers, you can choose to make this decision. You do not need your coach or boss to tell you that you can.  

 

Permit yourself and then

choose

to stay in that place of excellence. 

 
[23:30] Overcoming Shiny Bright Object Syndrome 
We get attracted to 'blinky' things and go after them. 

 

In this modern era, the 'blinky' things are not objects but information. We stay on our phones and get blinded by new data. 

 
You can combat the distraction by having a clear system or program and having the discipline to stick to it.

 

You have to decide and follow through with this system. 

 

Listen and implement. 

 
[26:48] Getting Clear and Staying Focused  
Understand yourself

—

your strengths and weaknesses

—

so you can assess your path toward becoming the best you. 

 

Commit to becoming significant today. You do not want to keep talking about what you used to do because it might not matter anymore. 

 

Be mindful about where you place your identity. Do not put it on your past self. 

 

Implementation over invention. Focus on implementing the new processes.

 

Take control over your career. The things you do consistently over time will create the foundations for success.

 

10 Powerful Quotes
[03:43] 'Anything that I did do, even if I made a mistake, I can look back at it and laugh and say, well, at least I know what happened. But the things that I didn't do anything, then I'll never know.' 
[07:10] 'Are you going to show up all the way and be a professional here? Or are you an amateur who shows up when it's fun and exciting and when you feel like doing the work?' 
[09:19] 'You have to be going after a goal, and most people don't have goals. Most people have no intention… They're just showing up every day and working just to work.' 
[10:12] ' It's not that they don't have talent or ability or the energy or the motivation. It's just the thing that they would get by going through the third day is not worth it to them. So they don't do it.' 
[20:46] '…Give yourself permission to step out of the box of what you've always been.' 
[22:28] 'You all are grown men and women. You don't have the excuse of being a teenager. You make the choice to show up every day and perform at that highest level.' 
[25:13] 'You can't force [discipline] on another person. They have to have it in them. That's why anchor matters so much: because they have to have a reason to want it that is strong enough that they are willing to be disciplined even on those "third days".' 
[27:44] 'I was always looking at what am I going to do when this ends, because this is going to end at some point.' 
[28:19] 'I want to be doing something significant today… I don't want to keep talking about what I used to do… So my thing is, I need to be doing something significant today.' 
[30:47] 'I tell my audience the same thing. Implementation over invention, and really need to focus on implementing. I already have the intellectual property, already have the skills, already have the abilities. What I really need to focus on was not coming up with new inventions and new information, shiny information. It's implementing, following the processes and following the systems.' 
About Dre
Dre Baldwin is a mindset and strategies coach and the founder and CEO of Work On Your Game. Work On Your Game is a company focused on helping people master their 'game' in business, sports, and life from the inside out.  
Before his coaching stint, Dre played professional basketball for nine years. He has also authored 29 books, including his latest work, Third Day. Dre has also done four TEDxTalks on discipline, confidence, mental toughness, and personal initiative, which reached over 73 million people. 
Subscribe to Dre's YouTube channel to learn more about his Work On Your Game framework. 
You can connect with Mike through LinkedIn. You can also reach him through his Twitter, Facebook, and Instagram.  
Enjoy This Podcast?
Becoming the best you doesn't happen overnight. It's not going to come through motivation. It's going to come from inside you — what's your reason for getting up in the morning? Find your anchor, and the best you will come out naturally. 
If you enjoyed today's episode of Ambitious Entrepreneur Podcast, then hit subscribe now! 
Post a review and share it!
If you learned something by tuning into this podcast, do not hesitate to write a review and share it with your friends, so they can find out more about how to generate returns from a Google Ads account. 
For more updates and episodes, visit the Ambitious Entrepreneur Show website. You can also subscribe through Apple Podcasts, Google Podcasts, Spotify, Stitcher, Email, RSS and more! 
You can also follow us through Facebook. 
Want to build a scalable business you are passionate about? Join The Influence Alliance – the Business Building Community for Change Makers. 
Want to launch your own Thought Leader Podcast? Access my 'Are You Ready to Launch Your Podcast' Quiz here, and have a chat with me. 
Have any questions? You can contact me through these platforms: 
To staying ambitious, 
Annemarie