Anticipating Change In The Workplace And In Life With Denise Cooper
Every year, we face new challenges. As we move forward, we cannot simply fall back to our old ways of thinking. We've seen a recent wave of resignations caused by dissatisfaction and frustration among employees. As leaders, we need to practice effective change management.
In this episode, Denise Cooper from Remarkable Leadership Lessons talks about how leadership and workplaces have changed over the years. Although they have improved in diversity, equity, and inclusion, workplaces should also change mindsets and beliefs around change and performance management. Creating a safe work culture where people can talk about their problems and feelings is vital to developing trust. 
Here are three reasons why you should listen to the full episode:
Discover how leaders can direct and foster a better work culture and change management in their workplaces.
Understand the need to change mindsets and redefine work.
Discover simple tools to adapt to change and support employees.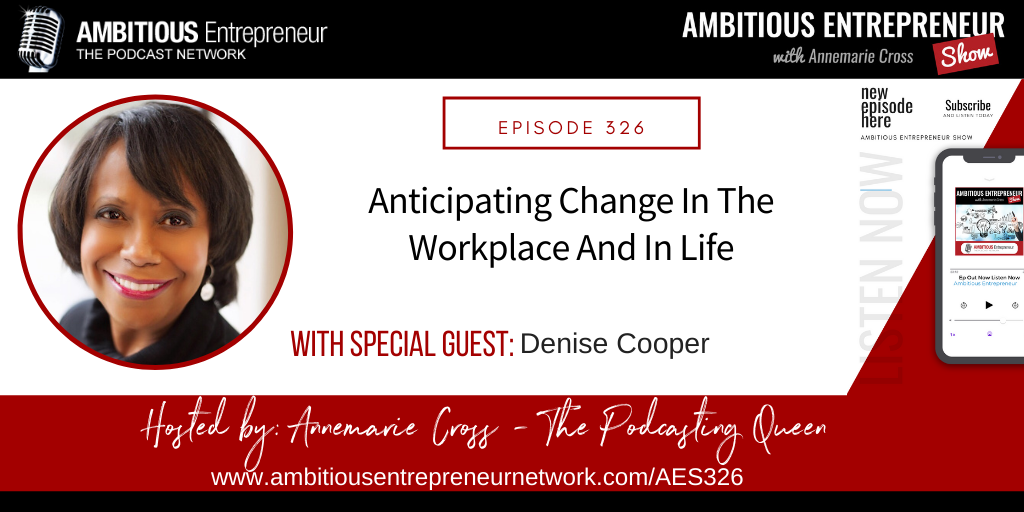 LISTEN NOW: 
Podcast: Play in new window | Download (Duration: 35:41 — 32.7MB) | Embed
Subscribe: Apple Podcasts | Google Podcasts | Spotify | Android | Email | RSS | More
WATCH NOW (and check out the Resources and Episode Highlights below): 
Resources:
Episode Highlights
[02:30] Diversity, Equity, and Inclusion in the Workplace
Denise shares that while we have progressed in diversity, equity, and inclusion, we still have a long way to go.
Initially, diversity covered gender, race, and ethnicity, but it's also starting to expand to cover neurodiversity.
We used to compartmentalise people's roles, but it's essential to observe intersectionality.
It's impossible to separate personal life from work. What happens to us will impact how we work.
[04:44] Anticipatory Change Management in Work and Life
We're in an era of redefining work. The great resignation happened because many people have realised they don't need to put up with lousy workplaces.
The pandemic is challenging previous work beliefs.
There's no such thing as work-life balance; it should be about work-life integration.
Technology has paved the way for remote work but also requires increased ownership.
[06:55] Change Management as a Leader
Not everyone thrives in a remote work environment; some found that it can decrease productivity.
As leaders, we will demand change from our employees, but we also need to change ourselves.
We need to embrace new beliefs and structures.
For example, the new workplace will demand better boundaries and clear deadlines.
We also need to reflect on whether we need to see people physically to know they're working.
[10:15] Mindset Shift on Performance
Performance is often measured by time and not output.
The pandemic disrupted workplaces and highlighted invisible work and interruptions that overwhelm employees.
Employees become demotivated when they feel helpless.
[13:10] Change to an Open Mindset
As leaders, we should allow employees to share their struggles.
Leaders need to balance productivity and mental health while fostering collaboration.
Be open to asking for help on defining the problem and prioritisation.
Create an environment where others can step up and shine. Let go of your ego.
[16:16] How Performance Management Needs to Change
Performance management tends to focus on whether targets are achieved or not.
HR systems and management need to be adaptive and highlight flexible and agile employees.
Don't foster an imbalanced power dynamic; start with collaboration when looking for new employees.
Employees need to be able to give and receive feedback and understand the decisions management makes.
[20:46] Tools to Effect Change Management
The best way to prepare people for change adaptation is to understand how people go through change.
Change can make people feel defensive, fearful, and uncertain.
As leaders, we need to foster conversations that will not trigger these emotions in employees.
Acknowledge that people are human and need to navigate their emotions.
[24:08] How to Support Employees
Employees need to know that reorganisation is a learning journey.
They need to know that they will be supported and not blamed when they make a mistake.
We won't know people's struggles if we do not help them feel safe to share them.
[29:01] Mindset Shifts
Remember that we're human and imperfect.
We will make mistakes but should foster understanding and support through these mistakes.
We should be able to give and receive feedback without damaging productivity and relationships.
Leaders should foster a culture of co-production and collaboration.
If there are topics that people feel they can't discuss, it will impact the business.
10 Powerful Quotes
[9:04] "…it's not just me demanding that my employees change. I've got to change as a leader. I've got to embrace some beliefs and some structure and some values that before, they weren't rubbing and bumping against each other."
[13:38] "…sometimes, the greatest impact and change can come from the team that has an open-door policy."
[16:01] "Don't have any ego. If someone else shines in a certain area, that does not mean that you don't shine in other areas."
[19:00] "So stop creating systems where there's a power dynamic in the recruiting. We should be looking for collaborative approaches in doing that."
[19:28] "…we want to see every employee having the ownership of providing feedback, accepting feedback, and being accountable for the integrity of telling the truth and offering up what the truth is, and not hiding when we're not doing well."
[21:07] "Probably the best way to shift your culture and to prepare people to be able to adapt to change is thinking about how people go through change."
[23:01] "If you refuse to admit that people are human, and being human is about navigating our emotions, then you're probably not getting the performance that you want."
[29:48] "The first thing that we all have to do is remember that we're human. That's the first thing we have to do and that we're imperfect."
[31:18] "We have to be able to hear feedback. It's about hearing, and hearing with empathy."
[33:25] "So this idea of creating a workplace where feedbackーand we can actually discuss things that might be uncomfortable is really important. Because how you do anything is how you do everything."
About Denise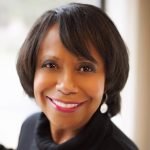 Denise Cooper is the founder of Remarkable Leadership Lessons Inc., formerly known as Coach HR, a leadership consultancy firm that helps and teaches executives leadership behaviours to create and sustain high performance in any organisation. With over 25 years of experience as an HR professional, Denise has helped all kinds of clients from Fortune 500 corporations to small to mid-market businesses as well as non-profits.
With a passion for sharing leadership lessons, Denise wrote the book Remarkable Leadership Lessons and hosts the podcast, Closing the Gap. Her specialties include Conversational Intelligence and Transformational and Values-Based Leadership.
Want to learn more about Denise's work? Check out her website.
You can also connect with her on LinkedIn, Twitter, and email (info1@rllessons.com).  
Enjoy This Podcast?
Whatever stage you're at in your business, you can learn new tips and tricks that can help you make relevant content and stand out from the crowd. Your potential is unlimited, even more so with the endless possibilities the digital space has to offer.
Effective change management in the workplace and working around it is not an easy task. If you enjoyed today's episode of Ambitious Entrepreneur Podcast, then hit subscribe now!
Post a review and share it! If you learned something by tuning into this podcast, do not hesitate to write a review and share it with your friends. Help us help them learn more about effective change management.
For more updates and episodes, visit the Ambitious Entrepreneur Show website. You can also subscribe through Apple Podcasts, Google Podcasts, Spotify, Stitcher, Email, RSS and more!
You can also follow us through Facebook.
Want to build a scalable business you are passionate about? Join The Influence Alliance – the Business Building Community for Change Makers.
Want to launch your own Thought Leader Podcast? Access my 'Are You Ready to Launch Your Podcast' Quiz here, and have a chat with me.
Have any questions? You can contact me through these platforms:
To staying ambitious,
Annemarie