The Top 3 Mistakes E-Commerce Brands Make When Using Pinterest
with Craig Lewis
Enter Pinterest — an often underrated platform for e-commerce brands. Recently, the application has emerged as a frontrunner for e-commerce as it refines its features and capabilities. The evolution attracts more Pinterest accounts to promote their business and services on the platform. In 2020 alone, Pinterest users have doubled with 500 million active users on it!
In this episode, Craig Lewis from Pin and Grow talks about how you can create a Pinterest ad campaign to fuel business growth, online sales, and brand awareness. He shares the common ad campaign mistakes that e-commerce brands make. Later, he cleverly describes the creation of an effective Pinterest marketing strategy to boost e-commerce effectiveness. Lastly, he discusses how Pinterest evolved to become an avenue for online business — especially entrepreneurs.
If you want to learn to use Pinterest advertising to your advantage, this episode is for you.
Here are three reasons why you should listen to the full episode:
Discover the underrated Pinterest platform and ways you can use it to increase online sales and brand awareness.
Learn the basics of Pinterest advertisements and marketing strategies and avoid common mistakes business owners make.
Understand the potential of the platform and how it will continue to grow.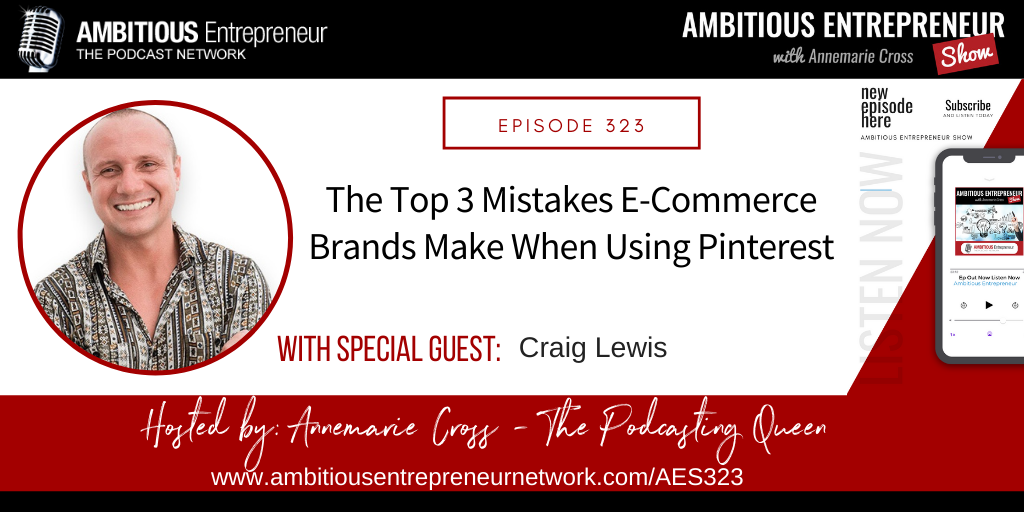 LISTEN NOW: 
Podcast: Play in new window | Download (Duration: 38:37 — 53.0MB) | Embed
Subscribe: Apple Podcasts | Google Podcasts | Spotify | Android | Stitcher | Email | RSS | More
WATCH NOW (and check out the Resources and Episode Highlights below): 
Resources
Episode Highlights
[02:10] How Craig Started Pinterest Advertising
Craig shares that a 2019 conference made him realise that Pinterest advertising was still niche but had business potential.
In the same conference, he was encouraged to start a Pinterest advertising agency.
[04:13] Mistake 1: Using Pinterest as Social Media
Pinterest is not a social media platform — it's a search engine for images.
Business owners should not track their Pinterest advertising through likes, comments, and reshares — save that effort for social media platforms!
It's similar to the difference between YouTube and Google.
[06:52] Mistake 2: Lacking Intentionality 
A common mistake is a misalignment of content. A Pinterest page is usually a mishmash of personal and business content.
Craig recommends having boards that tie in specifically to your brand's major topic and content.
Don't treat Pinterest advertising as just a visual platform like Instagram. Ensure that there is a message and call to action with every image.
Tell people what your images are about, whether they're going to lead to a landing page, product page, or other pages.
Being intentional will encourage users to remain on your site.
[10:48] Images and Videos in Pinterest
Videos are growing in popularity across all platforms. Now, Pinterest has allowed users to publish videos.
Static images tend to have a higher click-through rate.
Even with targeted strategies for videos, static pins are overall still better than video pins.
[12:19] How to Pin Effectively
There are three ways to make effective use of Pinterest.
Firstly, pin images from your website to the Pinterest platform.
Secondly, use schedulers such as Tailwind.
Lastly, post directly to Pinterest. You can also schedule posts, but they should be done 7 to 14 days in advance.
Conversely, schedulers can schedule posts 30 to 60 days in advance.
[14:01] What Images Work Best with Pinterest Advertising
Before 2019, infographics often got good click-throughs.
However, these posts lost momentum when Pinterest forced all images to have the same size on a feed.
Best performing images for most niches tend to be lifestyle images with some text.
In general, posts relating to lifestyle are most popular right now.
[16:16] Mistake 3: No Defined Strategy
Before considering a Pinterest ad campaign, use the platform yourself and see whether your content is something people want.
Identify related pins of your topic through the platform's search results.
Search what you want to talk about and see whether the feed matches the keywords.
You can also use Pinterest to generate better keywords for your content.
No matter how good your tactics or tools are, you will need a campaign objective with a defined outcome and purpose.
[19:16] Matching Pinterest Keywords with Search Engines
You can't check volume metrics on Pinterest, but you can see top-performing pins with their corresponding click-through rates.
Pinterest keywords do not necessarily mean high volumes in search engines.
Craig recounts that he would take Pinterest keywords and run them simultaneously on Google to check whether the volume metrics were competitive.
[21:16] Pinterest Advertising Metrics
Paid Pinterest marketing has become more specific and targeted. Craig agrees that it has proven to be very profitable.
If you have a Pinterest business account, you can easily create an ad account where all the key metrics are available.
The Pinterest ads manager dashboard will show top-performing pins and help you know your potential audience size and post popularity.
[24:57] Post Frequency in Pinterest
You should not post on the platform as much as you can because you can be shut down for spamming.
Craig recommends 5 to 15 pins per day, while Pinterest recommends 5 to 25 pins per day.
You can pin one post several times as long as you have the boards that suit it. However, Craig recommends that there should be a minimum of 3 days between each board.
There is no SEO value when you share other people's content on Pinterest. Remember, Pinterest is not like other platforms — it's not social media!
[30:45] Trends and Growth of Pinterest Users
In Google, you can search Pinterest Trends and see what's trending in the US, UK, and Canada.
Pinterest now supports what's called a shoppers experience by having a dedicated explore feed for shops.
The growth rate of business accounts on Pinterest is the same. However, Pinterest users doubled in 2020.

10 Powerful Quotes
'And I quickly realised that the way I had built two or three companies was not the norm, I had solely focused on Pinterest.'
'But the truth is, it's [Pinterest] a search engine. And until you approach it with that mindset, it's going to be a struggle, like you go into doing the wrong things. Because it's not that platform — it's a search engine.'
'So one of the key things to do is only have boards on your own Pinterest account that tie in as specifically as possible to the content that's on your site.'
'So on Instagram, you can put an image up, and it will look beautiful, and it will probably gain some traction. Pinterest, it doesn't work like that. You need to tell people what is it that they can expect behind the image because ultimately they're going to click on the image and go through to your site.'
'However, what we've seen over the last couple of years, video is popular on Pinterest. But if you take a static image, so like your standard Pinterest image, and then you make a very good video that's the same related content, what we've seen is the static image generally has a higher click through rate than a video.'
'With paid advertising, the best performing images that we've seen for most niches tend to be a lifestyle image with some text. And that applies to the ads that we run on and applies to the organic strategies that we use as well.'
'So one of the things that I'm always saying to clients and reminding myself of, you know, you can have incredible tactics, but it really has to be following a solid strategy that has an outcome that has a purpose.'
'The first thing to do before you publish anything onto Pinterest is to use Pinterest and actively look on the platform. This is what people are looking for because again, it goes back to this is a search engine.'
'From a small picture, we're just looking at Pinterest, but on a wider scale, we want to help our clients achieve the results across all of the platforms. So what we do, specifically Google, is we take the popular terms from Pinterest, and we run them through the search engine tools at the same time.'
'But in the last year, there's a recent interview that basically said, there is no SEO value or value in sharing other people's content.'
About Craig
Craig Lewis is the Founder and Pinterest Growth Specialist of Pin and Grow, an in-house team of Pinterest specialists that offer services like creative designs, paid advertisements, and Pinterest SEO and strategies. His agency has served and scaled several E-commerce brands through his tried and tested 3Sixty Method™and Brand Accelerator Method ™ for organic growth and paid growth strategies respectively. In 2021, his agency was enrolled into Pinterest's Approved Partner program, allowing direct integration with the platform.  
Craig is also the host of The Pin and Profit Podcast where he shares Pinterest insights and trends.
Want to learn more about Craig's work? Visit Pin and Grow
You can also connect with him on LinkedIn and Facebook. 
Enjoy This Podcast?
The nature of entrepreneurship is constantly evolving. Door-to-door sales are a thing of the past — you need to learn to leverage the tools available to you, like Pinterest marketing, in the new normal. If you enjoyed today's episode of Ambitious Entrepreneur Podcast, then hit subscribe now!
Post a review and share it! If you learned something by tuning into this podcast, do not hesitate to write a review and share it with your friends! This episode can help them realise the truth of what leadership is when faced with a challenge.
For more updates and episodes, visit the Ambitious Entrepreneur Show website. You can also subscribe through Apple Podcasts, Google Podcasts, Spotify, Stitcher, Email, RSS and more!
You can also follow us through Facebook.
Want to build a scalable business you are passionate about? Join The Influence Alliance – the Business Building Community for Change Makers.
Want to launch your own Thought Leader Podcast? Access my 'Are You Ready to Launch Your Podcast' Quiz here, and have a chat with me.
Have any questions? You can contact me through these platforms:
To staying ambitious,
Annemarie