An Innovative Approach to Leadership During COVID with
Gita Pullapilly and Aron Gaudet
COVID has completely changed how the world works. With industries having to shift gears, leaders have to rethink what leadership is . What worked out before may not net you the same results today. There are more things to consider now to ensure everyone's safety. With that, what does an innovative approach to leadership look like during this time? And how can leaders adopt this model and pass it on to others?
In this episode, husband-and-wife filmmakers Gita Pullapilly and Aron Gaudet talk about the innovative leadership approach they developed during COVID. The duo shares the power of core values exercises and adopting a servant leadership model. We learn how they navigated filmmaking and production when COVID shut down the industry. Finally, they let us in on what to anticipate in their movie, Queenpins.
If you want to know what innovative leadership is and utilise it in your business operations, then tune in to this episode!
Here are three reasons why you should listen to the full episode:
Find out how COVID impacted the filmmaking industry.
Understand what servant leadership is.
Discover the power of core values exercises in creating an effective leadership model.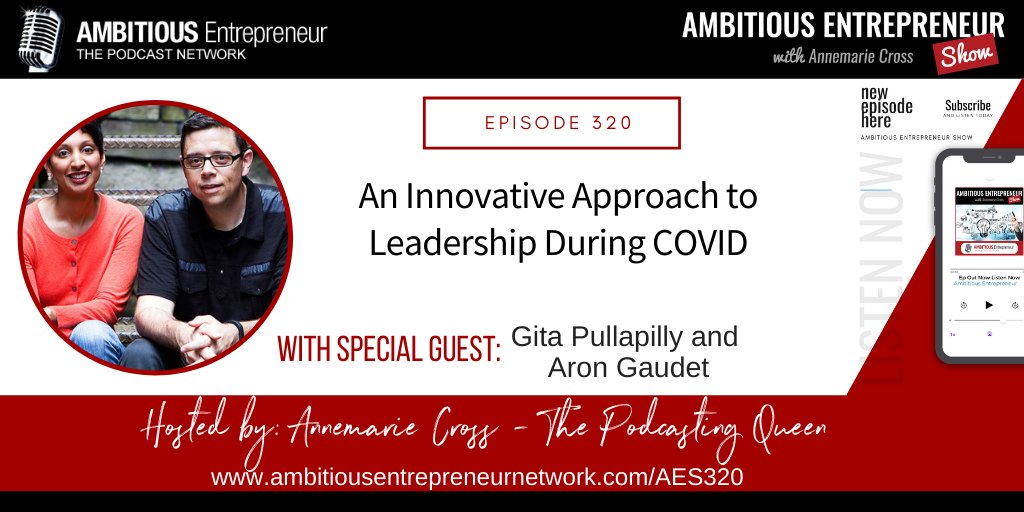 LISTEN NOW: 
Podcast: Play in new window | Download (Duration: 40:18 — 55.4MB) | Embed
Subscribe: Apple Podcasts | Google Podcasts | Spotify | Android | Stitcher | Email | RSS | More
WATCH NOW (and check out the Resources and Episode Highlights below): 
<<
Resources
Episode Highlights
[02:32] How COVID Impacted the Film Industry
Business in the film industry shut down because of COVID. Resuming production required bringing in COVID units that cost millions of dollars.
Gita and Aron's team was about to start production on their film when COVID was getting big in the United States.
Everything fell apart for them for six months.
[04:39] The First Steps Gita and Aron Took When COVID Hit
The first step they had to understand was safety and ethical considerations. They underwent six months of deliberation around creating a safe set.
Gita and Aron realised that sets would be safer for their crew because of the diligent testing.
The second part was creating bubbled zones in the set for critical people. The production would end up getting shut down if one of them gets COVID.
They knew that they wouldn't be able to start back up if production shut down at the time.
They also had to lead their people in practising safety measures when they went home each night.
[08:01] What Servant Leadership Is
Gita participated in a Presidential Leadership Scholars Program in 2019. There, she learned a lot about what servant leadership is.
Servant leadership is about collaboration, respect, communication, listening, and putting your ego aside in service to your goal.
They wrote a letter to every single cast and crew member. Tune in to the episode to get a complete picture of the message written in these letters!
Gita and Aron also asked the film's cast to work with them to collaborate. This example of full collaboration got passed down to the rest of the set.
Their approach opened up great avenues for creativity and made the set feel like a family.
[12:47] Practising Servant Leadership
As directors, Gita and Aron's days started before anyone else's. They would send an inspirational quote to the entire cast and crew every single morning.
They also did core values exercise with their department heads and actors.
The core values exercises opened up deep conversations and brought their crew closer together.
[17:39] Passing on the Servant Leadership Mindset
They were shooting in LA in the last quarter of 2020 when the pandemic was at its height.
One of their assistant directors pledged to skip celebrating Thanksgiving with her extended family to ensure she didn't get COVID. Everybody took this sacrifice to heart.
Leadership is knowing when to be the messenger and when others need to be.
The city of LA shut down a week after day 30 of production.
[19:59] Building Bonds Without Seeing Each Other's Faces
One of the obstacles they had to deal with in the set was building bonds.
On top of the tension and stress, staff couldn't be around one another without their masks off.
Gita and Aron share that they didn't know the faces of some of their crew members.
[22:00] The Wonderful Results of an Innovative Leadership Approach
Their cast did core values exercise both as themselves and as their characters.
As a result, the cast started making acting choices based on their characters' core values. It allowed them to understand their role at a foundational level.
Core value exercises, therefore, made making creative choices more effective.
[24:24] Utilising Core Values in the Business Operations Moving Forward
Gita and Aron would use the leadership model they've developed with or without COVID.
They would never have been able to pull off the filming process without identifying principles of what leadership is first.
Hollywood filmmaking is a business that comes with a lot of rejections. Gita and Aon now know how to respond to these more constructively through their core values.
As a married couple and filmmaking partners, they are a good example of collaboration.
[28:23] Navigating Different Individual Beliefs Between Team Members
The most important thing in collaboration is agreeing on what the goal, mission, and destination are.
You can disagree along the journey as long as you continue to agree on what the destination is.
Collaboration without ego removes the emotion of who's right and who's wrong. The debate only comes down to the path you're taking.
What serves the story trumps everything.
[30:11] The Film Production Period
The film production period depends on the budget.
With their budget, they could afford 30 shooting days.
They have eight weeks of initial prep before the 30 five-day week shoot.
The whole production took around four to five months.
[32:08] Implementing Changes in What Their Approach to Leadership Is
There are very few Hollywood female directors who have succeeded in meaningful ways.
In the past, Gita would try to replicate how male directors would behave. Going through the Presidential Leadership Scholars Program empowered Gita to rethink what leadership is.
Good leadership is building rapport and trust with your team. Through this, you get respect.
Tune in to the full episode to learn Gita and Aron's approach to pitching projects to executives!
Empowering the person perceived to be most vulnerable to speak first empowers the entire room.
[37:04] Queenpins
The movie takes inspiration from the true story of two women who ran a counterfeit coupon ring.
It's a comedy movie starring Kristen Bell, Kirby Howell-Baptiste, Paul Walter Hauser, and Vince Vaughn.

10 Powerful Quotes
​​'What I learned was that servant leadership is really all about collaboration, and respect, and communication, and listening. And that ended up becoming such a critical part to our process and our approach.'
'It's so much about putting your ego aside in service to whatever it is that you're trying to attain. In this case, it was getting everyone to put their ego aside on a daily basis and be in service to the story we were telling.'
'Once we set the example of full collaboration, it'll pass down to all the rest of the set. It was such a powerful experience because knowing that we could all come in and just be creative was not only helpful to the process, but it also opened up so many other great avenues and ideas and creativity that everybody started feeling like this was a family.'
'These core value exercises are really about identifying the three core values that really represent how you want to live.'
'We started seeing them make choices in their acting based off of what those core values were for their character. It became something that was saving time because they were able to quickly make a choice in their acting.'
'I think a lot of the leadership model that we used, we would use all of it again with COVID or without COVID. I think what we just realised as we were doing it is, "Oh, if we don't get this right, we're never going to get the buy-in that we need in this time to really succeed."'
'Thank God Aron and I have really focused on what our core values are. So we know when we are faced with tough challenges and obstacles, we know how to respond to them in a much more constructive and mature way than we ever did when we were probably in our 20s.'
'But I also think one thing that helps us as a married couple and co-writers, co-directors is that we are the first example they can look to to see how collaborative we are, how collaborative are we with each other.'
'If we're collaborating without your ego, you're removing the emotion of who's right and who's wrong, and you can just debate the path that you're taking. That is something that we continually have to strive for and work with our cast and crew.'
'If the biggest elephant in the room is the one that speaks first, well, everybody below them are all wondering, "Can I give my opinion?"'
About Gita and Aron
Gita Pullapilly and Aron Gaudet are Emmy-nominated filmmakers and award-winning film directors, producers, and screenwriters. They are husband-and-wife writing and directing partners who run Team A + G, Inc. and produce Hollywood movies. They are best known for the films The Way We Get By, Beneath the Harvest Sky, and Queenpins.
If you wish to connect with Gita, you may reach out to her on Twitter,  Instagram, and LinkedIn. If you wish to connect with Aron, you may reach out to him on Twitter and Instagram.
Enjoy This Podcast?
COVID has brought about so many unprecedented changes in how we work and engage with others. As a leader, how do you make sure that your approach to leadership is able to ensure not only the safety of your team but also the success of your operations?
Gita Pullapilly and Aron Gaudet show us that good leadership is ensuring that everyone buys into the project that you're trying to accomplish. This takes open communication, collaboration, and respect amongst all those involved. If you enjoyed today's episode of Ambitious Entrepreneur Podcast, then hit subscribe now!
Post a review and share it! If you learned something by tuning into this podcast, do not hesitate to write a review and share it with your friends, so they can find out more about knowing the right time for pivoting a company.
For more updates and episodes, visit the Ambitious Entrepreneur Show website. You can also subscribe through Apple Podcasts, Google Podcasts, Spotify, Stitcher, Email, RSS and more!
You can also follow us through Facebook.
Want to build a scalable business you are passionate about? Join The Influence Alliance – the Business Building Community for Change Makers.
Want to launch your own Thought Leader Podcast? Access my 'Are You Ready to Launch Your Podcast' Quiz here, and have a chat with me.
Have any questions? You can contact me through these platforms:
To staying ambitious,
Annemarie