How To Get Your Products Into Celebrities' Hands with Sarah Shaw
As business owners and entrepreneurs, we know the value of good marketing to grow our business. Often, we turn to social media posts and newsletters to get the word out about our brand. But, you may be missing one key strategy— celebrity endorsement!  Think it's hard to get through to them? Think again. Our guest shares how it's so much easier to connect with celebrities and get them to feature your product now more than ever!
In this episode, Sarah Shaw talks about how you can harness marketing and technology to build strong connections with people, including celebrities! The first step is to remember that celebrities are human beings too. We need to show them interest and respect, just like how we would act towards friends. There are so many strategies to grow your reach, but it starts with developing connections.   
If you want to learn how to build your brand using technology, this episode is for you.
Here are three reasons why you should listen to the full episode:
Discover the ways you can use technology to build connections with people.
Understand the do's and don'ts when it comes to getting celebrity endorsements.
Learn the ways you can build momentum and credibility for your products.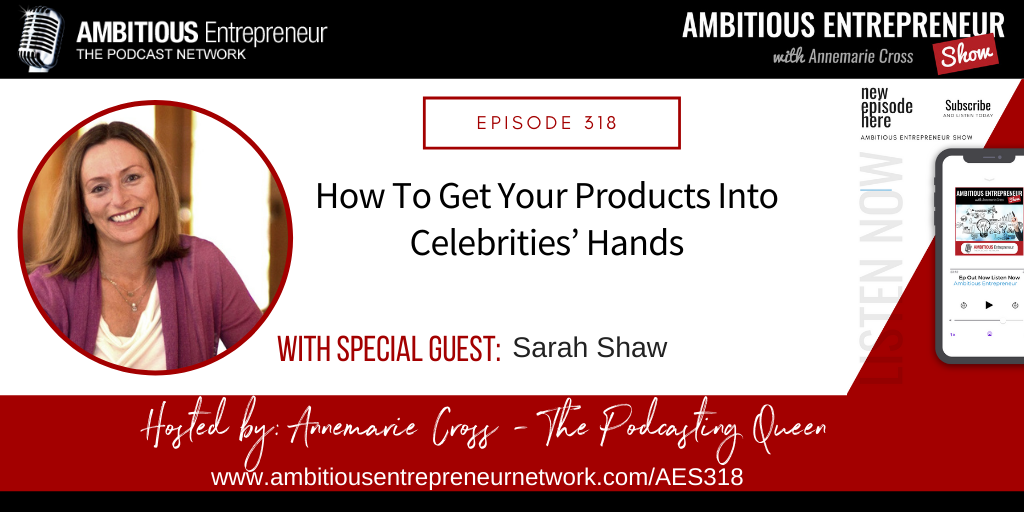 LISTEN NOW: 
Podcast: Play in new window | Download (Duration: 40:00 — 54.9MB) | Embed
Subscribe: Apple Podcasts | Google Podcasts | Spotify | Android | Stitcher | Email | RSS | More
WATCH NOW (and check out the Resources and Episode Highlights below): 
<
Resources
Episode Highlights
[06:55] How Marketing Has Changed
There are so many businesses online, and the competition is tough.
Pre-COVID, it took 7 to 9 times of contact before people buy into a product or service. During COVID, it took around 12 to 15 times.
Now, the numbers are decreasing — back to the 9 to 11 range.
These numbers show that effective marketing depends on what your business is and what your community needs.
[10:45] Using Technology to Get Celebrity Endorsements
The pandemic accelerated the use of technology and shortened its adoption rate. We now have a lot of tools available, but what's important is how we use them.
Sarah shares that getting celebrity endorsements to build brand credibility is easier than we think.
First, know the kind of celebrity you need. In the full episode, Sarah walks you through an example of how to do this.
Most likely, you won't be able to reach the celebrity directly. You'll need to go through their gatekeepers first.
Create a consistent connection with these gatekeepers.
[14:04] Learn to Show Interest
Remember that celebrities are human beings with preferences, values, and advocacies too.
Sometimes, when you don't get a reply, it doesn't mean that they're not interested. It may be because they're too busy at the moment.
Celebrities often get a lot of DMs anyway so they may not notice yours. However, genuine comments can make you stand out.
Remember to follow up, just like you would to a friend.
[17:14] What Not to Do When Getting Celebrity Endorsements
Don't brag about your company. Make your pitch more about how they can benefit from your product rather than your company's achievements.
You do not need to over-explain your product or service.
Never put words in people's mouths.
If celebrities post your product on their socials, you can share or repurpose it to boost your credibility.
[23:20] How to Connect with Buyers
It's good to connect to your potential buyers through email. This way, you can send them your catalogue.
When they've seen your product, it'll be easier to talk to them when you decide to call.
Sarah uses tracking software to make sure that people have opened her email and clicked on the links.
You need to know the time people open and read through emails to optimise your system.
In the full episode, Sarah shares some of her favourite applications for email tracking and problems you might encounter with iOS 15.
[31:20] Gaining Product Momentum
Research is essential when it comes to connecting with buyers. Investigate their store's website and look at other brands that they carry.
You can also try reaching out to hip stores with a big following and ask them to take your products on consignment.
Doing this can help you get into other stores.
[34:36] Building the Product Brand
Sarah likes to look at her businesses like a four-piece pie: online shoppers, stores, media, and celebrity endorsement.
To build a brand today, you have to work on all these quadrants.
Sarah suggests having two sets of photos available: one for e-commerce and another for lifestyle.
It's essential to build credibility through media exposure — especially if you have a patent.
Get into as many places as possible as quickly as possible.
[38:55] Working with Communities and People
A win-win way to promote your products is by creating affiliate programs for influencers.
It's also perfect for the current situation, as agencies and people are becoming more open to new ideas.

10 Powerful Quotes from this Episode
'With everybody being online in the last couple years, it makes the marketplace actually a little tougher to get the word out.'
'They are just people — they just happen to be famous for a living.'
'You can feel free if someone's posted it on social to repurpose it because it's a sharing network.'
'It's all about getting creative, isn't it? What can we do and leverage that will enable us to create that unique experience and something that someone will continue to speak about.'
'If you're contacting them by email, making sure that they've opened or possibly clicked on your links because I think of the clickers as your hottest lead.'
'The more stores you're in, the more stores start to come to you.'
'The right kind of photograph in front of the right person can really be all that's needed to take you to the next level.'
'Credibility building, that's really important to building a brand quickly especially if you have something that's patented.'
'Going after influencers in general through Instagram can be a great way to promote your brand if you don't have a lot of money to throw at that.'
'Opportunities are right there. It's just a matter of identifying them.'
About Sarah
Sarah Shaw is the entrepreneur, designer, and CEO of Entreprenette and Sarah Shaw Consulting. She is an expert on launching and promoting products through A-list celebrities. For over 20 years, Sarah has helped entrepreneurs launching and growing their product-based businesses. She is also passionate about sharing her learnings and insights through the Get A Street Smart MBA, where she has interviewed Venus Williams, Trina Turk, Daymond John, and more.
Sarah's first business was creating thousands of costumes for blockbuster hits like The Matrix, Star Trek, Ocean's 11, and more!
Interested to learn more about Sarah's work? Check out her website.
You can also reach her on Facebook, Instagram, Twitter, and Pinterest.  
Enjoy This Podcast?
Want to build your brand? Then you've got to pay attention to your online shoppers, physical store presence, media engagement, and celebrity endorsement.
Brand-building may seem daunting, but with the help of Sarah's tips, you can leverage technology to your advantage. If you enjoyed today's episode of Ambitious Entrepreneur Podcast, then hit subscribe now!
Post a review and share it! If you learned something by tuning into this podcast, do not hesitate to write a review and share it with your friends! This episode can help them realise the importance of sustainability in effecting social change.
For more updates and episodes, visit the Ambitious Entrepreneur Show website. You can also subscribe through Apple Podcasts, Google Podcasts, Spotify, Stitcher, Email, RSS and more!
You can also follow us through Facebook.
Want to build a scalable business you are passionate about? Join The Influence Alliance – the Business Building Community for Change Makers.
Want to launch your own Thought Leader Podcast? Access my 'Are You Ready to Launch Your Podcast' Quiz here, and have a chat with me.
Have any questions? You can contact me through these platforms:
To staying ambitious,
Annemarie