Surviving and Thriving with Disruption with Janet Sernack
We see businesses left and right struggling with the pandemic — yet, some survive and thrive! Ever wonder what their secret is? Our guest shares that it's all about being able to innovate in business  and adapt to change. In an ever-changing world, trends and behaviours are moving fast. You can see it in how consumers and employees behave, all the way to what is expected from leaders.
Is your business able to leverage these changes?
In this episode, Janet Sernack joins us to explain how to innovate in business and be strategic about change. She also discusses the need to develop an experimental mindset and learn to take on, anticipate, and mitigate risks. It's not going to be perfect all the time — you'll make mistakes along the way — but what's important is that you learn from every experience.   
If you want to learn how to shift your mindset so you can survive and thrive even in uncertain times, then this episode is for you.
Here are three reasons why you should listen to the full episode:
Discover how you can innovate in business.
Understand the qualities that define a disruptor.
Know the mindset shift you need to make to embrace change.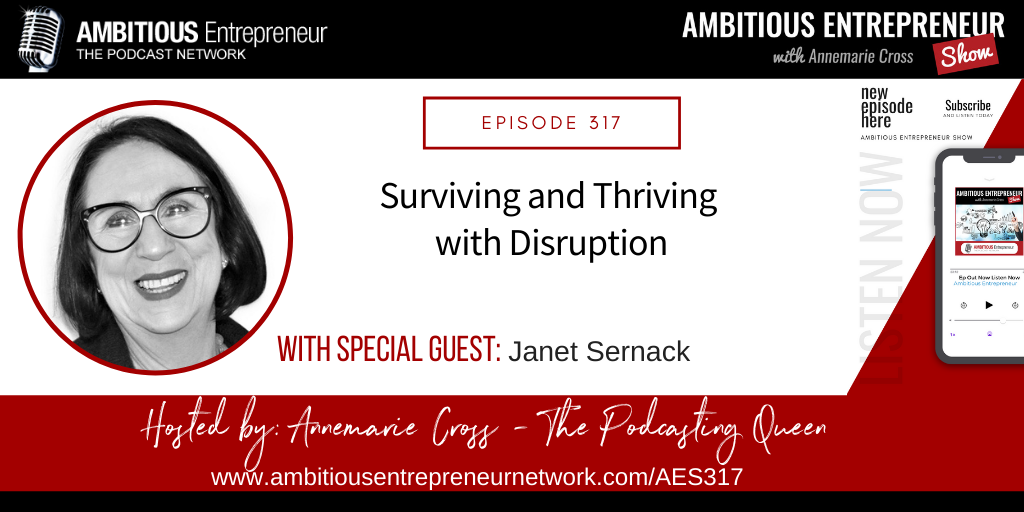 LISTEN NOW: 
Podcast: Play in new window | Download (Duration: 51:48 — 71.1MB) | Embed
Subscribe: Apple Podcasts | Google Podcasts | Spotify | Android | Stitcher | Email | RSS | More
WATCH NOW (and check out the Resources and Episode Highlights below): 
<
Resources
Episode Highlights
[02:30] What is Innovation?
Growing up in the fashion industry in Australia, Janet was used to changes.
She believes that innovation is the lever that will change the world.
For Janet, innovation is a change that adds value.
The 'value' that you need to produce will depend on what it means to your end-user or people in general.
This contextual definition opens up a creative conversation and personal meaning-making.
[04:49] How to Innovate in Business
Be strategic and know your 'why'. You need to understand why you want to innovate in business in the first place.
Strategies include identifying whether you're going for short term, incremental, or breakthrough perspectives.
You can innovate across every area of your business.
The challenge is to innovate for the long term, not the short term.
To innovate in business for the long term, research how consumers are changing and focus on what value you want to offer them.
[08:46] Becoming Adaptable Amidst Disruption
Be present and don't judge things whether they're wrong or right. Be open to possibilities. There's a lot of opportunities and blessings even during the pandemic.
Learn to take a pause, retreat, reflect, reboot, and reset.
Anyone can become a visionary, but there's a step they need to take first: to stop and reflect on what they're doing.
Think about what you're doing and whether you're getting the results you want. Do you know your values and beliefs and whether you're living by them?
Become passionately purposeful and determined. Embrace change even when you're failing and making mistakes.
[15:33] Qualities of a Disruptor
High achievers moderate risk with the level of challenge and failure.
Cultivate a gamer or experimental mindset and be willing to take strategic risks.
Develop bravery and boldness. But also learn mental toughness and the emotional agility to learn from the mistakes you'll make along the way.
Expect the unexpected. As a business owner or entrepreneur, you have to understand risk anticipation and mitigation.
[20:06] Embracing Change
We are living in a decade of transformation and disruption. Changes in the last two years would have been a six-year development if the pandemic did not happen.
Innovation comes from necessity but also forms opportunities you never thought possible.
In the full episode, Janet shares a story about working with people in Spain for various programs. This opportunity was only possible because of her online presence.
Get out of your head and stop habitual thinking. Most of what you've learned may no longer apply.
There are new ways to be a business owner, build culture, and serve customers.
[27:17] Surround Yourself with Disruptors
If you want to become a disruptor, you need to find a tribe of like-minded people.
Remember that technology only enables innovation — people are what drive technology.
The connections you can make globally are extraordinary.
[30:06] Everything is a Learning Opportunity
If you don't learn from your past, you will be doomed to repeat them. We all need to unlearn unhelpful behaviours and mindsets and learn the useful ones.
Janet shares that she used to have many narcissistic boyfriends, but these painful experiences taught her how to find the right man for her.
There's also a huge opportunity for learning from online media and resources.
The learning zone is when you get out of your comfort zone. To become a disruptor, you need to step into the growth zone.
Even if change can be terrifying, remember that it can also be satisfying and fulfilling.
[36:01] We Don't Need to Do Things on Our Own
Surround yourself with disruptors and people who will lift and support you.
In the full episode, Janet shares several resources to jumpstart your growth to disrupt and innovate in business.
Nurture your community because you never know the opportunities that might bring.
[41:31] Janet's Advice
Be persistent, determined, and prepare to confront adversity.
If you want to innovate in business, go to the edge of opportunities. Research and find out growing trends.
Be willing to engage, innovate, and collaborate.
Become digitally savvy. Learn to do it one step at a time.
[44:00] How to Become Agile
Becoming agile and adaptable depends on your open mind and heart.
You should not focus on control. Instead, be compassionate, creative, and playful.
In the full episode, Janet shares that the retail landscape has changed so much over the years. Industries need to keep up with both consumer and staff changes.
Even leadership has changed. There's a whole new set of competencies and skill sets to become a good business owner.
Learn to embrace new ways of thinking.

10 Powerful Quotes
'If you truly want to make a difference and a change in the world, then innovation is the lever.'
'Be very intentional, and very focused on what value or what difference you want to create for users.'
'Anybody can be a visionary if they'll just stop and think about what's really important to them and live their values and live their beliefs.'
'Normal was boring, let's reinvent and reinvigorate!'
'We all carry our own technology in our back pocket. So we have no barrier to being able to get our message.'
'If anything is the new normal, it's uncertainty.'
'Technology is driven by people, and it's people who innovate. So technology is just the enabler.'
'Everything is a learning opportunity, even if it's painful.'
'People don't realise that innovation involves change on steroids.'
'Connection is probably one of the most important first steps to take to flourish and thrive in the 21st century.'
About Janet
Janet Sernack is the CEO of ImagineNation. In that role, she has coached people and teams to innovate in business through adaptation, evolution, connection, and innovation. Janet's specialty allows people to generate mindset shifts, build capacities for adaptation, unblock barriers to innovation, and create new ways of doing things.
Janet has over 30 years of corporate and consulting experience and has helped some of Australia's and Israel's top 100 companies. She is also passionate about sharing what she knows through free monthly innovation webinars on her website.
Learn more about Janet on ImagineNation.
You can also connect with her on her website, Twitter, LinkedIn, and Youtube.         
Enjoy This Podcast?
Change is inevitable. The only variable, then, is whether or not you are going to be at its forefront.
To lead change, you have to adopt the right mindset and become a disruptor. If you enjoyed today's episode of Ambitious Entrepreneur Podcast, then hit subscribe now!
Post a review and share it! If you learned something by tuning into this podcast, do not hesitate to write a review and share it with your friends! This episode can help them realise the importance of sustainability in effecting social change.
For more updates and episodes, visit the Ambitious Entrepreneur Show website. You can also subscribe through Apple Podcasts, Google Podcasts, Spotify, Stitcher, Email, RSS and more!
You can also follow us through Facebook.
Want to build a scalable business you are passionate about? Join The Influence Alliance – the Business Building Community for Change Makers.
Want to launch your own Thought Leader Podcast? Access my 'Are You Ready to Launch Your Podcast' Quiz here, and have a chat with me.
Have any questions? You can contact me through these platforms:
To staying ambitious,
Annemarie