The Importance of Sustainability When Pursuing Social Impact with Bessi Graham
Often, creating social change and making money are polarised. Entrepreneurs are often forced to choose between one or the other. However, this is a harmful misconception. These two things can coexist and work together to create sustainable business models and long-lasting social impacts.
In this episode, we have an insightful chat with Bessi Graham about marrying mission and money and the importance of sustainability . She details how you can shift your mindset and power dynamics in business relationships to achieve equal partnerships. Moreover, she shares the necessity of storytelling, asset valuation, and measuring your success.
If you want to learn about the importance of sustainability for effecting social change, then this episode is for you.
Here are three reasons why you should listen to the full episode:
Learn the importance of sustainability when creating change in the world.
Find out the barriers to sectoral collaboration and how you can overcome them.
Discover how to create equal partnerships that will ultimately lead to a positive social impact.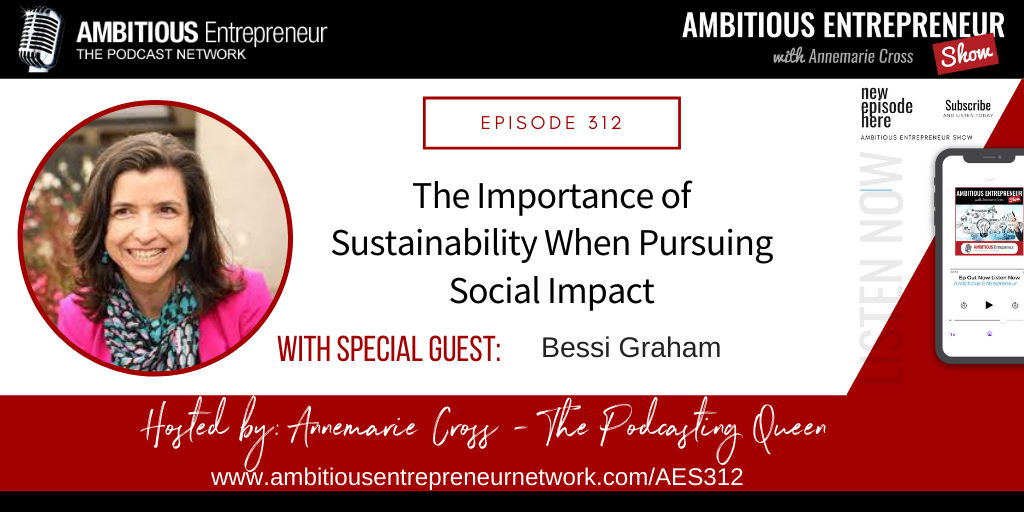 LISTEN NOW: 
Podcast: Play in new window | Download (Duration: 42:57 — 34.6MB) | Embed
Subscribe: Apple Podcasts | Google Podcasts | Spotify | Android | Stitcher | Email | RSS | More
WATCH NOW (and check out the Resources and Episode Highlights below): 
<
Resources
Episode Highlights
[07:40] Bessi's Inspiration
Bessi's family instilled in her the ideals of social justice and making an impact.
In high school, she attended a talk on ethical investment. Here, Bessi realised that making money wasn't a bad thing. Businesses can play a part in creating social change.
Finding this field appealing, Bessi worked with the first ethical investment advisory group in Australia.
She also wanted to find a way to bring different sectors together to solve social and environmental problems. So, she studied politics and internal relations.
[10:49] Breaking Down Barriers
A commonly perceived barrier is the lack of access to capital for social enterprises.
However, Bessi shares that money isn't always the solution to these problems.
The biggest barrier is the mindset of choosing between doing good or making money, which hampers creativity and collaboration.
So, Bessi's advice is to get at the heart of that mindset and identify your discomfort around these matters.
[13:17] Shifting Your Mindset and Power Dynamics
As a business owner, it's important to address your mindset.
You should also learn to navigate external factors, such as finances, which could create unfair power dynamics.
For instance, social entrepreneurs can be villainised for charging commercial rates, thus creating double standards.
Progress requires examining the power dynamics and shifting them.
[15:46] Engaging with Stakeholders
Understanding the interests of your stakeholders and learning to communicate how you can help them is crucial.
When pitching to a funder or investor, the value proposition is no longer about you and your intent. It should be about its importance to the customer or investor.
Aligning your goals and interests can create equal partnerships and sustainability.
You will never access these funding opportunities if you get stuck in the 'charitable only' mindset.
[21:03] Inspiring Positive Impact
Donations, volunteerism, and pro bono work are not bad things. They can be incredible capital resources to make a social impact.
However, our role as individuals can be so much more than that.
As a leader, you can look at your core business and examine the impacts, whether positive or negative, that you're making.
Consider factors such as how you treat your staff and the consequences of your use of resources.
Honestly reflecting and holding yourself accountable by choosing to do better is the key to making a change.
[24:34] The Importance of Sustainability in Businesses
At some point, there will be regulatory components and compliance aspects that will be impinging on your business.
Thus, you need to grasp the importance of sustainability early on.
In addition, staff retention depends on whether they can be proud of their work in your organisation or not.
[26:50] How Smaller Organisations Can Create a Bigger Impact
Many small organisations produce outcomes because they engage at a grassroots level.
That's part of their beauty and power. Therefore, Bessi believes that not everything has to scale to be impactful.
There are other approaches, such as taking collective action when making decisions.
Leaders can also adopt a model, which other small organisations can replicate.
Both approaches are centred around working smarter and creating more impact while being cognisant of the importance of sustainability.
[30:30] Marrying Mission and Money
The importance of sustainability lies in the fact that there is no such thing as free money.
Focusing solely on your mission and refusing to engage with financial sustainability will limit the capital pool that you can access.
Receiving funds often leads you to the mercy of your funder's whims. This makes you unable to provide your beneficiaries with a secure plan.
[34:34] Leveraging Your Assets
Benefit Capital aims to make people realise that there are many types of capital.
A capital canvas allows you to examine your assets that you may not be leveraging, such as human and social capital.
Once you realise these assets, there's no need to be apologetic about charging for your services. After all, you're adding value and creating a social impact.
Such a business design affords you confidence.
[36:43] Measuring Success
Good intentions alone are not enough to create a social impact.
You also have to track and measure your success so that you can be confident to yourself and your stakeholders about your work.
An integrated model allows you to do more good as your business grows.
[40:01] Advice for Leaders
Not all criticisms hold equal weight.
So, it's crucial to discern whose voices or criticisms you should listen to.
Seek out people who have experienced what you're going through. Their insights will allow you to feel enriched and supported.

10 Powerful Quotes
'Making money wasn't a bad thing. [Businesses] actually have a role to play and could be part of solving social problems.'
'You could actively choose and be thoughtful and intentional about where you invested money, how you spent money, what bank you put your savings with.'
'You don't magically fix a business model or fix an impact kind of intervention, if you like, just by putting more money in.'
'Whether it's conscious or unconscious, we have absorbed this idea that you have to choose: Are you doing good? Or are you making money?'
'Whether it's your personal passion and driver from a legacy point of view, or whether it's about being pragmatic, the role of business is shifting, and will continue to shift.'
'People want to go to work and feel aligned and feel like they're bringing their whole self to work and that they can be proud of the organisation they work for.'
'Good intentions are not good enough.'
'Just putting effort or intention or money into a problem doesn't mean we can assume we are having a positive impact.'
'Just like, not all money is created equal, not all criticism is.'
'Surround yourself with people who are in the trenches. They may have gone through a particular challenge that you're now faced with today.'
About Bessi
Bessi Graham is the co-founder of Benefit Capital and The Difference Incubator. For the past 20 years, she has focused on unlocking capital to deliver positive social and environmental outcomes. As an investor, entrepreneur, and business owner, her passion for using business as an agent for change is internationally recognised.
A sought after speaker, Bessi has played a leading role in engaging the social sector on outcomes measurement. She is a leading practitioner in both impact investment and SME development and was a Teaching Fellow at the University of Melbourne. She was also a finalist in the 2017 Telstra Business Women's Awards.
If you wish to connect with Bessi, you may reach out to her on Benefit Capital or her Instagram.
Enjoy This Podcast?
Many leaders who want to do good in the world have qualms about making money. However, the two don't have to be divorced. They are actually essential to each other.
Once you realise the importance of sustainability in your organisation, you'll be well on your way to creating more good. If you enjoyed today's episode of Ambitious Entrepreneur Podcast, then hit subscribe now!
Post a review and share it! If you learned something by tuning into this podcast, do not hesitate to write a review and share it with your friends! This episode can help them realise the importance of sustainability in effecting social change.
For more updates and episodes, visit the Ambitious Entrepreneur Show website. You can also subscribe through Apple Podcasts, Google Podcasts, Spotify, Stitcher, Email, RSS and more!
You can also follow us through Facebook.
Want to build a scalable business you are passionate about? Join The Influence Alliance – the Business Building Community for Change Makers.
Want to launch your own Thought Leader Podcast? Access my 'Are You Ready to Launch Your Podcast' Quiz here, and have a chat with me.
Have any questions? You can contact me through these platforms:
To staying ambitious,
Annemarie