Leveraging Linkedin to Get More Clients
with Derick Mildred
LinkedIn is now one of the top platforms used by professionals all around the world, and it only keeps on growing. Many people understand the importance of being on LinkedIn, but few know how to make a good LinkedIn profile . In such a large community, how do you stand out from the sea of accounts? What can you do to drive more engagement, draw a higher following, and attract more clients?
This week, coach Derick Mildred joins us to share some tips on how to make a good LinkedIn profile. We got through his strategies for building a personal brand online. He discusses the first three things that people react to when they open your profile, the best content to post, and the worst thing you can do when trying to generate business. For Derick, building relationships and nurturing trust is crucial.
If you want to learn how to make a good LinkedIn profile to stand out online, then tune in to this episode!
Here are three reasons why you should listen to the full episode:
Know how to make a good LinkedIn profile and what to avoid.
Find out excellent strategies for generating more business on LinkedIn.
Learn how to build a successful personal brand.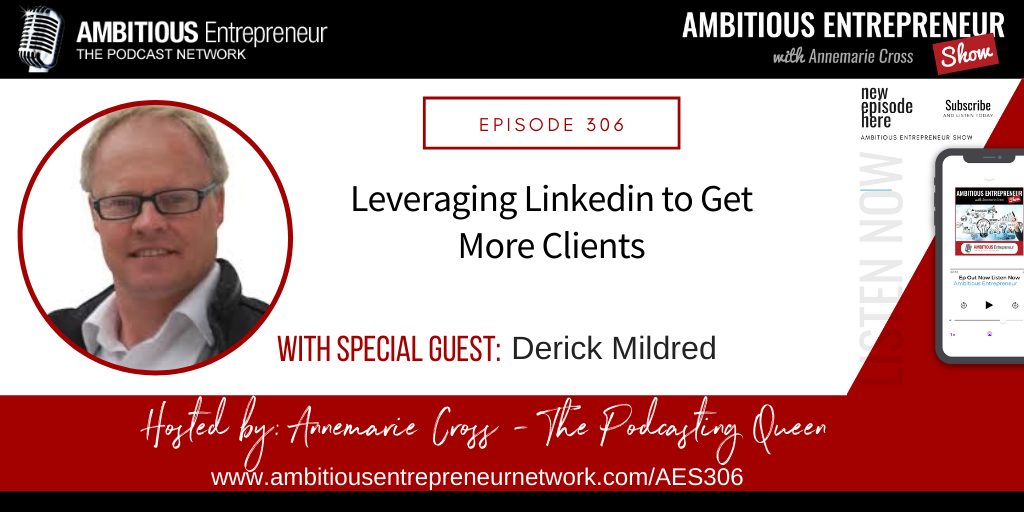 LISTEN NOW: 
Podcast: Play in new window | Download (Duration: 42:46 — 34.7MB) | Embed
Subscribe: Apple Podcasts | Google Podcasts | Spotify | Android | Stitcher | Email | RSS | More
WATCH NOW (and check out the Resources and Episode Highlights below): 
<
Resources
Episode Highlights
[03:51] How Derick got Started on LinkedIn
Derick opened his first LinkedIn account in 2004 but did very little with it until 2014.
One day, he heard from a friend that LinkedIn is the professional version of Facebook, and he thought that sounded interesting.
Back then, his business was related to SEO. He got 99% of his clients from LinkedIn by writing articles on what to include in a website.
He discovered that people reach out to you when you build credibility and a relationship with your audience.
[06:10] How to Stand Out on LinkedIn
Most people reel away from messaging that is too sales-oriented.
Instead of trying to sell, post content that adds value to your audience.
By doing so, you position yourself as an authority within your industry. You also start to establish and nurture a relationship with your audience.
Different people will have different reactions to your posts—that's alright.
You simply have to put yourself out there, have confidence in it, and slowly build your momentum.
[09:28] How to Make a Good LinkedIn Profile
Your account is one of the first things an audience will look at when you spark their interest, so it's crucial to know how to make a good LinkedIn profile.
Your banner image, your face pic, and your headline are the three things that have the most impact on your audience.
Use a banner image with a key benefit statement aimed at your target audience. Meanwhile, your headline should highlight what you can do for them.
In terms of content, consider who your target market is, find out what they're looking for, and provide these to them.
It's also a good idea to add media content and more importantly, social proof. Tune in to the full episode for more tips on how to make a good LinkedIn profile!
[16:52] How to Avoid Turning Potential Clients Off
Don't start too many of your sentences with 'I'. It's about showing a genuine interest in other people.
Also, avoid pitching too early in the conversation.
When you have built a relationship, that's the time you can go more in-depth and invite people to a different platform for a call, meeting, or webinar.
[20:29] 30 Tips in 30 Days
Derick wanted to learn more about using hashtags on LinkedIn. Here, he found out that you can register a hashtag for $20.
He then thought of coming up with LinkedIn tips that can add value to people.
He ended up with a list of 30 tips, and these tips started his video journey on the platform.
The response was amazing, and people were grateful to him for the information, tips, and tools he was sharing.
[26:39] Videos That Work Well on LinkedIn
Videos less than 3 minutes long tend to do better on LinkedIn.
If you make them too long, you lose people's attention span. Be concise and get to the point.
Grab their attention through your headline or thumbnail image.
Captions can help you get your idea across and emphasise your message.
You can also repurpose your videos by sharing them on different platforms. Listen to the full episode to find out how Derick utilised videos for his #30TipsIn30Days series!
[35:45] On Personal Branding
With everything you do online, you are effectively building your own personal brand.
However, if it comes off too strong, it starts to turn people off.
Having too much branding can be disempowering. Show the human side of you because again, people want a relationship.
[40:54] Tips for Engaging Online
If you want your post to do well, engage with other people's content 20-30 minutes before uploading yours. The algorithm favours this.
Also, interact with people within your target audience.
Try to reply to comments on your post as quickly as possible.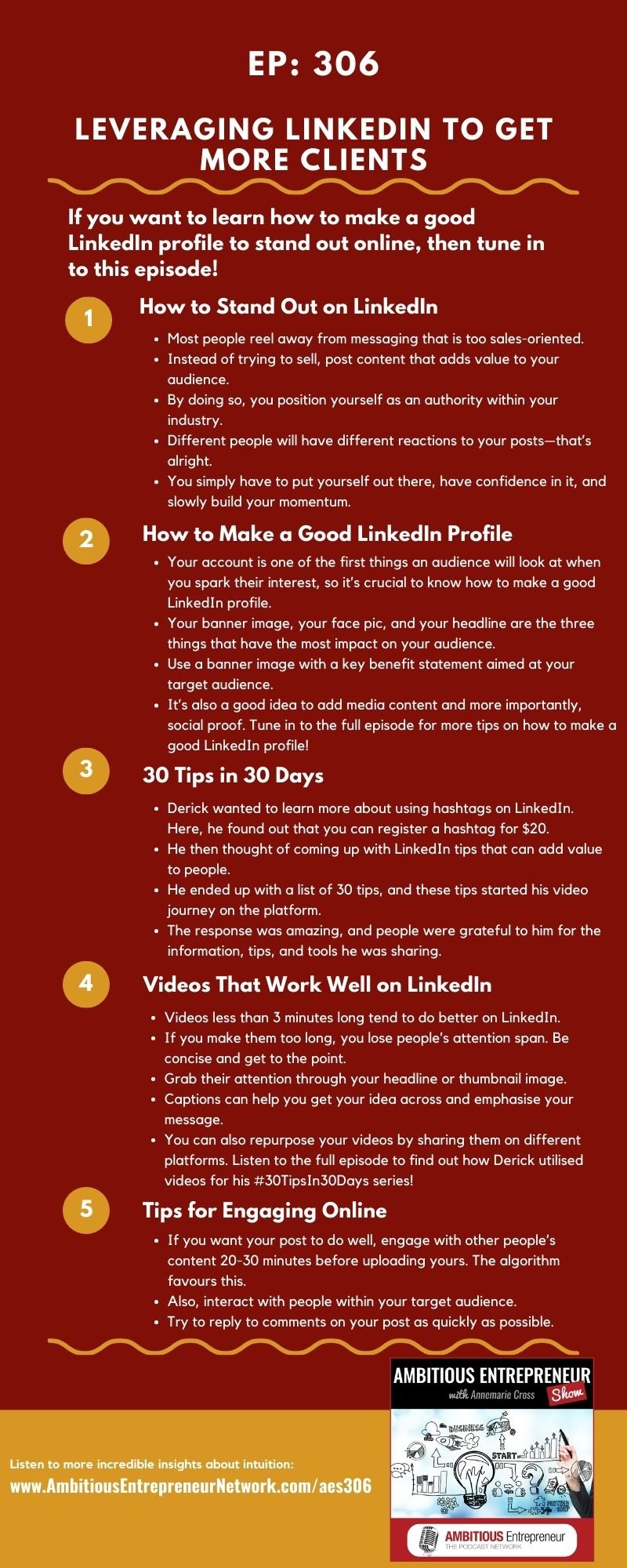 10 Powerful Quotes
'The most effective content that you can post is content that literally adds value to your audience without selling.'
'By adding value without selling, you literally position yourself as an authority within your industry. And you start to establish, build, and nurture the relationship with your audience.'
'If you think about all of the years of experience that we individually have in our specific areas of expertise, there is just no way we could wrap all of that and give that away.'
'So building up your recommendations is very important. The only way to do that is one needs to get comfortable with asking for them.'
'So you take the conversation away from LinkedIn. That is where you go into more in-depth: the services that you provide, the fees that you charge, etcetera.'
'It's 'be polite, be helpful, be valuable. When you do that consistently, day in and day out, then your ideal client will often step forward and ask to speak with you.'
'Everything that you do on LinkedIn, or everything that you do online, you are effectively building your own personal brand.'
'If you use too much branding, or if your branding is too strong, it's too out there, then I think it starts to turn people off.'
'If you want to post and you want to post to do well, it's highly advisable that you engage with other people's content for 20 to 30 minutes before you post.'
'The best content that you can engage on is people within your target audience.'
About Derick
Derick Mildred is a LinkedIn and Facebook coach. He is the founder of Results Formula Social, which teaches people how to make a good LinkedIn profile to grow their businesses. He has over 20 years of experience as a business coach and consultant. His LinkedIn profile has regularly been in the top 1% most viewed. Derick also has over 44,000 connections and followers, well over 1,000 endorsements for his skills, and numerous recommendations.
As the author and publisher of online courses such as Linked Into More Business and FastTrack Your Social, he is sought after for his advice and coaching on how to use Facebook and LinkedIn to generate leads.
If you want to learn more about Derick, you can reach out to him on LinkedIn, Facebook | Instagram. You can also check out Results Formula Social's website.
Enjoy This Podcast?
LinkedIn is a good platform to expand your reach and connect with potential clients. However, you can get drowned in the sea of accounts if you don't know how to make a good LinkedIn profile.
Paying attention to your account and providing quality content are crucial if you want your personal brand to thrive online. If you enjoyed today's episode of Ambitious Entrepreneur Podcast, then hit subscribe now!
Post a review and share it! If you learned something by tuning into this podcast, do not hesitate to write a review and share it with your friends, so they can find out more about knowing the right time for pivoting a company.
For more updates and episodes, visit the Ambitious Entrepreneur Show website. You can also subscribe through Apple Podcasts, Google Podcasts, Spotify, Stitcher, Email, RSS and more!
You can also follow us through Facebook.
Want to build a scalable business you are passionate about? Join The Influence Alliance – the Business Building Community for Change Makers.
Want to launch your own Thought Leader Podcast? Access my 'Are You Ready to Launch Your Podcast' Quiz here, and have a chat with me.
Have any questions? You can contact me through these platforms:
To staying ambitious,
Annemarie