Understanding Sales, Influencing and Negotiation Ploys with Derek Arden
To be good in business, you have to be a good negotiator. While this may sound easy in theory, it can be challenging to put into practice. You need to have a good listening ear and a keen and observant eye. You should also know how to hold down negotiations using unique selling points, use variables to upsell or down-sell and get paid what you're worth. Once you have these skills under your belt, you can develop and find negotiation strategies  tailored to different people and situations.
In today's episode, Derek Arden joins us to talk about using the secrets of professional negotiation to increase income. Derek talks about sales, influencing and various negotiation strategies he has used. He also discusses how to have more confidence in dealing with difficult people and situations.
If you want to learn how to use negotiation strategies for your benefit, this episode is for you.
Here are three reasons why you should listen to the full episode:
Discover the best negotiation strategies for different types of clients.
Learn the best and worst negotiation strategies.
Find out the best action step when a prospective client negotiates down.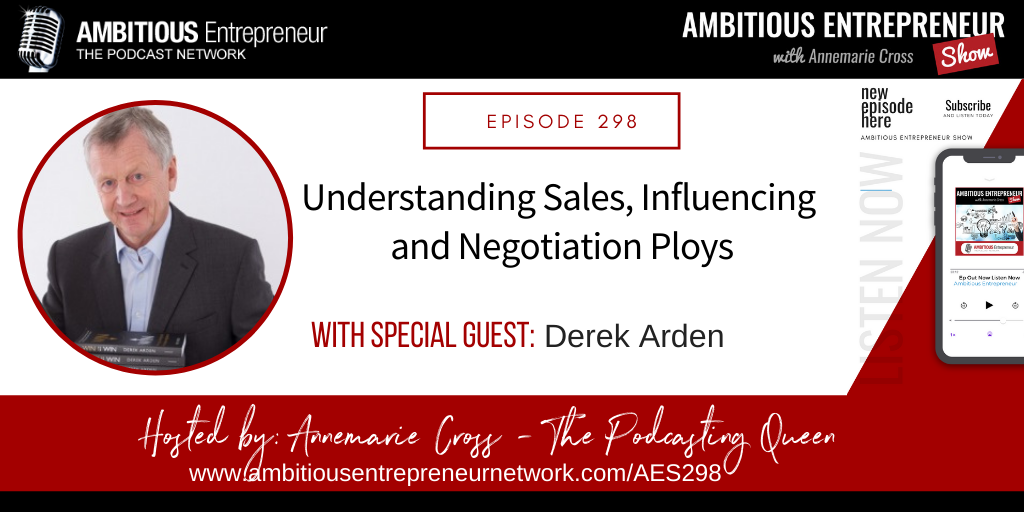 LISTEN NOW: (and check out the Resources and Episode Highlights below): 
Podcast: Play in new window | Download (Duration: 30:44 — 42.2MB) | Embed
Subscribe: Apple Podcasts | Google Podcasts | Spotify | Android | Stitcher | Email | RSS | More
WATCH NOW (and check out the Resources and Episode Highlights below): 
Resources
Episode Highlights
[02:41] What Drew Derek to Negotiation
Derek was previously Head of Relationships Management for Barclays Bank.
He got thrown out of the world's third-largest retailer for not reducing his price on a million pounds contract.
This experience was Derek's wake-up call. He realised that he's not a good enough negotiator.
That night, he bought the book Everything is Negotiable by Gavin Kennedy.
What he found was that many people think they're good negotiators because they should be. However, negotiation strategies aren't always intuitive.
[04:57] Key Insights on Negotiating
Selling could either be working for yourself or selling for the company you work for.
Position your product's unique selling points at the high range of the price. It is part of your positioning for the negotiation.
If you don't look unique and high-quality, you will get negotiated down to the lowest common denominator.
Anchor at a high price. From there, you can remove or add variables depending on the price that's negotiated.
Women earn 17% less than men for doing the same job. Derek attributes this to the fact that men ask for more generally.
[09:06] Differing Negotiation Strategies
The price you pitch depends on the way you're selling and presenting. It's different work when you customise and tailor negotiation strategies for a particular client.
Preparation is a critical issue in selling, negotiating and influencing.
You have to make sure you're pitching to the people you've got a good chance of winning the business.
When it comes to pitching, it's crucial to pre-qualify clients, bespoke the pitch to them and build relationships with key decision-makers.
[10:59] Waiting for a Response after an Email Proposal
There are various reasons why you may not get a response after sending off a proposal via email.
Statistics show that up to 30% of emails don't get to their final destination due to traffic.
You can either resend an unanswered email or resort to calling or texting.
Negotiating through email is the worst form of negotiation.
Instead, try negotiating face-to-face, through Zoom, or by phone.
[13:05] Negotiation Strategies for Speaking to the Decision-Maker
You have to find the decision-maker intuitively.
Before this, you have to identify key persons who will get you to the decision-maker and have them recommend you.
Form a good relationship with this person as they will be recommending your pitch up.
Do not bypass the other party that the decision-maker is with. They may influence the final decision as well.
Listen to the full episode to learn the technique that car dealerships use to determine the decision-maker.
[17:27] Negotiation Strategies for Dealing with Difficult People
Since everyone's different, you have to put yourself in the other person's shoes in your negotiation strategies.
If you're negotiating with a direct person who dislikes small talk, you need to adapt.
However, this may be challenging since statistics say that you should spend five minutes building rapport every 60 minutes of negotiation.
The best salespeople are the people who listen with their two ears and two eyes.
You need to know how to read the situation and observe body language.
[19:35] When a Prospective Client Negotiates Down
You need to research and see whether the claims of a prospective client are true.
If they ask for a 30% discount, ask them whether the competition offers the exact same services you do. If the client thinks that the competition does, recommend that they take the offer.
Never cut the customer off. Instead, give them your business card and offer your services should they not be satisfied with your competitor's.
In doing so, you worry your prospect that they're not going to get the same service from your competitor.
If they get into a mess with your competitor, you can now charge them more to help them out of it.
[23:01] Reducing the Package
People generally don't want to take anything out of a package that you pitch. They come to you because you pitched them with the extra value-added things in.
You must not lose your call when people attempt to negotiate down.
Prioritise having a higher value business.
Don't look like you're desperate, but always keep the door open.
[25:27] Negotiation Is a Two-Way Street
Anchor your price high.
Use the keyword "normal" when introducing your price so that there's room for negotiation on the other party's end.
Tune in to the full episode to learn how Derek negotiates his price high when he's invited to speak!
Derek's favourite saying is it's better that there's something for nothing than nothing for nothing.
[27:43] Derek's Book: Win Win
Derek's book has a Chinese version.
The book contains Derek's 30 years of experience in negotiating.
It took him two years to write the book because Derek admits that he's more of a speaker than a writer.
[29:45] Final Thoughts
According to research by Henley Management College, a good negotiator gets paid twice as much as the average negotiator.
Remember, you can't be good in business unless you're a good negotiator.
10 Powerful Quotes from the Episode
[03:50] 'What I find in a lot of people that they think they're good negotiators because they should be. Because children are good negotiators. Great at getting their way with mum and dad, auntie and uncle, grandpa and grandma. But of course, then we think that's just an intuitive skill we can carry through as we go through the world, and it's not.'
[05:45] 'If you don't look expensive, if you don't look high-quality, if you don't look unique, then guess what? You're going to get negotiated down to the lowest common denominator, which of course will be a transactional sale rather than a value-added relationship sale.'
[06:13] 'You can always negotiate down, but you can't negotiate back up. So if you start high, you can bring your price down, you could discount it for certain reasons, you could take small things out of the product, or you could put small things back in.'
[08:00] 'If you don't ask, you don't get. And if you don't ask you don't give the other person the opportunity to say yes to you. And if you ask and they say no what have you lost apart from just a little bit of self-pride?'
[09:57] 'If you want to earn a lot of money and if you want to be a consultant who pitches a higher and higher value-added like I do, then you want to bespoke it for the clients that make a real difference.'
[13:24] 'If you're my main contact, but you're not the decision maker, then what I really need to do is to make sure that you are recommending it up.'
[18:32] 'Put yourself in the other person's shoes, what do they want to achieve? And if you can help them get what they want, then you can get what you want.'
[18:47] 'The best salespeople are people that listen, listen with their two ears, and then two eyes to what the person's saying, how they're saying it and what their body language is saying.'
[20:45] 'So you want to never, never slag off the competition, never slag off the other offer. And just worry them a bit that they're not going to get the same service as you.'
[21:13] 'You should do business with people you like, and not who you don't like.'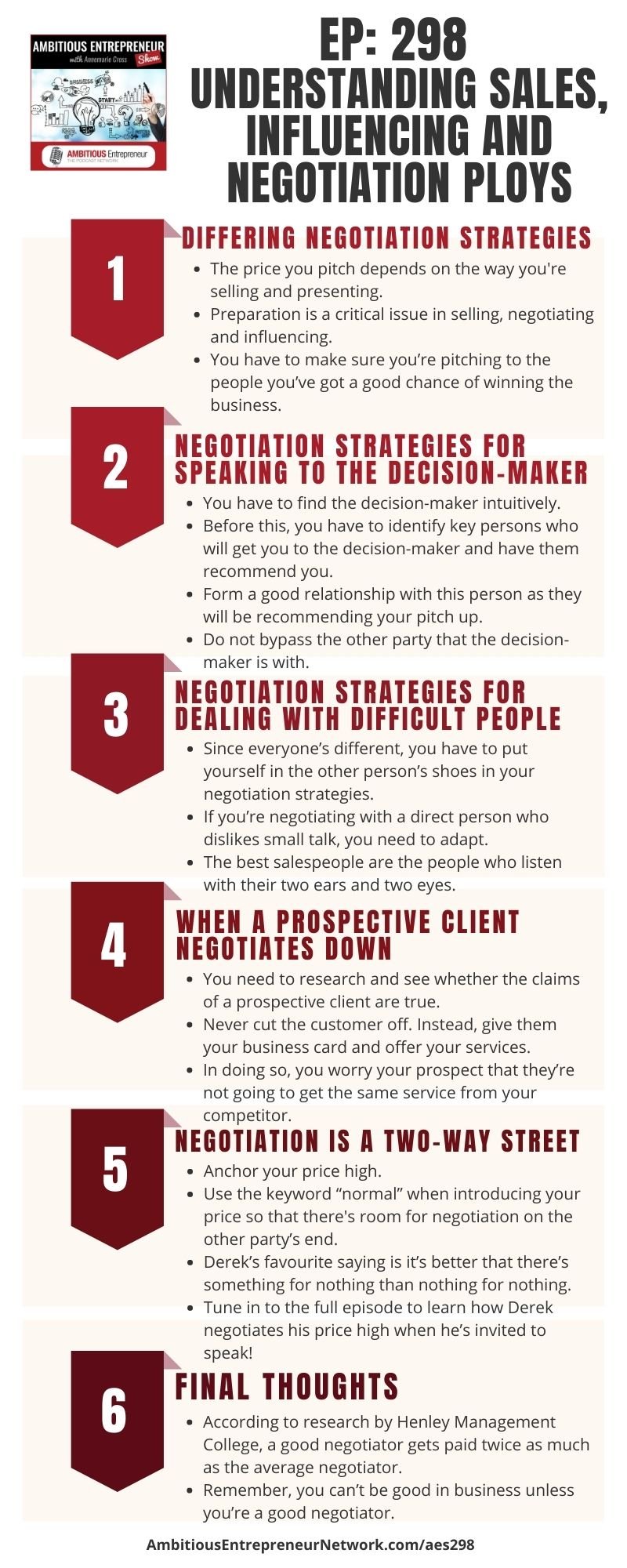 About Derek
Derek Arden is an international negotiating expert, award-winning speaker, best-selling author and chat show host. He consults, speaks to and trains companies, salespeople and leaders to increase their profits and relationship management skills through advanced negotiation skills. Derek is one of the three people in the UK who has been awarded the Top 3 awards by the Professional Speaking Association.
Derek is the author of the bestselling book Win Win: How to Get a Winning Result from Persuasive Negotiations.
If you wish to know more about Derek's, check out his website, connect with him on LinkedIn and subscribe to his YouTube channel. You may also send him a message directly on his email at action@derekarden.co.uk.
Enjoy This Podcast?
You do not get paid what you're worth; you get paid what you negotiate. It's crucial to be aware of the negotiation strategies you can use to position yourself at an advantage. Derek Arden shows the value of negotiating well.
If you enjoyed today's episode of Ambitious Entrepreneur Podcast, then hit subscribe now!
Post a review and share it! If you learned something by tuning into this podcast, do not hesitate to write a review and share it with your friends so that they can find out more about the critical factors in negotiation.
For more updates and episodes, visit the Ambitious Entrepreneur Show website. You can also subscribe through Apple Podcasts, Google Podcasts, Spotify, Stitcher, Email, RSS and more!
You can also follow us through Facebook.
Want to build a scalable business you are passionate about? Join The Influence Alliance – the Business Building Community for Change Makers.
Want to launch your own Thought Leader Podcast? Access my 'Are You Ready to Launch Your Podcast' Quiz here, and have a chat with me.
Have any questions? You can contact me through these platforms:
To staying ambitious,
Annemarie