Business Priorities: Increase Profit, Find the Right People, and Improve Processes with Madelyn Dunlap
As you're growing your business, you may find yourself wondering how to increase profit  more effectively. Before we answer this question, you need to know where your business is currently at. There are seven different business stages that each demand a different focus.
Profit, people and process — all three are essential in creating a successful business. However, you need to learn which to prioritise at what stage.
In this episode, Madelyn Dunlap joins us to talk about the growth stages of a business. Madelyn shares that every stage is different, and we need to focus on building a solid foundation in each stage before moving on to the next. She also discusses how knowing and understanding the needs of each stage can help you and your business get better results.
If you want to learn how to increase profit and still balance it with your business growth, then this episode is for you.
Here are three reasons why you should listen to the full episode:
Understand the different stages of growth and how to assess where your business is currently at.
Learn the different challenges when going through the stages and the mindset shift you need to take.
Discover the ways you can balance profit, people and process for your business.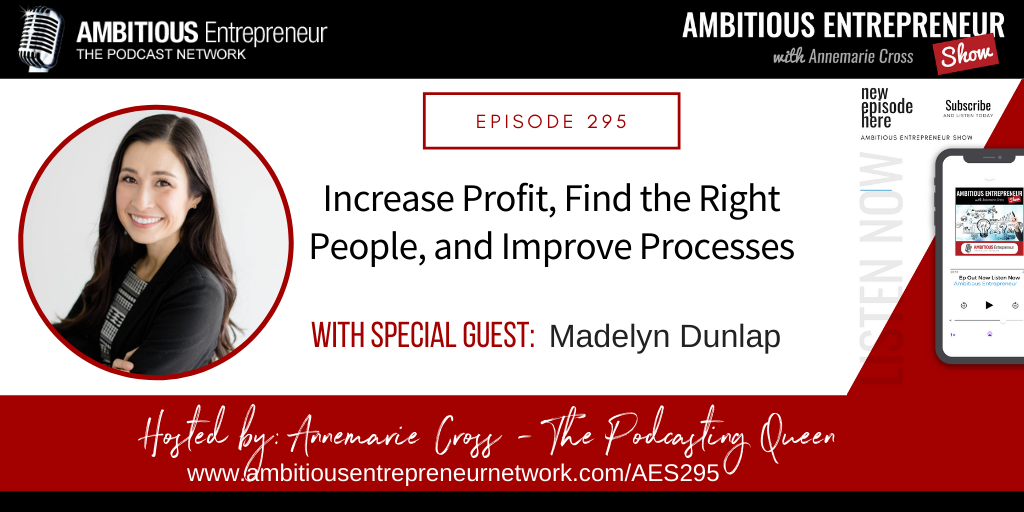 LISTEN NOW: (and check out the Resources and Episode Highlights below): 
Podcast: Play in new window | Download (Duration: 33:49 — 46.4MB) | Embed
Subscribe: Apple Podcasts | Google Podcasts | Spotify | Android | Stitcher | Email | RSS | More
WATCH NOW (and check out the Resources and Episode Highlights below): 
Resources
Episode Highlights
[02:25] How Madelyn Started with ReWild Group
Madelyn shares that she has never been a CEO despite consistently working with business owners.
However, she has grown up with entrepreneurial parents.
Madelyn also saw how a business growth methodology transformed the company that she worked for right after college.
Before knowing how to increase your profit, you need to know where to focus and where your business is.
Businesses can grow this way exponentially, even with the same amount of work and effort.
[05:19] Learn to Allocate Your Time Based on Your Business
Every business needs a visionary, manager, and specialist. There will be times you need to act in all three roles, but this will vary based on your business' stage of growth.
The visionary focuses on the vision, the manager handles the workflow, and the specialist manages the delivery.
Remember that how you increase profit is interconnected with how you spend your time.
However, you need to focus at least 40% of your time as a visionary, no matter the stage.
As your business grows, you need to keep in mind the transition from being owner-centric to enterprise-centric.
[10:26] The Different Stages of a Businesses
The different stages of a business are based on the number of people you employ. From stage one to seven, these are: startup, ramp-up, delegation, professional, integration, strategy, and visionary.
Each stage requires a different focus.
Listen to the full episode to hear the in-depth discussion on the different business stages.
[11:26] The Challenges of Transition Between Stages
The most challenging period is when businesses transition from being owner-centric to becoming enterprise-centric.
Big companies are not meant to be run by one person. As your business grows, you need to set up a good foundation at every stage.
For example, by stage 4, you need to work on your process and organisation. You also need to invest in managers.
If you don't get your process right by this stage, it will be difficult for you as your company grows.
[18:10] A Solid Mindset for Businesses
Having a good mindset comes down to what you're trying to build.
Being enterprise-centric means that you build something that has transferable value. Eventually, this is how to increase profit with less work.
If you don't build something enterprise-centric, when you, the leader, goes away, so does the business.
You need to cast your vision out and get like-minded people onto your team.
[20:30] How to Increase Profit by Focusing
In the first two stages, your company should focus on how to increase profit, then people, and lastly on processes.
How to increase profit heavily depends on the way you prioritise people and processes.
Businesses need to learn to focus on different things at different stages of growth.
Listen to the full episode to learn why being process-oriented in the first stages isn't conducive to growth.
[23:20] The Value of Finding the Right People
One aspect of learning how to increase profit is how you hire people for your business.
Learn to hire the right people. Not only should they wear different hats, but they should believe in your vision and have aligned values.
You can't work on everything.
You will need people who complement you and work on things you're not good at.
[26:48] How to Move Forward
Business growth should be cumulative.
Often, problems arise when businesses didn't handle things they had to focus on in previous stages.
Problems can also come from the transition itself. Processes and systems may need to change as a business grows.
Remember, there's a framework that will help you grow your business and teach you how to increase profit.
The goal of the system is to help you and your business achieve better results, no matter what stage your business is at.
10 Powerful Quotes
[02:44] 'I work with a business growth methodology that isn't built on my own personal experience. It really is a business growth methodology that spans the successes and the failures of decades of businesses.'
[09:03] 'Your business has needs. And really that the success comes when you can align how you spend your time between those three things [being a specialist, manager, or visionary] with what your business needs from you.'
[12:27] 'That transition from owner-centric to enterprise-centric is probably the most challenging transition from the perspective of the business leader. And it's because their relationship with their business changes more dramatically in that shift then in any other stage of growth.'
[19:28] 'Most CEOs, I know get into business because they bet on themselves. Right? And part of that mentality is that you do things yourself. The problem is, is that if you're the only one that can do it, the business is just you.'
[23:10] 'Your business needs to focus on different, needs to prioritise these three things differently based on the stage of growth they're in.'
[26:10] 'The leaders that are self-aware, that they understand where their strengths and their weaknesses lie, and are intentional about surrounding themselves with people who have strengths in areas that they simply don't, they're a stronger unit.'
[27:26] 'If you don't follow the rules for growth, it doesn't keep a business from growing. But it does impact the resilience that business has at that new stage.'
[28:22] 'What you had in place earlier doesn't always sustain you to that next level. So it is cumulative. And challenges that we face, you know, in our current stage are often, can be traced back to things in earlier stages.'
[31:06] 'The goal of this growth system is to help business leaders be able to receive the reward and the success that their effort and sacrifice deserves. There is a system, there is a predictable model, a foundation, a framework for growing your business.'
[31:38] 'They're just these foundational things that if you can learn and understand and apply to your business, that you, with the same amount of effort, the same skill set will just achieve better results for yourself, your organisation and your staff.'
About Madelyn
Madelyn Dunlap is the Director of Business Development at ReWild Group LLC, a company dedicated to helping business develop scalable processes and resilient organisations to carry out their mission! Through her expertise, Madelyn aims to help businesses use the effective growth framework of Organizational ReWilding to create exceptional businesses and leave a lasting impact on the world. The framework is proven to help businesses grow three times in size and ten times their value in just three years! 
Before working with ReWild, Madelyn worked as a legal and business analyst for several companies. She holds an M.S. in Decision Sciences and Business Analytics from the University of Colorado, Denver and a B.S. in Business Administration and Economics from Regis University.    
Madelyn lives in the suburbs with her husband and three daughters. She likes to spend time outdoors on the weekends. 
Are you interested to know more about Madelyn's work? Check out ReWild group LLC.
You can also reach Madelyn via LinkedIn or email. You may also contact her through +17209960300.
Enjoy This Podcast?
As businesses grow, they go through different stages. Whatever stage your business is at, you want to make sure that you have the right foundation, people and processes in place. As Madelyn explains, this is how to increase profit with the same amount of effort and skill set.
Growth is a process, and constant innovation and change will bring about success in your business. If you enjoyed today's episode of Ambitious Entrepreneur Podcast, then hit subscribe now!
Post a review and share it! If you learned something by tuning into this podcast, do not hesitate to write a review and share it with your friends, so they can find out more about creating an online course, evolving their businesses and why mobile is the future.
For more updates and episodes, visit the Ambitious Entrepreneur Show website. You can also subscribe through Apple Podcasts, Google Podcasts, Spotify, Stitcher, Email, RSS and more!
You can also follow us through Facebook.
Want to build a scalable business you are passionate about? Join The Influence Alliance – the Business Building Community for Change Makers.
Want to launch your own Thought Leader Podcast? Access my 'Are You Ready to Launch Your Podcast' Quiz here, and have a chat with me.
Have any questions? You can contact me through these platforms:
To staying ambitious,
Annemarie