Innovative Thinking: Creative Disruption Strategies with Cara Macklin
The pandemic showed us that things must change. We need to jumpstart our innovative thinking to survive uncertainty, volatility and disruptions. Is your company ready for the future? Your upper-level management might be prepared, but have you considered everyone in your business, including those who face clients daily?
In this episode, Cara Macklin joins us to talk about how innovative thinking is the only way our businesses will survive periods of uncertainty. Moreover, even if you have many ideas, you can't cover every single thing. You need the help of your people to bring about meaningful change. This is where a culture of ideation will push your business to greater heights!
If you want to learn how to encourage innovative thinking and inspire, empower and motivate your people, then this episode is for you.
Here are three reasons why you should listen to the full episode:
Discover why you need to start creating a culture of ideation and innovative thinking for yourself and your company.
Understand the common pitfalls in making ideation more common in the workplace.
Learn the importance of team dynamics and perspectives to boost ideation.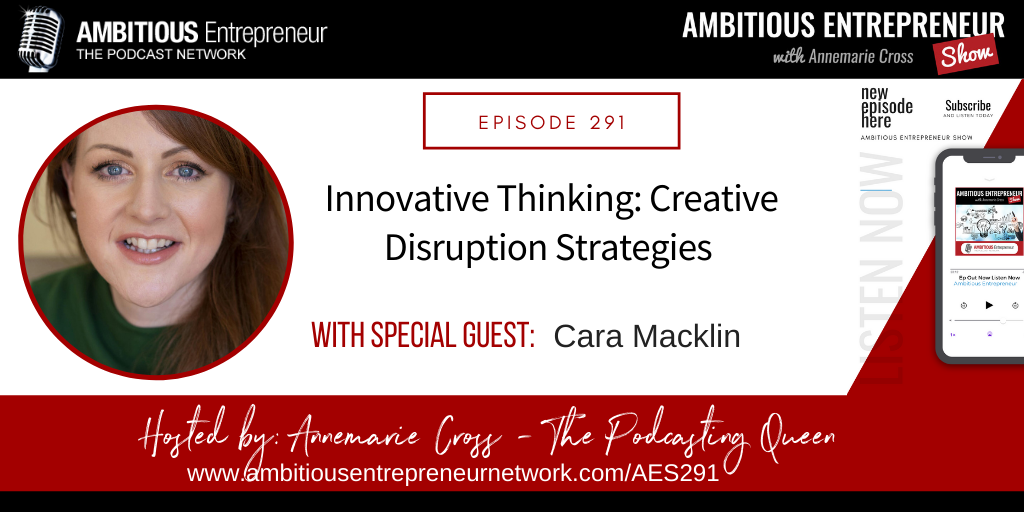 LISTEN NOW: (and check out the Resources and Episode Highlights below): 
Podcast: Play in new window | Download (Duration: 40:20 — 55.4MB) | Embed
Subscribe: Apple Podcasts | Google Podcasts | Spotify | Android | Stitcher | Email | RSS | More
WATCH NOW (and check out the Resources and Episode Highlights below): 
 Resources
Episode Highlights
[02:34] Innovative Thinking Is Crucial for Survival
Cara shares that she has practised innovative thinking over the years, growing up and in her career. This has helped her think of doing things differently.
We need to remember that people have a high need for safety. The pandemic threw our situation upside down, and now a lot of people are scared.
While it may not be what she envisioned, Cara has long understood that the future of business would be volatile and extremely disruptive.
Businesses need to develop innovative thinking, or they won't survive in the future.
[07:56] Ideation Should Start from People
Ideas and innovative thinking should not be limited to leaders and managers. Everyone in the company should actively participate.
As a leader, you need to start thinking about getting the best ideas from your people.
Sometimes, innovation consultants won't be able to tell you what to do. It's the people actively engaging with your product.
[10:41] Obstacles in Creating a Culture of Ideation
When leaders scale their business, they may be scared to let go of some tasks.
Remember, you can't do everything. And if you're doing everything, you won't have the time to think.
The best ideas can come during a shower, taking a walk, on holidays and more. Re-create these moments in your life.
Not only that, you need to create the same environment for your people. A lot of people have grown used to listening to higher-ups and not giving their own opinions.
Empower your people, and you'll see productivity shoot through the roof! Listen to the full episode for Cara's explanation of how this happens.
[15:55] Different Perspectives on Different Things
Learn to hire the right people for the right job. Not doing so can harm people's mental, emotional and even financial well-being.
People have different perspectives and will have amazing ideas you never even thought about.
Train people to ask different questions and understand how their personalities and behaviours can affect how they look at a problem.
Don't worry if everyone is not on board with the change. It's already a great sign when the majority are in favour.
[23:21] ] 80-20 Rule
80% in favour of change is an excellent ratio to start. However, don't neglect the 20% — they can be powerful drivers for your project.
Understand why they're not in favour in the first place, and you may find interesting angles to your project that you overlooked.
Recognise the different communication and leadership styles of people.
[26:23] You Need to Start with Yourself
You can't create a culture of innovative thinking until you start with it yourself.
Assess the things you're actively engaged in, like networks, collaborations, podcasts and books. What helps disrupt your thinking?
The pandemic forced people to do things differently immediately without any warning. Businesses are strong where they're used to, but they weren't ready to be flexible.
Surround yourself with people who can change and disrupt your thinking.
[34:42] Recognise Your Team
Innovative thinking is not about one idea. It's a collection of small ideas that add up.
When building a culture of innovative thinking, remember to praise and acknowledge your people.
There shouldn't be a hierarchy when sharing ideas.
10 Powerful Quotes from This Episode
[07:48] 'If you aren't flexing your muscle of creative thinking and ideation as a leader, my opinion is you're not going to survive in the future.'
[08:55] 'A lot of the leaders I work with, say to me, "Cara, why am I the only one that has to come up with the solutions in this business? Why does everyone come to me when the problems happen? You know, why am I sitting here on a Friday afternoon, trying to do my day to day job, and then I'm trying to solve these problems in the future"? And I say back to them, "Well, that is your problem, because that's not the way it should be."'
[10:10] 'When you see a culture of the ideas are not just coming from the people at the top, because actually, that's not where the best ideas come from, in my opinion. It comes from a combination of people, your customers, as well.'
[13:53] 'It's not like a light switch, you know. . . well just tell me 10 new ideas, you don't just come up with it. So leaders need to give their staff the time and create the environments.'
[14:09] 'What got them here has been very, very successful, which is their own expertise, their own rivers of thinking. But the more successful they are, the deeper that is, and to disrupt that it's very difficult. Because the more that you know, the more experience you have in an industry, and the longer you're in it, or the more successful you are, the harder it is to to help you think differently.'
[20:33] 'Different people look at things differently. So I train people how to ask different questions, I train them how to see the different types of people on their team.'
[22:30] 'If you say the word change, or innovation or ideas or new ways of doing things to them, they immediately think, "Well, why are we changing it? You know, don't fix it, if it's not broken". . . So you have to be careful, actually, because the people like you and I do keep changing things.'
[28:19] 'You cannot create a business that's agile and a culture of ideation unless you're doing it yourself.'
[33:15] 'The other problem with when you're in an industry, you don't want to do anything different, because you should know what you're doing. And if you step out from doing that, and you do something definitely goes wrong, all of a sudden, you're not an expert anymore. Whereas when you bring in someone who's not in the industry, they can say and do things and help around the senior table to just shift your thinking completely.
[37:50] 'If you're going to do this kind of work and in your business — i believe you need to otherwise you will not survive as I said — but you will get it wrong. You'll come up with 10 ideas and one might work.'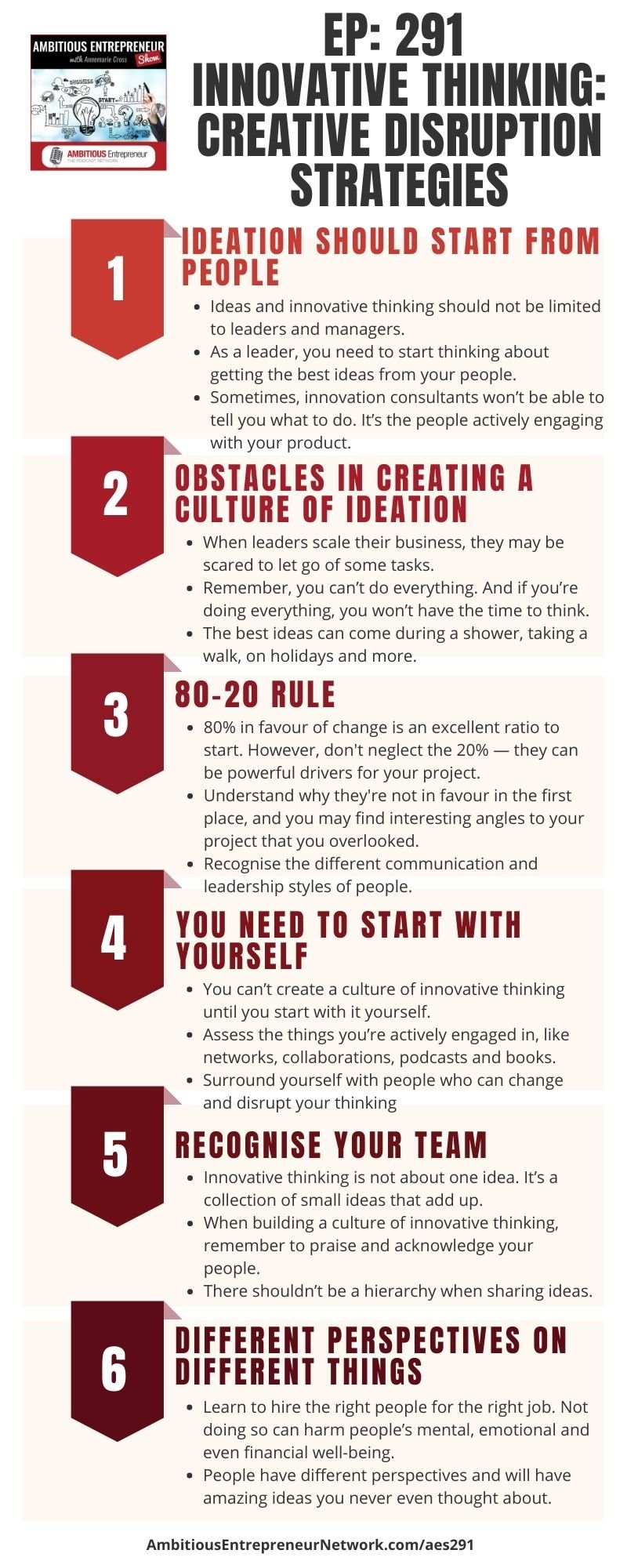 About Cara:
Cara Macklin started young in her entrepreneurial journey, opening her first business at 15 years old running buses to nightclubs for her friends. She has worked in several industries, including Marks & Spencers Food Trend Studio, Malone Lodge Hotel and more! She also worked as a director of her family business in the healthcare and hospitality industry for 15 years. She grew it from three businesses with 250 staff to seven with 600 employees.
With her innovative mind and an ambitious drive, Cara disrupted the healthcare industry in Ireland with the 'Lifestyle Care Home,' which was noted as a world-class concept by the IoD chair.
Cara now offers coaching calls and programs on her website. In times of uncertainty, she is a wonderful source of guidance. She has overcome challenges of disrupting an industry, obstacles of scaling a business, crashing and burning out. Cara is also regularly featured on FOX TV, BBC and Thrive Global.
For a deeper look into Cara's innovative thinking, check out her free webinar made especially for our listeners!
You can also reach out to Cara on her website, Facebook, Instagram and LinkedIn.
Enjoy This Podcast?
To successfully grow service-based businesses, we should not get caught up in the distractions around us. Comparing ourselves with others, competing with colleagues and compromising our uniqueness can hinder our progress.
Focusing on your clients is key when it comes to building a business. If you enjoyed today's episode of Ambitious Entrepreneur Podcast, then hit subscribe now!
Post a review and share it! If you enjoyed tuning into this podcast, do not hesitate to write a review and share it with your friends.
For more updates and episodes, visit the Ambitious Entrepreneur Show website. You can also subscribe through Apple Podcasts,  Google Podcasts, Spotify, Stitcher, Email, RSS and more!
You can also follow us through Facebook.
Want to build a scalable business you are passionate about? Join The Influence Alliance – the Business Building Community for Change Makers.
Want to launch your own Thought Leader Podcast? Access my 'Are You Ready to Launch Your Podcast' Quiz here, and have a chat with me.
Have any questions? You can contact me through these platforms:
To staying ambitious,
Annemarie