From Invisible to Influential Trusted Authority with a Podcast Series – Episode 4
Hi, this is Annemarie – welcome to another episode of the Ambitious Entrepreneur Show.   
This is the fourth part of a series I've been running. If you're only just joining me the series was specifically for coaches or consultants who felt like the world's best-kept secret. This may be you and while your experience is vast, you're secretly frustrated, because, despite all of your hard work, you're just not getting the visibility, recognition, or new clients you'd hoped for despite all of the hard work you've put into your business?   
So, you're thinking of launching a podcast – because you've heard a podcast will help you amplify your message.  
As I've said before and I will say again, a podcast can certainly help you amplify your message.  However, it'll only amplify the message that's not working to more people. 
This is why I always say – launching a podcast is easy. But launching a podcast that enables you to go from invisible to influential Trusted Authority is another matter altogether, which is what I'll be sharing in my special series From Invisible to Influential Trusted Authority with a Podcast Series. It was part of a 9-Day Challenge I've run recently, however, I received such great feedback from people who attended the challenge, I knew I had to share it with you. So, when you hear me refer to 'tomorrow's workshop' – know that it will be coming next week when we release another show.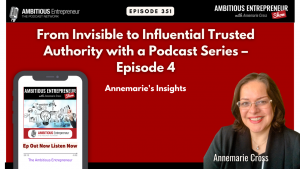 Here's what I'll be covering in the next 4 episodes: 
How to go from invisible, underpaid coach/consultant to highly paid, sought-after Trusted Authority with a podcast; 

 

How to transform your expertise from a want into a need and from an overwhelming number of choices to becoming the ONLY choice; 

 

How not to leave tens of thousands of dollars on the table but rather nurture and build long-term client relationships that lead to profitable and sustainable business growth;  

 

The POWER of Momentum: How to attract and generate a steady flow of your ideal clients right to your door so you NEVER have to 'chase' leads again, while leveraging the power of podcasting.

 
Let's dive into episode 4 – The POWER of Momentum: How to attract and generate a steady flow of your ideal clients right to your door so you NEVER have to 'chase' leads again, while leveraging the power of podcasting. 
RESOURCES:  
Want to join us live on our next 9-Day Challenge – join our VIP Waitlist and you'll be the first to know when we're running it again.  
Episode Highlights
The Distinction Model: Momentum
Create a compelling Irresistible Signature Giveaway (i.e. Digital Asset) that ideal clients can't wait to get access to, which gets them into your relationship building/nurturing funnel
Momentum defined:
Business momentum is the impetus that drives your business's growth

It's the beginning of the journey: "the path of strategic sequential steps and interactions that a customer goes through to build 'know, like and trust." 
Understand the Customer Journey
"…the path of strategic sequential steps and interactions that a customer goes through with a company, product and/or service to build 'know, like and trust"
Stages:
Awareness
Consideration
Decision
Your Digital Asset (Irresistible Signature Giveaway:
It's developed in such a way that it continues to showcase (and validate) your Promise of Value AND Promise of Expectation

It highlights areas of growth (i.e. gaps, areas keeping your ideal client STUCK)
It gives them mini wins already, which is going to be HUGE because you've been able to support them in achieving clarity in where they are stuck- self-awareness is often the first step towards transformation
It validates why YOU/your program/services – so can not only be used in your marketing, however also an incredible sales tool.

You've helped your ideal client with a mini-win; you've explored what's keeping her stuck from achieving her goals; and you've

created a wonderful bridge between where she is now and where she wants to be. [Hint: guess what the bridge is? YOU and YOUR PROGRAM!
Where Do You Start?
By looking at the pillars of Your Signature System (Your step-by-step IP/Methodologies that you take your client through in order to take them from STUCK to UNSTOPPABLE

Your Signature System – 5 pillars then becomes your quiz

Are You Ready to Launch Quiz? Idea to Launch Your Podcast to build your Reach, Reputation (as a Trusted Authority) and your Revenue, nurturing listeners into leads from your very first episode

And, you create a Quiz >> Core Business Foundations
Example: Pjero Madesic The Exceptionality Catalyst
"With over two decades in leadership roles across a multitude of industries, I've been in an out of marketing, branding seminars, personal development and training seminars left right and centre.
Although the level of marketing and brand congruency was good, I am now moving towards being uncopyable (and it's only been two months) due to the clarity I have gained through Annemarie's coaching/mentorship."
10 Powerful Quotes
[2:36] "I don't believe in competition because there's so much business out there. Your ideal client, that's what's so important. Define who that is and speak into that one message at a time, one ideal client at a time, and that will continue to grow."
[5:06] "If you're going to be sharing content across various social platforms, you need to be familiar with the power of momentum and how that can really benefit your business so that you don't get spread too thin with all the marketing that you have to do."
[6:40] "I think momentum is often not really spoken about, but so important when it comes to building business. How do we set up something that enables us to build momentum so that we are not feeling exhausted each and every time we finally get a client and it feels like we've won a marathon number of marathons just to get one client? Let's face it. We need more than just one client don't we? Because we wanna impact the world."
[8:52] "What I do is help them go from invisible to influential trusted authority, THE choice, versus just a choice when their ideal client is ready to move forward, and do that with a mixture of personal branding, messaging, taking your programs and giving you clarity on how to develop all of those, and then bring them out to the world and then launch a podcast on top of that."
[16:17] "I love to simplify things as much as possible. So I love looking through the lens of a customer journey in three simple stages. Stage one is building awareness, stage two consideration, and stage three is decision."
[17:44] "Sometimes you can be saying something that they've heard time and time again, but it's the expression of you and how you bring that forward, how you explain it to them through the lens of your markers and milestones that have them understand in a much deeper way with much more clarity than they have ever had before."
[18:03] "And I'm a true believer in 'right person, right time, right solution'. And you just happen to be there. When the student is ready, the teacher will appear."
[22:09] "When I say digital, it's not just online that people can't touch or smell or feel, but this is what your ideal clients cannot wait to get access to. It starts to build the relationship with them. It starts the momentum building of that relationship, where they're now aware of you and it gets them into your nurturing funnel, your pipeline."
[28:41] "When I say thought leader, I'm talking about how you are better placed to support your ideal client through the journey that he or she is struggling with. And your thoughts, your ideas, your systems, your programs, your services can support that client through that journey far better."
[31:40] "As coaches, we know often the areas that our clients are struggling with is not really the area [that they need to work on]. It's just a consequence, isn't it?"
Enjoy This Podcast?
If you enjoyed today's episode of Ambitious Entrepreneur Podcast, then hit subscribe now! 
Post a review and share it! If you'd like to work with me privately, let's have a chat – go to www.AnnemarieCross.com/LetsChat and book a time in my calendar.
I'm planning on doing more of these solo shows – if you have a topic you'd like me to cover – email me at: podcast@annemariecross.com
And, if you've enjoyed this show, I'd love for you to leave feedback over on our Apple Podcast and if you have a friend or colleague you believe could benefit from today's show – go ahead and share it with them. You can also subscribe through Apple Podcasts, Google Podcasts, Spotify, Stitcher, Email, RSS and more! 
For more updates and episodes, visit the Ambitious Entrepreneur Show website. 
Have any questions? You can also contact me through these platforms: 
As always, I appreciate you and look forward to helping you grow your business, and become known as the trusted authority in your industry and THE choice, vs just a choice with your ideal client.
To staying ambitious, 
Annemarie