From Invisible to Influential Trusted Authority with a Podcast Series – Episode 3
Hi, this is Annemarie – welcome to another episode of the Ambitious Entrepreneur Show.  
This is part 3 of our 4-part series where we are talking about how to go From Invisible to Influential Trusted Authority with a Podcast. 
If you are a coach or a consultant and feel like the world's best-kept secret? Your experience is vast, yet secretly you're frustrated because, despite all of your hard work, you're not getting the visibility, recognition or ,new clients you'd hoped for despite all of the hard work you've put into your business?   
So, you're thinking of launching a podcast – because you've heard a podcast will help you amplify your message.  
As I mentioned in episode 1 of our series – a podcast can certainly help you amplify your message.  However, it'll only amplify the message that's not working to more people.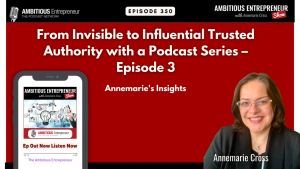 If you're only just joining me: 
How to go from invisible, underpaid coach/consultant to highly paid, sought-after Trusted Authority with a podcast; 

 

How to transform your expertise from a want into a need and from an overwhelming number of choices to becoming the ONLY choice; 

 

How not to leave tens of thousands of dollars on the table but rather nurture and build long-term client relationships that lead to profitable and sustainable business growth;  

 

The POWER of Momentum: How to attract and generate a steady flow of your ideal clients right to your door so you NEVER have to 'chase' leads again, while leveraging the power of podcasting.

 
Let's dive into episode 3 – How not to leave tens of thousands of dollars on the table but rather nurture and build long-term client relationships that lead to profitable and sustainable business growth.   
RESOURCES: 
Want to join us live on our next 9-Day Challenge – join our VIP Waitlist and you'll be the first to know when we're running it again.  
Episode Highlights
The Distinction Model: Methodologies
1.IP (Intellectual Property) Your Signature System
Your Signature System is the step-by-step pathway that you take your client through in order to take them from STUCK to UNSTOPPABLE

You can rise quickly to 'specialist status' (in the eyes of your ideal client) – an influential trusted authority – THE choice vs just A choice with

your unique proven profitable (and repeatable) Signature System
Where do you even begin…?
Your Markers and Milestones – your Invisible Thread can also leave clues as to where your steps, along with the teachings to help clients
Examples:
Annemarie Cross – Business Strategist
Core Business Foundations
Annemarie Cross – Business & Podcast Strategist
Build your Reach (with your ideal client), your Reputation (as a Trusted Authority) and your Revenue, as you nurture listeners into leads from your very first episode
Kashmira Mody
"Previously in my business I was hustling 80% of my working hours. Marketing, putting out content. Everything else was 20%.

Today, I am hustling 10% of the time and I'm spending 90% creating value and serving clients.

I'm getting more bulk projects – not one or two short term project but six month programs along with higher level clients, projects and opportunities. So, no longer am I feeling depleted and exhausted trying to get clients."
2. 7 Core Principles
10 Powerful Quotes
[3:54] "You don't only wanna have a podcast that is one of hundreds of thousands. You wanna be the trusted authority, the podcast that's binge worthy that attracts your ideal clients."
[15:15] "Neuroscience have showed that it takes far more energy to watch a video than it is to hear someone. Which is why I think many videographers and video marketing specialists say, keep keep your videos short and concise because people only have so much of an attention span."
[18:58] "As coaches, often, we are so connected, deeply connected to the work we do, because it's not just work that we do, it's who we are, isn't it?"
[21:18] "We know the value in a conversation. We know the value in the, the pregnant pause, that look that 'Really? Tell me more about that. ' We know the power behind that, but guess what? Our ideal clients don't know that."
[22:15] "What is I.P? You know that it stands for intellectual property. It's stuff that you have created and have come up with and I call it your signature system. So your ideal client is looking for a solution that can support them and that is what your signature system can support YOU in doing for them."
[24:45] "Seed and lead. You seed information, you seed expertise, you seed in where your ideal clients are struggling with and what's possible and then you lead them along the journey by sharing."
[26:34] "'What are the methodologies and the techniques and the tools that I've learned as a coach that I can put into that teaching and to help them shift through that?' This is where we start to unpack and put that all together."
[31:30] "You've gotta understand your niche, cuz you can work on your brand. You can even put together a signature system that just rocks, but if it's not tied to the needs and the desires and the challenges and, and you're not putting it through in a language of that, your ideal client will understand, there's no point. They're just not gonna invest cuz they don't realize that you have the solution for them."
[32:39] "We're not focusing on numbers. Because vanity numbers means nothing really they don't, cuz you could have a million, 2 million, 3 million downloads or listens but if they're not your ideal client, they're never gonna invest in your services because there's just gonna be a disconnection there."
[32:55] "If you focus on speaking to that audience of one who becomes two, who becomes four, who becomes eight and so on and so forth, you will find that your podcasts will continue to build a community of your ideal clients who, when they're ready, they will take that next step."
Enjoy This Podcast?
If you enjoyed today's episode of Ambitious Entrepreneur Podcast, then hit subscribe now! 
Post a review and share it! If you'd like to work with me privately, let's have a chat – go to www.AnnemarieCross.com/LetsChat and book a time in my calendar.
I'm planning on doing more of these solo shows – if you have a topic you'd like me to cover – email me at: podcast@annemariecross.com
And, if you've enjoyed this show, I'd love for you to leave feedback over on our Apple Podcast and if you have a friend or colleague you believe could benefit from today's show – go ahead and share it with them. You can also subscribe through Apple Podcasts, Google Podcasts, Spotify, Stitcher, Email, RSS and more! 
For more updates and episodes, visit the Ambitious Entrepreneur Show website. 
Have any questions? You can also contact me through these platforms: 
As always, I appreciate you and look forward to helping you grow your business, and become known as the trusted authority in your industry and THE choice, vs just a choice with your ideal client.
To staying ambitious, 
Annemarie