Mistake 3. Focusing only on sponsorships
Hi, this is Annemarie, and welcome to another #ListenerIntoLead tip. This is tip #4, which are the mistakes I made 13 years ago when I started my very first podcast.  
This tip follows on from tip #3 – comparing and thinking a podcast is like mainstream radio, which is not. Your podcast audience, especially if you are attracting a niched audience of your ideal clients – can be far more engaged than a large audience of people just listening for entertainment or easy listening, which is what you would typically find with a radio station. 
Which leads to the next mistake my cohost and I made, which is to assume in order to best monetize your podcast – you do that through advertising and sponsorships.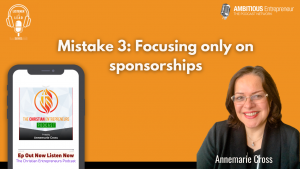 Don't get me wrong – sponsors are certainly a way to monetise your podcast and can work well if you have a specific business model that is best suited to sponsorships. 
However, for a service-based business – a coach with expertise in your podcast is better positioned to continue to showcase your expertise, while creating an audience of your ideal clients who you can continue to build know, like and trust and then begin to nurture listeners who are ready to make that next step, nurture them into leads by getting them off your podcast and onto your list. I share more about that in my Profitable & Purposeful Podcasting Masterclass about this exact step I use on my podcast and now teach all of my clients. I'll share the link so you can get access to the Masterclass at the end of this tip. 
Building a community of your ideal client, continuing to build know like and trust, and nurturing listeners into leads and ultimately customers is how you monetize your podcast. You monetize your message. 
I'll share more in upcoming tips in this series. 
Post a review and share it!  
If you learned something by tuning into this podcast, do not hesitate to write a review and share it with your friends. Help us help them grow their business and create a positive impact. For more updates and episodes, visit the Ambitious Entrepreneur Show website. You can also subscribe through Apple Podcasts, Google Podcasts, Spotify, Stitcher, Email, RSS and more! 
You can also follow us through Facebook. Want to build a scalable business you are passionate about? Join The Influence Alliance – the Business Building Community for Change Makers. Want to launch your own Thought Leader Podcast? Access my 'Are You Ready to Launch Your Podcast' Quiz here, and have a chat with me. Have any questions? You can contact me through these platforms: 
To staying ambitious, Annemarie