Why the 'end in mind' is crucial for your podcast
Hi, this is Annemarie, and welcome to another #ListenerIntoLead podcast tip for coaches and consultants who want to launch a podcast to nurture listeners into leads, get clients and build their business with their podcast. This is tip #28. 
On tip #7 of this ListenerIntoLead series you would have heard me share: Where do you start when it comes to your podcast? You start with the end in mind.  But not just ANY end in mind. 
But a specific end in mind. 
Because specificity is key.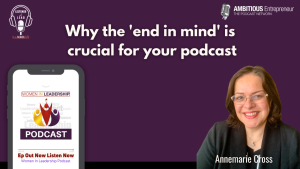 For instance a goal of: "I want to build visibility and brand awareness with my podcast" is not specific. 
Nor is, I want to grow my podcast downloads to 1,000 downloads per episode – that's not specific either. 
Go back and listen to that tip if you want to learn how to be more specific. 
Another thing I want you to be clear on starting with the end in mind – is thinking about (a) your overall message and where you want to position yourself as a trusted authority and (b) your overall business model and where specifically you want to lead people along your customer journey, so that you can begin to seed and lead people. I'll speak more about the customer journey and your podcast in tip 29. 
For instance, one of my clients initially wanted to share more about her high level programs, BUT when we looked at her current and former customers we could see that her VIP clients had first begun working in her group coaching programs, which had a lesser investment and from there had become higher level VIP clients. 
She also wanted to grow her membership program and she realised if she focused first on growing that and seeding and leading into that program, she could begin to nurture her higher level clients from inside her membership program. 
So, her end in mind would be better focused on building her membership program and seeding and leading that within her call to action, rather than speaking about any of her other programs. 
So, when it come to your end in mind, think about your current business program pathway and your business model, along with the goals you have for your business? Can you get clear on how best your podcast can support you in achieving those goals? Once you do, you can ensure you have the right strategy in place, the right call to action at the end of your podcast, and the right follow up system that continues to build know like and trust and nurture listeners into leads and ultimately enquiries and paying customers. 
But that starts with getting clear on the end in mind and the right podcast strategy to support you. 
I'll see you in the next tip.  
YOUR NEXT STEP: 
Are you a coach or consultant who is struggling to stand out online? Do you feel unnoticed, unheard, invisible?  
Access my free Masterclass, on how to become Distinguishable, Uncopyable and Irresistible to your ideal client – even if you're in a crowded marketplace. 
Go to: www.IndustryThoughtleaderAcademy.com/DistinguishableMessage 
Post a review and share it!  
If you learned something by tuning into this podcast, do not hesitate to write a review and share it with your friends. Help us help them grow their business and create positive impact. For more updates and episodes, visit the Ambitious Entrepreneur Show website. You can also subscribe through Apple Podcasts, Google Podcasts, Spotify, Stitcher, Email, RSS and more! 
You can also follow us through Facebook. Want to build a scalable business you are passionate about? Join The Influence Alliance – the Business Building Community for Change Makers. Want to launch your own Thought Leader Podcast? Access my 'Are You Ready to Launch Your Podcast' Quiz here, and have a chat with me. Have any questions? You can contact me through these platforms: 
To staying ambitious, Annemarie