Build Reputation Equity NOT Vanity Numbers
If you've been following along during the last 28 days during our 30DaysToDistinction Challenge, Tip #19 was when I shared the importance of building Reputation Equity vs Vanity Numbers – because your reputation is bankable, especially as a coach and consultant who wants to be seen as a trusted authority and have clients invest in your programs – and vanity number are not.  
If you've attended one of my Profitable and Purposeful Podcasting Masterclasses for Coaches and Consultants you would have heard of me sharing more about my Podcast Positioning Quadrant.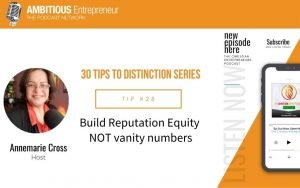 One of the Quadrants is Celebrity, with the Celebrity scoring High on Audience, but low on Authority. They are High on Audience because they have a charisma about them that attracts and engages, they most likely have quite a large following of regular viewers/listeners.  
BUT you would not hire that person to do your taxes, represent you in a court of law, or perform brain surgery on you. Because you wouldn't see them as a trusted authority and someone you would hire for their specific support. 
If you're a Coach and/or Consultant – who wants to eventually generate clients from the message and content you're sharing so they invest in YOU, YOUR expertise, and YOUR support – then it's important to focus on building your reputation as a trusted authority, vs building your following. 
In fact, if you continue to build your reputation as a trusted authority and continue to share valuable content consistently, you'll continue to build your audience. However, it may be a smaller niched audience, however far more engaged and more likely to take action as you continue to sew into their lives with the valuable content and message you share. 
So, build reputation equity – not vanity numbers. 
YOUR NEXT STEP: 
Are you a coach or consultant who is struggling to stand out online? Do you feel unnoticed, unheard, invisible?  
Access my free Masterclass, on how to become Distinguishable, Uncopyable and Irresistible to your ideal client – even if you're in a crowded marketplace. 
Go to: www.IndustryThoughtleaderAcademy.com/DistinguishableMessage 
Post a review and share it!
If you learned something by tuning into this podcast, do not hesitate to write a review and share it with your friends. Help us help them grow their business and create a positive impact. For more updates and episodes, visit the Ambitious Entrepreneur Show website. You can also subscribe through Apple Podcasts, Google Podcasts, Spotify, Stitcher, Email, RSS and more! 
You can also follow us through Facebook. Want to build a scalable business you are passionate about? Join The Influence Alliance – the Business Building Community for Change Makers. Want to launch your own Thought Leader Podcast? Access my 'Are You Ready to Launch Your Podcast' Quiz here, and have a chat with me. Have any questions? You can contact me through these platforms: 
To staying ambitious, Annemarie