Your Unique and Uncopyable Personal Brand on your podcast
Hi, this is Annemarie, and welcome to another #ListenerIntoLead podcast tip for coaches and consultants who want to launch a podcast to nurture listeners into leads, get clients and build their business with their podcast. This is tip #23. 
If I was to ask you to define Personal Branding – or your Personal Brand – how would you respond?
If you said your Personal Brand is your reputation – you'd be correct. 
Personal Branding – or your Personal Brand is not a fad, it's not a buzz word that some marketers have begun throwing around as the flavour of the day.  
In fact, in my former business – a Career Consultancy we were talking about the importance of Personal Branding back in 2000's. So, it's NOT a fad at all!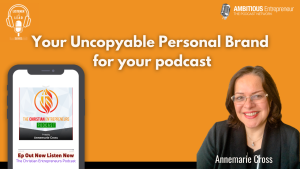 Your Personal Brand is your reputation. It's what people think about you when your name is mentioned. It's what people say about you when asked to share their experience.  
And, while you can't control what people think or say about you, you CAN influence it. 
By your actions, your interactions, your conversations, – everything can impact your reputation, your Personal Brand.  
Positively. Or negatively. 
If you do a Personal Brand audit today – would people think and say the exact things you'd want them to say?  
Or are you leaving it to chance. 
If you asked 5 people (who knew you well) to describe you in 5 words – would the 5 words they use to describe you be the same? 
And, more importantly, are they the 5 words you would want them to use to describe you? 
Are you showing up on your podcast expressing your personal brand and are those 5 words coming through in your mannerisms and the unique listener experience you are creating? 
It should! 
I'll see you in the next tip.  
YOUR NEXT STEP: 
Are you a coach or consultant who is struggling to stand out online? Do you feel unnoticed, unheard, invisible?  
Access my free Masterclass, on how to become Distinguishable, Uncopyable and Irresistible to your ideal client – even if you're in a crowded marketplace. 
Go to: www.IndustryThoughtleaderAcademy.com/DistinguishableMessage 
Post a review and share it!  
If you learned something by tuning into this podcast, do not hesitate to write a review and share it with your friends. Help us help them grow their business and create positive impact. For more updates and episodes, visit the Ambitious Entrepreneur Show website. You can also subscribe through Apple Podcasts, Google Podcasts, Spotify, Stitcher, Email, RSS and more! 
You can also follow us through Facebook. Want to build a scalable business you are passionate about? Join The Influence Alliance – the Business Building Community for Change Makers. Want to launch your own Thought Leader Podcast? Access my 'Are You Ready to Launch Your Podcast' Quiz here, and have a chat with me. Have any questions? You can contact me through these platforms: 
To staying ambitious, Annemarie