Bring in validating third party statistics
As I mentioned yesterday in Tip#22, as someone who is looking to build your thought leadership – be mindful of the tactics you follow as you continue to build your reputation as a trusted authority.
It matters.
Rather than following the same ol 'hack this' and 'hack that' visibility tactics – focus on the insights, hindsight, and foresight that only YOU can bring to the conversation through your years of experience and knowledge. Because it's the wisdom and knowledge YOU bring through longevity in your industry that matters! Showcase THAT as you build your thought leadership collateral.
Another way to do that is to:
Bring in validating third party statistics.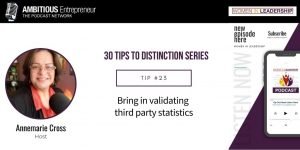 Why? Because relevant third-party statistics validate where you're saying AND can add even more urgency and/or importance to what you're saying.
For instance, one of the sources I love to reference is Edelman Trust Barometer. Edeleman is a highly trusted authority in the area of Trust and what builds trust, with the information they gather in their annual trust surveys, giving us a clear appreciation of what's important when it comes to building trust. I've often used Edelman's findings in my content. Recently, Edelman partnered with Linkedin to conduct a B2B Thought Leadership Survey and the study came up with some amazing statistics which validated the importance and urgency to the things I've been saying around the importance of building thought leadership.
According to Edelman and Linkedin '2019 B2B Thought Leadership Impact Study':
87% of decision makers said that building Thought Leadership builds trust;
89% of decision makers said that building Thought Leadership enhances your reputation;
58% of decision makers said they would choose a business because of their Thought Leadership;
61% of decision makers said they were willing to pay premium prices to work with a brand that articulated a clear vision through their Thought Leadership.
These findings validate the importance of building your thought leadership and becoming a trusted authority in your industry.
Now it's your turn.
What organisations are conducting studies that are relevant to your industry that can validate the importance and/or urgency of what you are saying and teaching?
Go ahead and begin journaling these ideas into your Take Action Guide, and start to look out for additional organisations. Perhaps even commit to spending once a month in online research as to the more recent articles and findings being shared. Because this will continue to validate the importance and/or urgency of what you are teaching.
I can't wait to hear what you come up with.
If you haven't downloaded the Take Action Guide, you can access it over at: www.IndustryThoughtLeaderAcademy.com/Distinction
You'll also be able to catch up on the other tips so you can become distinguishable, uncopyable and irresistible, and THE choice vs just A choice for your ideal client and can continue to be the difference and bring real change in your sphere of influence with your message and expertise.
Stay tuned for another 30DaystoDistinction tip tomorrow.
Post a review and share it!  
If you learned something by tuning into this podcast, do not hesitate to write a review and share it with your friends. Help us help them grow their business and create positive impact. For more updates and episodes, visit the Ambitious Entrepreneur Show website. You can also subscribe through Apple Podcasts, Google Podcasts, Spotify, Stitcher, Email, RSS and more! 
You can also follow us through Facebook. Want to build a scalable business you are passionate about? Join The Influence Alliance – the Business Building Community for Change Makers. Want to launch your own Thought Leader Podcast? Access my 'Are You Ready to Launch Your Podcast' Quiz here, and have a chat with me. Have any questions? You can contact me through these platforms: 
To staying ambitious, Annemarie