Teach elements of your methodologies
As I mentioned yesterday in Tip#21, as someone who is looking to build your thought leadership – be mindful of the tactics you follow as you continue to build your reputation as a trusted authority.  
It matters.
Rather than following the same ol 'hack this' and 'hack that' visibility tactics – focus on the insights, hindsight, and foresight that only YOU can bring to the conversation through your years of experience and knowledge. Because it's the wisdom and knowledge YOU bring through longevity in your industry that matters!
Showcase THAT as you build your thought leadership collateral.
Another way to do that is to: 
Teach elements of your methodologies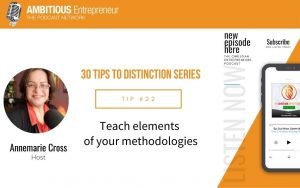 The steps you have come up with and now take your clients through to get them from where they are stuck to where they are achieving their goals?  Take elements of your methodologies –and teach them.  
If you're following me on Linkedin, check out some of my featured posts where you will see documents and infographics where I teach elements of my methodologies. From the tactic I accidently stumbled across and now teach all of my clients on how they need to set up their podcast so they can begin to nurture listeners into leads, enquiries and ultimately paying clients from their very first episode.  
My tips on how to create a unique and uncopyable podcast Listener Experience to build an engaged audience and how to check you have everything in the place to do that – right through to Podcasting Principles and Personal Branding Principles for Coaches and Consultants. I've also shared this information on my podcasts and in articles. I'm proactively teaching elements of my methodologies as part of my content strategy. 
Now it's your turn. 
What are some of your methodologies – the steps you take clients through and can you teach aspects of those methodologies to validate your knowledge and thought leadership and bring value to your ideal clients?  
This is something you should be doing as part of your content strategy.  
YOUR NEXT STEP: 
Are you a coach or consultant who is struggling to stand out online? Do you feel unnoticed, unheard, invisible?  
Access my free Masterclass, on how to become Distinguishable, Uncopyable and Irresistible to your ideal client – even if you're in a crowded marketplace. 
Go to: www.IndustryThoughtleaderAcademy.com/DistinguishableMessage 
Post a review and share it!  
If you learned something by tuning into this podcast, do not hesitate to write a review and share it with your friends. Help us help them grow their business and create positive impact. For more updates and episodes, visit the Ambitious Entrepreneur Show website. You can also subscribe through Apple Podcasts, Google Podcasts, Spotify, Stitcher, Email, RSS and more! 
You can also follow us through Facebook. Want to build a scalable business you are passionate about? Join The Influence Alliance – the Business Building Community for Change Makers. Want to launch your own Thought Leader Podcast? Access my 'Are You Ready to Launch Your Podcast' Quiz here, and have a chat with me. Have any questions? You can contact me through these platforms: 
To staying ambitious, Annemarie