Compelling communication techniques for podcast hosts
Hi, this is Annemarie, and welcome to another #ListenerIntoLead podcast tip for coaches and consultants who want to launch a podcast to nurture listeners into leads, get clients and build their business with their podcast. This is tip #19. 
Today's tip is about developing compelling communication techniques. I could spend an entire day on this topic, so for now I want to share in what areas do you want to hone your communication skills and how these can make a difference in the overall success of your podcast. 
In terms of success – with compelling communication techniques, not only will you enhance the relationship, while continue to build know, like and trust with your audience, for those listeners who are ready, with the right communication and call to action, you'll be able to get your ideal client, your listener off the podcast and onto your list. Everytime.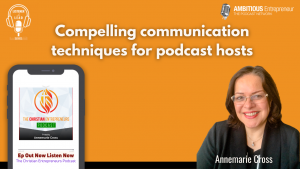 So in what areas can you leverage and develop your communication skills?  
Interacting with and guiding the conversation with your guest, no matter what their communication style. You'll know exactly how to communicate with even the most difficult of guests – from the talkative guests, to the guest who answers in two-word sentences, right through to the spammy guests who continues to promote their books and programs

 

Knowing when to dive deeper into a topic to unpack it more

 

Being able to segue seamlessly to the next topic

 

Knowing when and how to interject when a guest is going off topic or taking too long in answering their question

 

Knowing what keywords and phrases will resonate best with your audience

 

Knowing how to seed and lead with integrity. This is one of the strategies I teach clients and when done well, for those listeners who are ready to take that next step – they will, because you have strategically included the right content in just the right place, you've built interest and intrigue and for those change makers and action takers – that call to action is just what they needed to hear.

 
These are just some of the ways you can integrate compelling communique techniques into each and every podcast episode as you continue to build know, like and trust with your audience and nurture listeners into leads.  
By the way, if you'd like to improve your communication techniques I've created my course: Interviewing with Purpose. You can access it at: www.InterviewingWithPurpose.com that's InterviewingWithPurpose.com  
I'll see you in the next tip.
YOUR NEXT STEP: 
Are you a coach or consultant who is struggling to stand out online? Do you feel unnoticed, unheard, invisible?  
Access my free Masterclass, on how to become Distinguishable, Uncopyable and Irresistible to your ideal client – even if you're in a crowded marketplace. 
Go to: www.IndustryThoughtleaderAcademy.com/DistinguishableMessage 
Post a review and share it!  
If you learned something by tuning into this podcast, do not hesitate to write a review and share it with your friends. Help us help them grow their business and create positive impact. For more updates and episodes, visit the Ambitious Entrepreneur Show website. You can also subscribe through Apple Podcasts, Google Podcasts, Spotify, Stitcher, Email, RSS and more! 
You can also follow us through Facebook. Want to build a scalable business you are passionate about? Join The Influence Alliance – the Business Building Community for Change Makers. Want to launch your own Thought Leader Podcast? Access my 'Are You Ready to Launch Your Podcast' Quiz here, and have a chat with me. Have any questions? You can contact me through these platforms: 
To staying ambitious, Annemarie