Your Promise of Value and Promise of Expectation
Today's tip I want to speak to you about Your Promise of Value and your Promise of Expectation, which are two things you want to continue to express in your marketing and your message as it plays an integral role in helping you continue to build that irresistible factor with your ideal client. 
And, if you get your Umbrella Statement right (which we spoke about in Tip # 15) your Umbrella Statement when crafted in the best possible way – showcases both your Promise of Value and Promise of Expectation. 
Your Promise of Value is exactly that – the value you offer in terms of your expertise, the knowledge you share, and how it can help a client with their current challenge and in particular your knowledge and expertise can help them overcome their current challenge. 
And, your Promise of Expectation is future pacing what is possible for them should they invest in themselves and say Yes to working with you. So, it's the outcomes and what they can expect to achieve through working with you.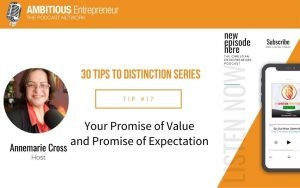 One of the techniques my clients will often hear me say is: always be seeding and leading. 
Seeding and leading involve strategically sharing WHAT is possible and HOW this is possible.  
For instance, one way to do this is by introducing an example of how one of your clients after implementing an insight you've just shared – how they were able to generate a result. The result your client achieved is a Promise of Expectation as to what is possible for them if they work with you. 
You are validating the value they'll achieve through working with you. 
YOUR NEXT STEP: 
Are you a coach or consultant who is struggling to stand out online? Do you feel unnoticed, unheard, invisible?  
Access my free Masterclass, on how to become Distinguishable, Uncopyable and Irresistible to your ideal client – even if you're in a crowded marketplace. 
Go to: www.IndustryThoughtleaderAcademy.com/DistinguishableMessage 
Post a review and share it!  
If you learned something by tuning into this podcast, do not hesitate to write a review and share it with your friends. Help us help them grow their business and create a positive impact. For more updates and episodes, visit the Ambitious Entrepreneur Show website. You can also subscribe through Apple Podcasts, Google Podcasts, Spotify, Stitcher, Email, RSS and more! 
You can also follow us through Facebook. Want to build a scalable business you are passionate about? Join The Influence Alliance – the Business Building Community for Change Makers. Want to launch your own Thought Leader Podcast? Access my 'Are You Ready to Launch Your Podcast' Quiz here, and have a chat with me. Have any questions? You can contact me through these platforms: 
To staying ambitious, Annemarie