Struggling to define your ONE thing? Do this
Here's another shout-out to all of the multi-passionate #entrepreneurs who struggle with defining their ONE THING.  
Because limiting yourself to just ONE THING seems totally foreign to you.
And, life is too short to just focus on ONE THING.
You've got diverse interests, you love learning, and having to choose just ONE THING gives you heart palpitations.
I get it! 
Guess what?!
You DON'T have to limit yourself to just ONE THING.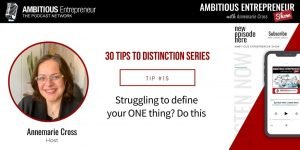 However, you DO have to change the way you speak about what you do.
Think of the ONE outcome you can help your client achieve through leveraging your unique blend of knowledge and experience you have to offer.
Then create an outcome-focused statement you know your ideal client will notice.
☂️ I call that: Your Umbrella Statement. 
Here's an example: 
When I worked in the career industry my statement was: Get Noticed, Hired & Paid What You're Worth.
It's what my clients needed help with.
I offered resume development, interview coaching, job search coaching etc, which sat under that statement. 
Now with #businesses I help them: Build their Reach, Reputation (as a trusted authority) and their Revenue, with my expertise in #PersonalBranding, Business and #Podcast strategy. 
YOUR NEXT STEP: 
Are you a coach or consultant who is struggling to stand out online? Do you feel unnoticed, unheard, invisible?  
Access my free Masterclass, on how to become Distinguishable, Uncopyable and Irresistible to your ideal client – even if you're in a crowded marketplace. 
Go to: www.IndustryThoughtleaderAcademy.com/DistinguishableMessage 
Post a review and share it!
If you learned something by tuning into this podcast, do not hesitate to write a review and share it with your friends. Help us help them grow their business and create positive impact. For more updates and episodes, visit the Ambitious Entrepreneur Show website. You can also subscribe through Apple Podcasts, Google Podcasts, Spotify, Stitcher, Email, RSS and more! 
You can also follow us through Facebook. Want to build a scalable business you are passionate about? Join The Influence Alliance – the Business Building Community for Change Makers. Want to launch your own Thought Leader Podcast? Access my 'Are You Ready to Launch Your Podcast' Quiz here, and have a chat with me. Have any questions? You can contact me through these platforms: 
To staying ambitious, Annemarie