How to find the perfect guests for your podcast
Hi, this is Annemarie, and welcome to another #ListenerIntoLead podcast tip for coaches and consultants who want to launch a podcast to nurture listeners into leads, get clients and build their business with their podcast. This is tip #15 
Today's tip is answering the question "How do I find guests for my podcast?" 
When I first started my co-hosted podcast back in 2008, and for many years after – I never really had a guest strategy.  
I just interviewed people who I thought were interesting and could share valuable information for my audience. Which obviously is important, however unknowingly I was leaving opportunities and money on the table because I didn't have a robust guest strategy in place. Which is why I now teach an entire module on how to establish a robust guest strategy in my 90-Day Idea to Launch your Podcast Immersive program.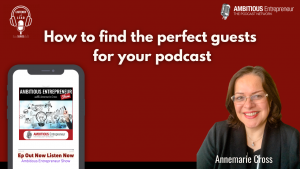 So, once you have that in place and you know exactly WHO the guests are that you are searching for – now you can go and find them. 
Here's where I will often find my guests: 
Networking events;

 

Social media platforms – especially Linkedin

 

Recommendations from trusted colleagues 

 
And, if your podcast, who you are, and what you stand for aligns with the guest and how you approach them – they are more than likely going to agree to come on your podcast and it will end up being a win win win for all parties. 
You, your guest and your audience. 
So, before you focus on finding your guests, make sure you have a robust strategy in place to ensure the guests you do have on your show contribute to the overall goals you have set for your podcast. 
What are they? Well, some of my guests have become clients, referral partners, joint venture partners, have invited me to guest on their podcast and even online summits.  
When you attract the right guests and have the right guest strategy in place that's the kind of results you can achieve.  
I'll see you in the next tip.  
YOUR NEXT STEP: 
Are you a coach or consultant who is struggling to stand out online? Do you feel unnoticed, unheard, invisible?  
Access my free Masterclass, on how to become Distinguishable, Uncopyable and Irresistible to your ideal client – even if you're in a crowded marketplace. 
Go to: www.IndustryThoughtleaderAcademy.com/DistinguishableMessage 
Post a review and share it!  
If you learned something by tuning into this podcast, do not hesitate to write a review and share it with your friends. Help us help them grow their business and create positive impact. For more updates and episodes, visit the Ambitious Entrepreneur Show website. You can also subscribe through Apple Podcasts, Google Podcasts, Spotify, Stitcher, Email, RSS and more! 
You can also follow us through Facebook. Want to build a scalable business you are passionate about? Join The Influence Alliance – the Business Building Community for Change Makers. Want to launch your own Thought Leader Podcast? Access my 'Are You Ready to Launch Your Podcast' Quiz here, and have a chat with me. Have any questions? You can contact me through these platforms: 
To staying ambitious, Annemarie