How to structure your podcast episode to capture attention from the get-go
Hi, this is Annemarie, and welcome to another #ListenerIntoLead podcast tip for coaches and consultants who want to launch a podcast to nurture listeners into leads, get clients and build their business with their podcast. This is tip #14. 
Today's tip is answering the question ''What's the best way to structure my podcast?" 
You may be thinking – does it even matter. 
And the answer to that question first is – yes it does especially if you're looking to attract the attention of your ideal client from the beginning of your episode, maintain their attention and build interest and intrigue throughout the episode, right through to the end of your podcast as you share your outro. 
If you want to create a unique and compelling listener experience, while engage your audience, educate and share insights they don't even know they don't know, while entice them to take the next step, which is to get off your podcast and onto your list (in the most integral of ways) – yes it does and the structure of the podcast is key.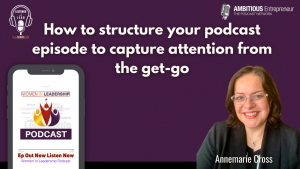 I'll be sharing more in tip #19 Compelling Communication Techniques. However, for now, just know that when it comes to your ideal client and adult learners in fact, their preference for communication needs to be taken into account, AND their how they typically like to learn.  
If your ideal client is time poor – you don't want to take too long to get to the point and share why they should spend valuable time listening to you for the next 20 to 30 minutes or however long your podcast episode is.  
Also, how are you going to be leveraging your podcast along the customer journey. For instance, if you are going to be using your podcast specifically to retain existing customers – those customers already know you and most likely trust and respect you because they are working with you and investing time and money with you. They are more likely to be happy to spend more time listening to you, and are more likely to be interested in more personal snippets and behind the scenes information than someone who has absolutely no idea who you are. 
So, the content you share with a paying customers in comparison to a prospective customer who doesn't know you well enough yet is going to be different. Your content and structure of your podcast will be different too for people who don't even know they need you and your services yet. 
So, what's the best way to structure your podcast? Be clear on how you want to leverage your podcast, for instance where on the customer journey will your listener be, and their communication preferences. Once you're clear on that – you'll know exactly how best to structure your podcast. 
BTW, these are the things I teach right inside my 90-Day Idea to Launch your podcast Immersive program. If you want to know more go to www.PodcastingWithPurpose.com/Immersive to find out more.  
I'll see you in the next tip.  
YOUR NEXT STEP: 
Are you a coach or consultant who is struggling to stand out online? Do you feel unnoticed, unheard, invisible?  
Access my free Masterclass, on how to become Distinguishable, Uncopyable and Irresistible to your ideal client – even if you're in a crowded marketplace. 
Go to: www.IndustryThoughtleaderAcademy.com/DistinguishableMessage 
Post a review and share it!  
If you learned something by tuning into this podcast, do not hesitate to write a review and share it with your friends. Help us help them grow their business and create positive impact. For more updates and episodes, visit the Ambitious Entrepreneur Show website. You can also subscribe through Apple Podcasts, Google Podcasts, Spotify, Stitcher, Email, RSS and more! 
You can also follow us through Facebook. Want to build a scalable business you are passionate about? Join The Influence Alliance – the Business Building Community for Change Makers. Want to launch your own Thought Leader Podcast? Access my 'Are You Ready to Launch Your Podcast' Quiz here, and have a chat with me. Have any questions? You can contact me through these platforms: 
To staying ambitious, Annemarie