Less is more
You know how some marketers will often tell us we need to share more content, across more platforms, with more frequency so our message can cut through the noise? That's NOT really sound advice for Thought Leaders.
Especially, if you want to build your reputation as a Trusted Authority in your industry. In fact, the opposite is true. LESS is more.
Here's what I mean.
It's about quality NOT quantity. It's about focus NOT frequency. It's about innovation NOT irrelevant (outdated) principles that every second person is speaking about in your industry.
So the next time you sit down to create content, remind yourself:
Quality. Focus. Innovation.
Bring THAT to your content and conversations and it won't be long before your message not only cut's through the noise but begins to influence and impact others, too. We're told 'you need more content, more frequently, and across more platforms to stand out. If you're building your reputation as a trusted authority, I suggest 'LESS IS MORE.'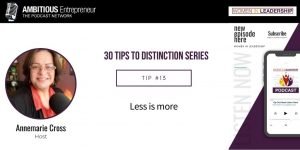 Here's what I mean…
⚠ NOT more content, but the RIGHT content
Content that:
➞ Is relevant AND nurtures your ideal client along the Buyer's Journey as you build know, like, and trust;
➞ Challenges the status quo in your industry, bringing unique insights that only you can share based on your expertise;
➞ Compels him/her to take that next step when you invite them to do so.
⚠ NOT more frequently, but the RIGHT frequency, RIGHT format, approach
Are they busy? Provide bite-sized content.
Do they prefer listening? Create a podcast.
Prefer reading? Then, write.
Or better yet, offer your content in a variety of formats and at varying lengths so your content can be enjoyed by your ideal client no matter their situation or preference.
⚠ Not more platforms, but the RIGHT platform
Don't be tempted to follow those 'platform-hacking-bro-marketing' tactics.
YOU don't need to hack anything. Your work, and the impact you've been making for decades – speaks for itself. You just need to find the RIGHT platforms and focus your efforts there! Do you need to focus and double down on ONE platform – rather than stretching yourself too thin. Do you need to refine your message so clear themes and topics come through that are aligned with what your ideal client is looking for?
Is there a language you're using more jargon and related to your industry –rather than the words and phrases your ideal client is using?
YOUR NEXT STEP:
Are you a coach or consultant who is struggling to stand out online? Do you feel unnoticed, unheard, invisible?
Access my free Masterclass, on how to become Distinguishable, Uncopyable and Irresistible to your ideal client – even if you're in a crowded marketplace.
Go to: www.IndustryThoughtleaderAcademy.com/DistinguishableMessage
Post a review and share it! 
If you learned something by tuning into this podcast, do not hesitate to write a review and share it with your friends. Help us help them grow their business and create positive impact. For more updates and episodes, visit the Ambitious Entrepreneur Show website. You can also subscribe through Apple Podcasts, Google Podcasts, Spotify, Stitcher, Email, RSS and more!
You can also follow us through Facebook. Want to build a scalable business you are passionate about? Join The Influence Alliance – the Business Building Community for Change Makers. Want to launch your own Thought Leader Podcast? Access my 'Are You Ready to Launch Your Podcast' Quiz here, and have a chat with me. Have any questions? You can contact me through these platforms:
To staying ambitious, Annemarie