Starting a podcast: How to come up with the perfect name for your podcast
Hi, this is Annemarie, and welcome to another #ListenerIntoLead podcast tip for coaches and consultants who want to launch a podcast to nurture listeners into leads, get clients and build their business with their podcast. This is tip #11. 
What's in a name?  
Everything – because your podcast could just become a saleable asset.  
In tip #6, I mentioned how my own message got lost in the noise of my own podcast and I got so bored with the guests I was interviewing that I decided to stop production. I'd had enough. 
Now, this was my award-winning podcast, the Ambitious Entrepreneur Show, which not only had won an award but had also been frequently listed in top business and entrepreneurship podcasts.  
I was bored and just didn't want to continue production – so I announced on Facebook that I was stopping production.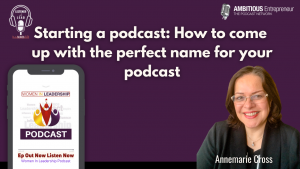 Now, a surprising thing happened. Something I did NOT expect, but something that made me realize just how much of a reputation my podcast had built. 
I had several messages from people who wondered if I would be interested in selling my podcast. 
Would I be interested in selling my podcast – who would have thought that a podcast I had built over the years was something others saw value in and would even express interest in the possibility of purchasing it? 
I was gobsmacked.  
Long story short – I didn't sell it and in actual fact, Ambitious Entrepreneur Show is well and truly back in production, has been for some time now, and is again being listed in the top podcasts for entrepreneurship. 
However, imagine if I had named my podcast after my personal brand – the Annemarie Cross Show. It would be very difficult for anyone to take over that podcast – unless of course, they rebranded it their own. However, typically if you name your podcast your personal brand your audience is typically people who follow you because of your brand, your charisma, your celebrity if you will – I'll speak more about the Podcast Positioning Quadrant in tip #21, where a podcast with your personal brand name, is going to have a different overall strategy and end in mind that if you called your podcast a name that was able to be taken over by a person or persons who had a similar passion and expertise that could be offered to your audience. 
So, how to choose the right name for your podcast? 
If you want to build a community of your ideal clients AND potentially build up your podcast to be a valuable asset that down the track someone would be willing to pay you for? It means everything. 
Choose wisely. 
I'll see you in the next tip.  
Post a review and share it! 
If you learned something by tuning into this podcast, do not hesitate to write a review and share it with your friends. Help us help them grow their business and create a positive impact. For more updates and episodes, visit the Ambitious Entrepreneur Show website. You can also subscribe through Apple Podcasts, Google Podcasts, Spotify, Stitcher, Email, RSS and more!
You can also follow us through Facebook. Want to build a scalable business you are passionate about? Join The Influence Alliance – the Business Building Community for Change Makers. Want to launch your own Thought Leader Podcast? Access my 'Are You Ready to Launch Your Podcast' Quiz here, and have a chat with me. Have any questions? You can contact me through these platforms:
To staying ambitious, Annemarie