Yesterday I spoke about what it means to Uncopyable and how when we identify unique elements about who we are – no one can copy you.  In today's tip, I want to speak about two of those and in tomorrow's tip – I'll share two more. 
Today, I want to talk about your Characteristics (or character traits) and Mannerisms. 
Your characteristics are your distinguishing features and qualities. 
Your mannerisms – are a group of verbal or other unconscious habitual behaviors that are particular to you.  
In fact – your mannerisms can bring out your character.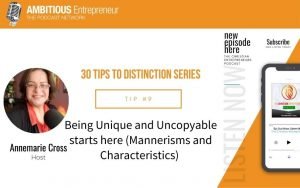 For instance, a confident person (which could be a character of confidence) can be brought to life by maintaining eye contact when you speak. Walking upright with your head held higher can also exude the character of confidence. 
The opposite mannerism that brings out the character of being shy and/or reserved, could be speaking softly, head tilted downward, avoiding eye contact.  
Some other character traits could be honest, brave, bold, compassionate, lead, courageous, loyal.  
So, today, take some time to reflect on some of your unique characteristics and mannerisms and write them down in your Take Action Guide.  
And, then come back for tomorrow's tip where I'll be sharing two more unique and uncopyable elements that make you YOU and that no-one else can copy. 
YOUR NEXT STEP: 
Are you a coach or consultant who is struggling to stand out online? Do you feel unnoticed, unheard, invisible?  
Access my free Masterclass, on how to become Distinguishable, Uncopyable and Irresistible to your ideal client – even if you're in a crowded marketplace. 
Go to: www.IndustryThoughtleaderAcademy.com/DistinguishableMessage 
Post a review and share it!
If you learned something by tuning into this podcast, do not hesitate to write a review and share it with your friends. Help us help them grow their business and create positive impact. For more updates and episodes, visit the Ambitious Entrepreneur Show website. You can also subscribe through Apple Podcasts, Google Podcasts, Spotify, Stitcher, Email, RSS and more! 
You can also follow us through Facebook. Want to build a scalable business you are passionate about? Join The Influence Alliance – the Business Building Community for Change Makers. Want to launch your own Thought Leader Podcast? Access my 'Are You Ready to Launch Your Podcast' Quiz here, and have a chat with me. Have any questions? You can contact me through these platforms: 
To staying ambitious, Annemarie