In yesterday's tip I shared what it means to be distinguishable and that it was NOT tooting your own trumpet and saying how wonderful you are and better than everyone and anyone else in your industry. But rather it's about highlight areas that speaks directly to your ideal client and positions you being better-placed to serve and support them in achieving their goals and desired outcomes. 
And the areas that can help you do that is in today's tip – The Distinction Triad. 
I can up with the Distinction Triad after working with a client and helped her put together her personal marketing document – her resume. She started her career working as an Office Admin and over the years had become a Change Management Consultant overseeing multimillion dollar IT change projects for semi-government organisations.  
She had gone from strength to strength and as I wrote her achievement statements and reviewed her career I identified three distinct areas that she had continuously brought to the workplace that had seen her go from strength to strength and it's something we can all use, whether we're an executive working in corporate – or an entrepreneur working in our own business. 
The three things are Aptitude, Attitude and Approach.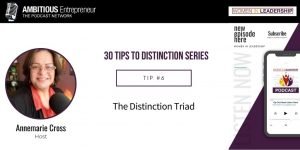 I'll talk about Aptitude a little further today, however make sure you download the Declaration and Take Action Guide at www.IndustryThoughtLeaderAcademy.com/Distinction so you can begin to work on all three.
Let's talk about Aptitude. Your Aptitude is your Talent. Your strengths, your skills and your knowledge.   
Attitude if your character, your mindset, belief and frame of mind.  
And, your approach is your Style, your temperament, how you react to specific situations and your sensibility.  
Each of these are important and when blended together can be powerful in becoming distinguishable, uncopyable and irresistible.  
How clear are you on your Aptitude, your Attitude and Approach? Can you define them? And, are you leveraging them to distinguish how you are better-served to support your ideal client?  
YOUR NEXT STEP:  
Are you a coach or consultant who is struggling to stand out online? Do you feel unnoticed, unheard, invisible?  
Access my free Masterclass, on how to become Distinguishable, Uncopyable and Irresistible to your ideal client – even if you're in a crowded marketplace. 
Go to: www.IndustryThoughtleaderAcademy.com/DistinguishableMessage 
Post a review and share it!  
If you learned something by tuning into this podcast, do not hesitate to write a review and share it with your friends. Help us help them grow their business and create positive impact. For more updates and episodes, visit the Ambitious Entrepreneur Show website. You can also subscribe through Apple Podcasts, Google Podcasts, Spotify, Stitcher, Email, RSS and more! 
You can also follow us through Facebook. Want to build a scalable business you are passionate about? Join The Influence Alliance – the Business Building Community for Change Makers. Want to launch your own Thought Leader Podcast? Access my 'Are You Ready to Launch Your Podcast' Quiz here, and have a chat with me. Have any questions? You can contact me through these platforms: 
To staying ambitious, Annemarie