And, that is to 'just start.'
Just take that action you know you need to do in order to share your message, get started on that project, submit your expression of interest for that speaking opportunity or podcast interview.
Whatever it is – just start.
Which may sound like a ridiculous piece of advice, because if it were as easy as just starting – you'd probably have done it already, right?
So here are some things to help you unravel why you may be stuck and unable to start.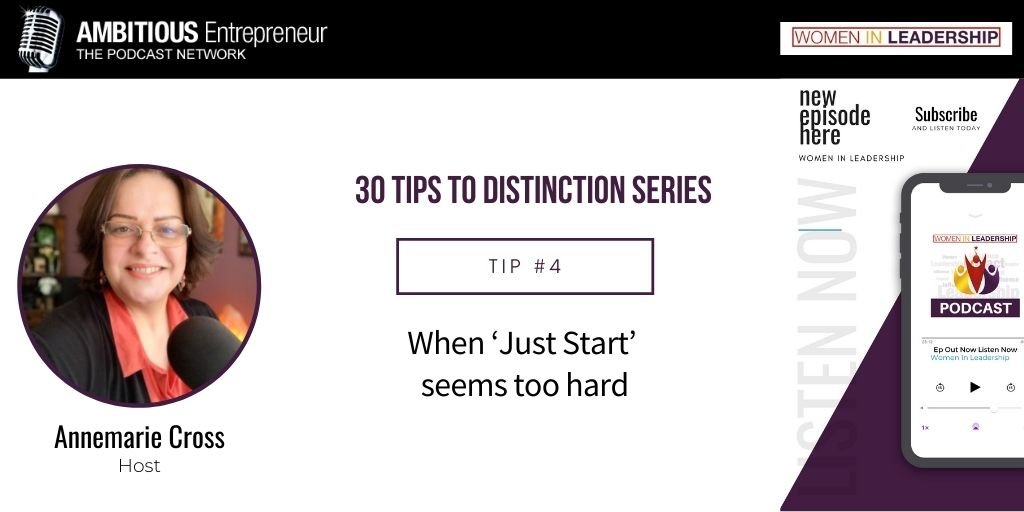 Is what you're looking to do – too overwhelming?

Well chuck it down. Get everything out of your head and onto paper and then look at what needs to happen next. Do you need to map out a 90-day plan, along with steps needed to be done, the people that need to help you and the resources you need?
Start chunking down and documenting what you do know and often that can make a world of difference. And, guess what – you've started!

Stop aiming for perfection! Nothing will ever be perfect. And, just like you build confidence, so too will your skill level as you continue to do that thing, over and over and over.
Are you a procrastinator? Find the source of your procrastination and work on that. For instance, procrastination and perfection often are the two sides of the same coin. You never start because you want it to be perfect. You can continue to procrastinate till the cows come home – and still be no further in a week' a month's, a year's time.
So, just start.
Take that ONE step you need to do today?
Yes?!
YOUR NEXT STEP:
Are you a coach or consultant who is struggling to stand out online? Do you feel unnoticed, unheard, invisible?
Access my free Masterclass, on how to become Distinguishable, Uncopyable and Irresistible to your ideal client – even if you're in a crowded marketplace.
Go to: www.IndustryThoughtleaderAcademy.com/DistinguishableMessage
Post a review and share it!
If you learned something by tuning into this podcast, do not hesitate to write a review and share it with your friends. Help us help them grow their business and create positive impact. For more updates and episodes, visit the Ambitious Entrepreneur Show website. You can also subscribe through Apple Podcasts, Google Podcasts, Spotify, Stitcher, Email, RSS and more!
You can also follow us through Facebook. Want to build a scalable business you are passionate about? Join The Influence Alliance – the Business Building Community for Change Makers. Want to launch your own Thought Leader Podcast? Access my 'Are You Ready to Launch Your Podcast' Quiz here, and have a chat with me. Have any questions? You can contact me through these platforms:
To staying ambitious, Annemarie
Podcast (women-in-leadership): Play in new window | Download (Duration: 5:12 — 5.0MB) | Embed
Subscribe: Apple Podcasts | Google Podcasts | Spotify | Android | Email | RSS