Today, I want to address another area which can keep you stuck from becoming distinguishable, uncopyable and irresistible, And, that is comparing yourself with other people, either in your industry, or even just on social media and your wider community, to the point it debilitates you.
In fact, comparing yourself to others is also known as Comparison Syndrome or social comparison theory, an obsessive comparison disorder or the "compare and despair" effect.
When you compare yourself to others the feeling on inadequacy and that you don't measure up, or that you should far more advanced than you are.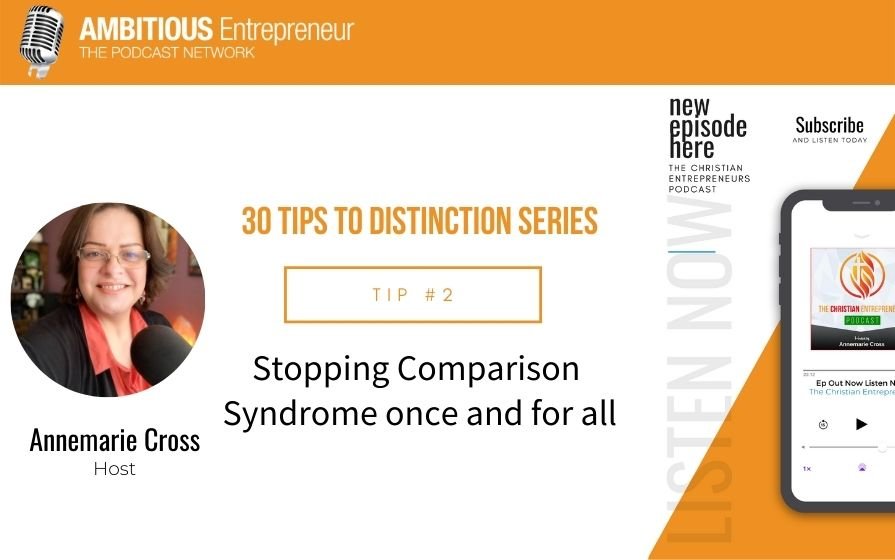 Theordore Roosevelt said 'Comparison is the thief of you' and he was right.
Focusing and measuring yourself up to what others are doing is a complete waste of time.
In fact, a far healthier approach would be to compare yourself to who you were yesterday and use that to drive you forward.
Or, when you do see what other people are doing and they look to be doing incredible things – use that to drive you forward too by saying "Wow, look at what is possible. Because if it's possible for her or him – it's possible for me too."
And, guess what – it is possible for you too!
One of my favourite Bible verses is from Psalm 139:14 "I praise you for I am fearfully and wonderfully made. Wonderful are you works; my soul knows it very well."
Me, you – in fact every single one of us has been created with a unique set of gifts and talents. We are fearly and wonderfully made.
So, by comparing yourself to other people and falling into that trap of 'compare and despair' only has you devalue your own gifts and talents.
Which by the way, someone else is probably longing they had your skills, gifts and talents.
So, value your skills, gifts and talents. Value the journey you've walked, the challenges you've overcome and the hardships you've had to endure because they've shaped your character and developed you into the person you are today.
Unique. Uncopyable. Fearfully and wonderfully made.
Continue to focus on THAT. And, not what other people are doing.
And, if you are going to compare yourself with anyone – compare yourself to who you were yesterday and aim to make incremental improvements as you continue to evolve and expand your experience and knowledge every single day.
Yes?!
YOUR NEXT STEP:
Are you a coach or consultant who is struggling to stand out online? Do you feel unnoticed, unheard, invisible?
Access my free Masterclass, on how to become Distinguishable, Uncopyable and Irresistible to your ideal client – even if you're in a crowded marketplace.
Go to: www.IndustryThoughtleaderAcademy.com/DistinguishableMessage
Post a review and share it!
If you learned something by tuning into this podcast, do not hesitate to write a review and share it with your friends. Help us help them grow their business and create positive impact. For more updates and episodes, visit the Ambitious Entrepreneur Show website. You can also subscribe through Apple Podcasts, Google Podcasts, Spotify, Stitcher, Email, RSS and more!
You can also follow us through Facebook. Want to build a scalable business you are passionate about? Join The Influence Alliance – the Business Building Community for Change Makers. Want to launch your own Thought Leader Podcast? Access my 'Are You Ready to Launch Your Podcast' Quiz here, and have a chat with me. Have any questions? You can contact me through these platforms:
To staying ambitious, Annemarie
Podcast (the-christian-entrepreneurs-podcast): Play in new window | Download (Duration: 4:11 — 6.7MB) | Embed
Subscribe: Apple Podcasts | Google Podcasts | Android | Email | RSS