As a leader, whether it be in your own business or in a corporate environment, do you truly value your worth and expertise?
Or, do you tend to second-guess yourself and therefore search endlessly for more information and evidence to shore up your beliefs?
Be honest – I'm sure we can all relate to that.
Joining me today on the show is Dana Rubin.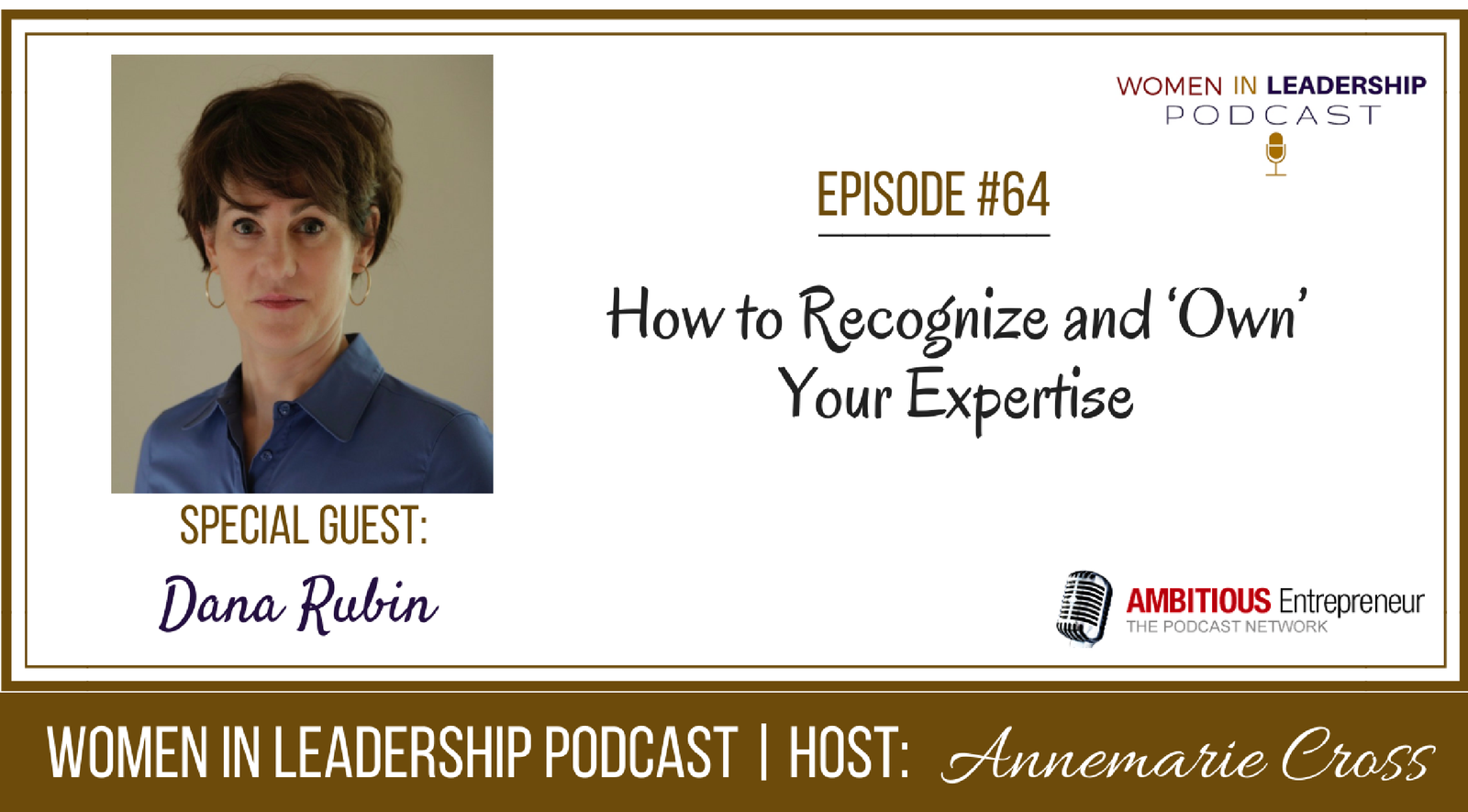 On today's on the show Dana will share:
How to recognise and "own" your expertise;
Nourish your confidence;
How to be strategic.
LISTEN NOW:
Podcast (women-in-leadership): Play in new window | Download (Duration: 30:09 — 28.1MB) | Embed
Subscribe: Apple Podcasts | Google Podcasts | Spotify | Android | Stitcher | Email | RSS
Resources & Links Shared:
Showcase and spotlight your talent, your brilliant women and men. The world's got a lot of problems – we need their expertise and ideas. – Dana Rubin
About Dana Rubin: 
Dana's work is focused on helping organizations and individuals showcase their expertise. Companies and organizations have human talent that can be profoundly powerful – internally and externally. Every time a leader steps up to the dais, authors an op-ed, or an article, leads a Town Hall meeting, that person sends a signal about their organization's brand, assets, and values.
Dana's background is in corporate speech writing, but most of her work today involves training, one-on-one support, and public speaking that helps individuals and companies stand out in the marketplace of ideas.
A Personal Message from Annemarie…
Have you enjoyed listening to this podcast interview and thought how awesome it would be to have your very own podcast, where you get to create your very own platform where you can share your message in a much bigger way so you become known as an influential voice in your industry?
But the thought of having to learn all about podcasting technology and the gismos and gadgets – just seems too hard? And, besides, you're already too busy anyway.
If you're a purpose-driven service-based business owner with a desire to make a difference in the world – I've created a special gift – just for you.
It's my free Mini-Training – Podcasting with Purpose, where I share with you the key things you need to know to stand out, be heard AND Influence your audience from your very first podcast – if you decide that podcasting is the right choice for you.
I'm also giving you my Podcast Production Workflow Checklist where I share what I do step-by-step to create a podcast as well as the tools I use. As well as a checklist of No-Cost and Low-Cost Tools to get you started.
To access my Podcasting with Purpose Mini-Training – go to www.annemariecross.com/minitraining.
YOUR SAY:
What did you think about the message shared today? What action step will you take to turn this around? Go ahead and share. We'd love to hear from you!
Please leave your comment in the box below, and remember to share and Like the show with your colleagues. Also, stop on by our Facebook page to say hello and to give us a shout out on Twitter – we promise to shout back! As always, we appreciate it.