How to Setup, Scale and Sustain Your Business
Joining me today to share his journey is Dr Ross McKenzie.
He helps Entrepreneurs, Startups, Founders, SMB's & SME's to setup, scale and sustain their businesses in this age of the global entrepreneur, so they can focus on dreaming big and making a difference.
This is achieved through Business and Technology Education, Entrepreneur Coaching, Startup Advisory and Global Strategic Outsourcing.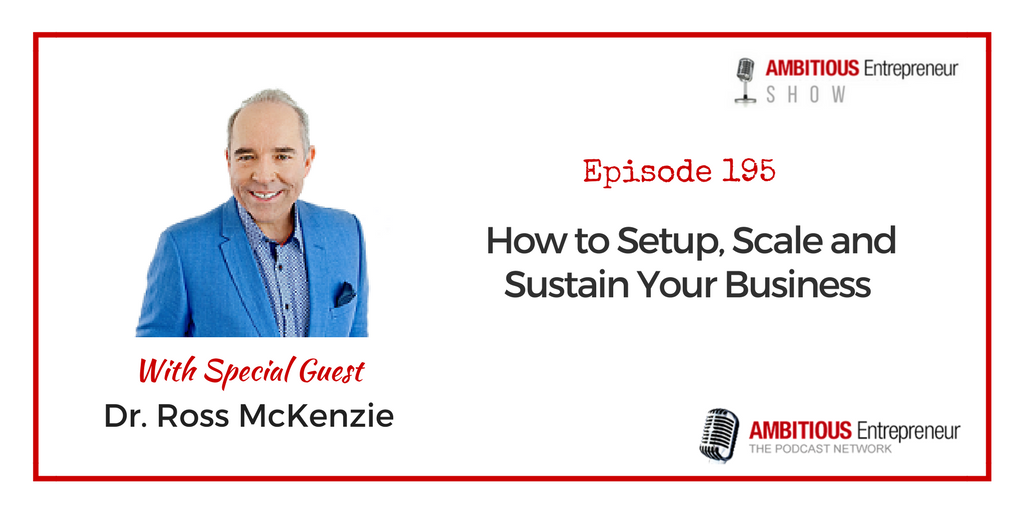 On today's show Ross is going to share:
How to Setup, Scale and Sustain Your Business;
How to set up a business;
How to scale a business;
How to sustain a business.
Today, success is achieved through partnering and collaboration – not going at it alone. — Dr Ross McKenzie
LISTEN NOW:
Podcast: Play in new window | Download (Duration: 32:30 — 30.6MB) | Embed
Subscribe: Apple Podcasts | Google Podcasts | Spotify | Android | Stitcher | Email | RSS | More
Subscribe to the show with iTunes and Stitcher
Do you have a question you'd like me to answer in an upcoming show? Or do you want to share a comment or 'aha' moment?
Leave me your name, business name and comment on either of the contact details below and I'll answer your question or include your comment in an upcoming episode:
(03) 9708 6930 – Within Australia (613) 9708 6930 – International
Enjoy the show!
As always, thank you for being part of our community and listening to this podcast. To ensure you don't miss out on learning about the latest tips and strategies to help you build your successful business, go ahead and subscribe to the podcast by clicking on the link below.
And, while you're there, please leave your rating and review of our podcast show on iTunes. THANK YOU!
Click here to Subscribe & Keep Up To Date via iTunes and leave a review!
About Dr Ross McKenzie 
Dr Ross McKenzie helps Entrepreneurs, Startups, Founders, SMB & SME's To Set Up, Scale & Sustain Their Businesses In This Age Of The Global Entrepreneur, So That They Can Focus On Dreaming Big & Making A Difference.
Contact Dr Ross
YOUR SAY:
What inspired you about the message shared today? What action are you going to take within the next 24 hours?
Go ahead and share. We'd love to hear from you!
Disclosure: Hey, by the way – I'm an Ambassador for Microsoft Surface. [That said, I LOVE my Surface Pro and it goes with me everywhere]. Looking forward to sharing more tech tips to help you boost your productivity in upcoming shows!
#SurfaceLife #Ambassador