How to Ensure Success with Your Content Marketing
Welcome to SMART Connect Podcast episode #2, featuring business experts and industry thought leaders to help YOU effectively navigate a constantly changing and disruptive market place so you can grow your business into an industry-leading brand.
Did you realise that peers are now as credible as experts. In fact, 6 out of 10 people will believe a search engine over a human editor. This is one of the symptoms of what the Edelman Trust Barometer is calling: "the crisis of trust" in 2017 where 2/3 of the world's population have lost trust in government, NGOs, business, and the media.
Eighty Five per cent of people believe that influence and authority are in the hands of the people rather than in institutions.
What would consumers discover from a search engine about your business?
Joining me on today's show is Violeta Balhas.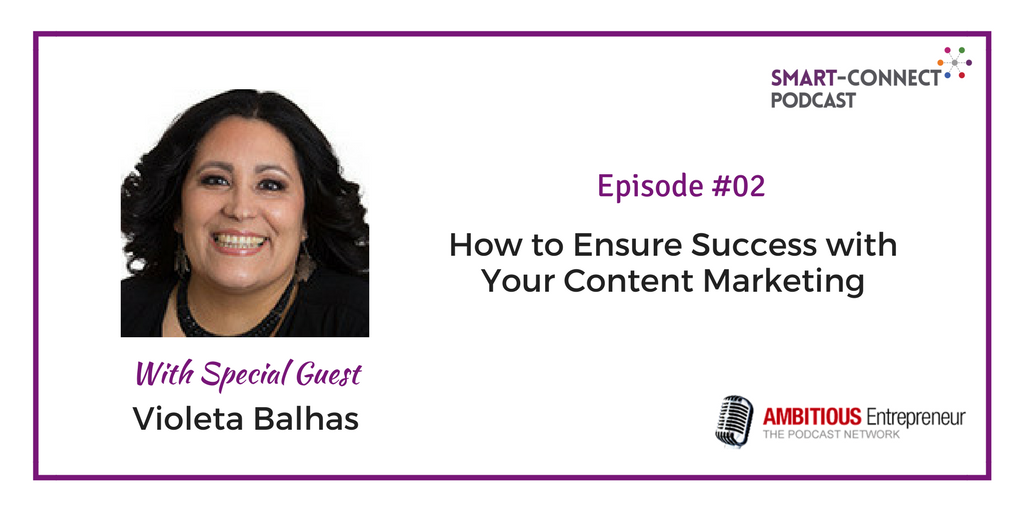 During this interview Violeta shares:
Why content marketing is "the only marketing that's left" – Seth Godin;

The single key to successful content marketing;

Three ways to ensure success with your content marketing. 
Podcast (smart-connect-podcast): Play in new window | Download (Duration: 26:07 — 24.2MB) | Embed
Subscribe: Apple Podcasts | Google Podcasts | Android | Stitcher | Email | RSS
SUBSCRIBE HERE on iTunes and Stitcher
Content Marketing Resources & Links Shared:
Content needs to be consistently good, and good and consistent. — Violeta Balhas
About Violeta Balhas
Violeta is an alchemic communication specialist who has transmuted a love of words into a lifelong career, first as a
writer and journalist, and then as a communication professional, with some teaching, training, and psycholinguistics along the way.
The communications umbrella is vast and she likes to play under all of it, but particularly in external communications, which most often these days means content and marketing communications. She combines hippie sensibilities (communication is connection) with punk execution (sometimes you need to destroy the joint), and always aim for meaningful communications that engage people, drive action, underpin branding, and establish trust and longevity.
Connect With SMART Connect Alliance: