Costly Google Adwords Mistakes and How to Avoid Them
Welcome to SMART Connect Podcast episode #3, featuring business experts and industry thought leaders to help YOU effectively navigate a constantly changing and disruptive market place so you can grow your business into an industry-leading brand.
According to today's guest – 49% of smartphone users say they've tried new brands after seeing them in search results.
Let me ask you a question: if one of your potential customers were searching for your product or service on Google – would they find your business in their search? Or would they find one of your competitors?
Joining me on today's show is Tony Sambell.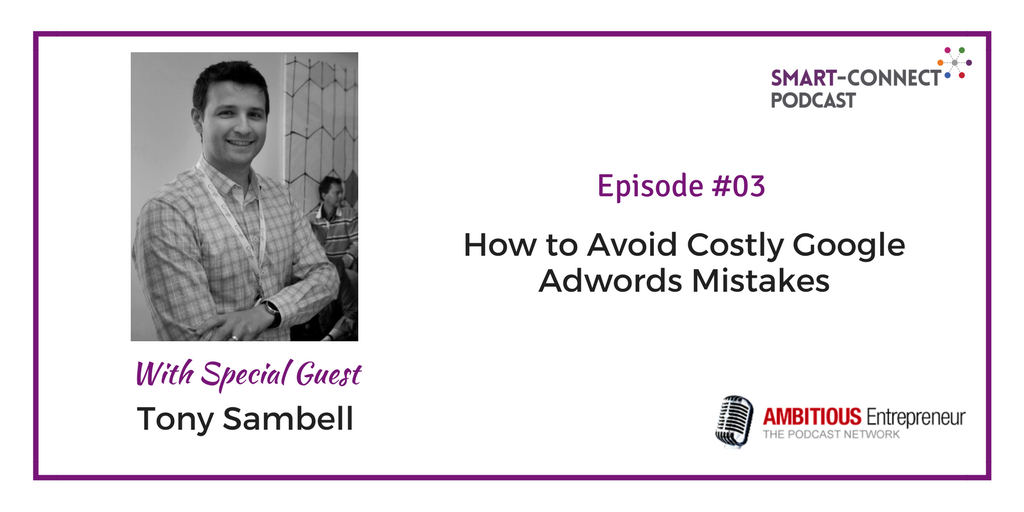 During this interview Tony shares:
How to Avoid Costly Google Adwords Mistakes;
Some basic Google methods which can save you thousands of dollars per month in your Adwords spend;
Is your current Google Adwords agency doing enough? Ways to make sure they are working hard for you;
Who cares about Cost Per Click (CPC) Tony and his team care about Cost Per Lead (CPL) and so should you.
Podcast (smart-connect-podcast): Play in new window | Download (Duration: 28:23 — 26.3MB) | Embed
Subscribe: Apple Podcasts | Google Podcasts | Android | Stitcher | Email | RSS
SUBSCRIBE HERE on iTunes and Stitcher
Content Marketing Resources & Links Shared:
Don't worry about Cost Per Click (CPC). Focus instead on Cost Per Lead (CPL). — Tony Sambell
About Tony Sambell
Tony Sambell is the founder and director of Spicy Web – a Web Design and Google AdWords Premiere
Partner.
Spicy Web is one of Google first Google Partners, and are experts in this field – holding a great relationship with Google.
Connect With SMART Connect Alliance: