There has been an immense rise in freelancers and solopreneurs over the past few years. And most of those freelancers are Millennials with approximately 37% of freelancers being 18-25 and 40% being 26-35.
Not to mention 71% of all freelancers/solopreneurs are women!
Today's guest, Lauren Tharp, fits into all three of those categories: She's a Millennial, a woman, and a freelancer.
Working as a freelance writer, Lauren helps small businesses bring their brands to life through the use of blogging, articles, and other written content. She's also dedicated to helping fellow writers get started as freelancers.
Over the past 3 years, Lauren has helped aspiring writers live the life they've always dreamed of through free e-books, blog posts, and bi-monthly newsletters. Today, she's unveiling her newest service: One-on-one mentoring.
On today's show, Lauren Tharp is going to share:
Why being a "freelancer" and being a "solopreneur" are essentially the same thing—and why this lifestyle is amazingly fulfilling.
Why writers & bloggers no longer have to go it alone when they decide to take the plunge and "go freelance."
The most important element to any freelance business.
Sign up to her bi-monthly newsletter and you'll receive her two free ebooks! That's 204 pages of freelance writing resources, just for signing up!
Further resources you can access:
Enjoy the show!
As always, thank you for being part of our community and listening to this podcast. To ensure you don't miss out on learning about the latest tips and strategies to help you build your successful business, go ahead and subscribe to the podcast by clicking on the link below.
And, while you're there, please leave your rating and review of our podcast show on iTunes. THANK YOU!
Click here to Subscribe & Keep Up To Date via iTunes and leave a review!
More about Lauren Tharp
Lauren is a freelance writer who helps small businesses & entrepreneurs bring their brands to life through the use of blogging, articles, and other written content.
She also helps fellow writers get started as freelancers through weekly blog articles, bi-monthly newsletters, free e-books, and one-on-one mentoring.
Contact Lauren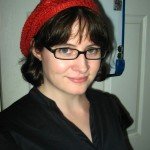 YOUR SAY:
What did you think about the message Lauren shared today? Are you an aspiring freelance writer and dream about starting your own business? What action steps are you going to implement from this day forward?Go ahead and share. We'd love to hear from you!
Please leave your comment in the box below, and remember to share and Like the show with your colleagues. Also, stop on by our Facebook page to say hello and to give us a shout out on Twitter – we promise to shout back! As always, we appreciate it!
Podcast: Play in new window | Download (Duration: 24:12 — 22.2MB) | Embed
Subscribe: Apple Podcasts | Google Podcasts | Spotify | Android | Email | RSS | More