Selling with Ease: How to Effortlessly Convert with the

StoryFLOW

Method
My guest today says: "When you understand how to communicate emotion, then you understand how you can take ANY story and turn it into a sales message." 
Joining me today's show is Holly Williams. 
Holly Williams is a conversion copywriter who helps women entrepreneurs learn how to sell effortlessly using her StoryFLOW Method.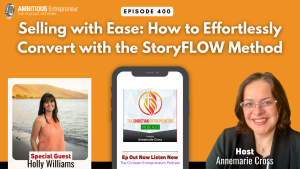 On today's show Holly is going to share: 
That business is something Jesus wants to do WITH us and that daily prayer meetings with Jesus help you build His business, His way. 

How renewing her mind and resting in the promise of Romans 8:1 has allowed her to move forward in business at all times.

Give a live example using the StoryFLOW Method and show how to take ANY story and turn it into a sale email

 
LISTEN NOW:
WATCH NOW:
Jump straight to these golden nuggets:
[00:06:28] Daily business meetings with Jesus; seeking guidance, creativity, and sensitivity in work.
[00:08:44] Lack of trust in Jesus led to pride.
[00:12:40] Opportunities for sharing gospel and building relationships.
[00:16:36] God's sovereignty and obedience to Him.
[00:19:26] Release condemnation and embrace freedom in Christ.
[00:25:29] Difference between condemnation and freedom in Christ.
[00:29:20] Sales is about solving problems through storytelling.
[00:34:09] Inspire action with story of business growth.
[00:37:13] Inspire, tap into emotion, protect your business.
[00:42:55] Prayer for Holly and her business success.
[00:44:26] Free resource for frustrated coaches/consultants seeking visibility.
KEY TOPICS: 
Topic: Connect with God's brilliance
 Importance of daily prayer meetings with Jesus for building his business his way

Renewing the mind and resting in the promise of Romans 8:1 for moving forward in business

Struggling with the decision to work only for Christian people or for companies with aligned values

Opportunities to share the gospel and build deeper relationships through Christian approach

Unique opportunities in the online digital business to pray with people and share faith

Belief in God's sovereignty and that He cannot be stopped in accomplishing His goals

Emphasis on obedience to God's guidance and trust in His provision

Walking away from lucrative clients with conflicting beliefs and values

 Experiences of God redirecting plans and the need to trust Him

Desire to be faithful and responsible with the trust God has given
Topic: Utilizing Emotion to Inspire Action in Sales
The importance of tapping into emotion to inspire action

Example of using a gardening story to elicit frustration and relate it to business challenges

Finding tools and establishing boundaries to overcome obstacles and achieve growth

Offering a course to teach individuals how to implement time and business system boundaries

Promoting course as the seed for a successful business and encouraging action within 24 hours
Topic:  Overcoming Negative Thoughts and Finding Healing
Personal struggles with a messy divorce and feelings of condemnation and negativity

How faith and scripture helped to overcome negative thoughts and find comfort and healing

Business as a tool of discipleship with Jesus, learning to trust Him and see things differently

Encouragement to not let minds condemn and overcoming self-doubt

Importance of daily business meetings with Jesus and establishing the habit

Realization that God wants to be with and work with individuals

Daily prayer meetings as a practice of checking in with God, being sensitive to the Holy Spirit, and seeking guidance
Topic: Overcoming Condemnation and Embracing Freedom
Acknowledging past sins and repentance, but not being weighed down by condemnation and guilt

Difference between feeling free and thankful versus burdened by condemnation

Trusting God's healing process to overcome triggers from past mistakes

Seeing oneself through God's eyes and not letting enemy or self remind of past sins
Topic: The Art and Science of Sales and Storytelling
Disconnect between perception of sales and reality

Sales as finding a problem and solving it through storytelling

 Introduction to Holly Williams' "Flow" method in conversion copywriting

Components of the "Flow" method: Feeling, Learn, Option/Decision Point, and Wow

Importance of storytelling in sales and improving sales pitch

The joy of helping clients convey the right message through conversion copywriting
Highlighted Quotes: 
The Art and Science of Copywriting: "It is sales focused, and it actually relies very heavily on research and data. And then you take that research and data, or what I like to call you, take the conversation that's happening in your client's head or your customer's head, and you turn that into words, marketable words that make them feel, know like and trust you and identify that you're the solution that they've been looking for."
— Holly Williams 00:02:2300: 04:03
Tapping into Divine Creativity: "I want to do something that's never been done before. I want to represent a new idea in a new way. We're tapping into the creativity of the One who made this world and the One who created all things."
— Holly Williams 00:07:4000: 07:53
Trusting the Lord and Operating out of Peace: "Well, what really came to light is how much I didn't trust the Lord Jesus. You can be Lord of every area of my life but this. And I wanted there was something I wanted to prove to myself, like I can do it and all this stuff and just a lot of pride really. And so just spending time with the Lord, I realized I want to trust Him in this area. I want to grow in relationship and know Him as my father who's so good and knows more than I do and he can mentor me in this. And it just took a really different approach. So my mindset has changed a lot more and my willingness to be still. I think when before how I was kind of running my business was there, there was probably a desperation of just like oh, I need to make money or I need to keep a roof over my head. There's a lot of fear fueling some of my business decisions. And now I'm really operating out of peace and trust and the Lord's just taking me on a really exciting journey and into spaces that I would have never seen for myself."
— Holly Williams 00:08:4400: 09:46
Faith and Evangelism in the Business World: "The opportunities that I've had to share the gospel with people because I've shown up, because I've been excellent at what I do, because I bring the Christian approach of like, I actually want to serve you."
— Holly Williams 00:13:0500: 13:15
"Obedience to the Lord has been an adventure. Do I really believe that he will take care of me, provide for me, lead me and guide me, then saying some of those hard yeses."
— Holly Williams 00:17:5600: 18:06
Overcoming Condemnation: "I'm not condemning you like you're condemning you. You're continually beating yourself up, and this is not something I'm doing. I don't flog you like, Jesus took the flogging. Stop beating yourself up with all these negative thoughts."
— Holly Williams 00:21:2100: 21:35
The Power of Scripture in Daily Life: "And it's so interesting, like the scripture that God will give you that week, like the lifter of my head right in psalm two or three two. I think it's so interesting how much happens in the week and you're like, oh, God wants to lift my head in this situation. He's the one who's going to lift me up. I don't have to force this. I don't have to make this happen. Like, God is here with me."
— Holly Williams 00:27:1700: 27:41
Sales: "So the best way to do that, the most natural way to do that, is through storytelling."
— Holly Williams 00:30:0100: 30:05
The Power of Action and Growth: "Just like plants bloom and grow under the right conditions with watering and growth, they need a seed. You need the seed. You need the thing that's going to make it happen. Well, inside my course, it's the seed for your business. All you need to do is water, take the actions of making it grow."
— Holly Williams 00:35:4900: 36:10
Inspiration and Emotion: "So you're taking that emotion and you're inspiring them and saying, you did all this hard work and wow, look at what's happened. You're going to do all this hard work at your business and wow, look what's happened. So when you can tap into the emotion, then you can tell the story and bring them to that decision point."
— Holly Williams 00:37:1300: 37:31
RESOURCES: 
Contact Holly:
About Annemarie Cross:

Dubbed "The Podcasting Queen," Annemarie is recognized as an industry pioneer, launching her first co-hosted podcast in 2008 to be the voice of inspiration and hope amongst the deluge of 'doom and gloom' after the GFC devastated families worldwide.
Over a decade on, she's the author of Industry Thought Leader: How To Go from Invisible to Influential (and Profitable) with a Podcast and continues to be the voice of inspiration to a global audience through her award-winning podcasts.
Annemarie continues to live out her mission of 'Changing the World – ONE Message at a Time', with her own podcasts, as well as by supporting Professional Services Businesses (coaches and consultants) who are experts in their field (yet feel like they're the world's best-kept secret) go from Invisible to Influential (and Profitable) with their own Thought Leader Podcast.
Click here to access Annemarie's Industry Thought Leader Podcast Series to help you go from Invisible to Influential (and Profitable) with a Podcast.
Contact Annemarie: