Why You Shouldn't Discount Your Services – and what to do instead
As a coach, do find yourself offering your client a discount to influence them into investing in your program or package? Or do you cave in and offer a discount when your prospect asks for one? 
If you've answered yes to either one of those situations you're certainly not alone. Annemarie admits this is something she's done in the past, too. However, over the years she's realized this is not the best approach to making a sale while remaining true to her personal values and business growth goals.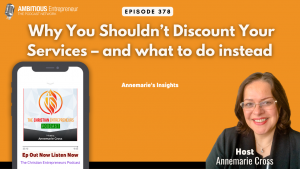 So, in today's episode, Annemarie shares: 
3 Reasons why you shouldn't resource to discounting your services to get a sale

 

3 Strategies that'll have your prospective clients step up gracefully and confidently when investing in your services and packages 

 

Money Mindset tips, and much more 

 
LISTEN NOW

:
About Annemarie Cross:

Dubbed "The Podcasting Queen," Annemarie is recognized as an industry pioneer, launching her first co-hosted podcast in 2008 to be the voice of inspiration and hope amongst the deluge of 'doom and gloom' after the GFC devastated families worldwide.
Over a decade on, she's the author of Industry Thought Leader: How To Go from Invisible to Influential (and Profitable) with a Podcast and continues to be the voice of inspiration to a global audience through her award-winning podcasts.
Annemarie continues to live out her mission of 'Changing the World – ONE Message at a Time', with her own podcasts, as well as by supporting Professional Services Businesses (coaches and consultants) who are experts in their field (yet feel like they're the world's best-kept secret) go from Invisible to Influential (and Profitable) with their own Thought Leader Podcast.
Click here to access Annemarie's Industry Thought Leader Podcast Series to help you go from Invisible to Influential (and Profitable) with a Podcast.
Contact Annemarie: