Recognizing God as our Source
Joining me today's show is Allyson Chavez.
Allyson Chavez is a prosperity & success coach for ambitious, God-centered women.  She teaches women how to get phenomenal results with ease, bend time & space, achieve their goals without hustle or grind, & reshape their reality in feminine energy!  
Allyson believes that challenge is necessary on your success journey–but the struggle isn't! Her mission is to end the struggle and bring joy to the lives of millions of women around the globe.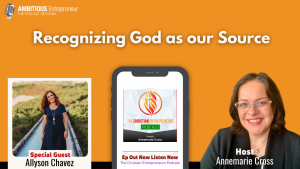 On today's show Allyson is going to share: 
That God wants us to be rich. It's ok to be rich. And God is our Source.

 

God is always waiting and ready to help us. However, there are specific things we have to do to be able to receive His guidance and direction so we can be partners together. He doesn't want to be our butler; He wants to be our partner in creation.

 

That we not only have the ability to make our desires our reality but it's our sacred obligation to follow them.

 

 
 LISTEN NOW:
WATCH NOW:
About Annemarie Cross:
Dubbed "The Podcasting Queen," Annemarie is recognized as an industry pioneer, launching her first co-hosted podcast in 2008 to be the voice of inspiration and hope amongst the deluge of 'doom and gloom' after the GFC devastated families worldwide.
Over a decade on, she's the author of Industry Thought Leader: How To Go from Invisible to Influential (and Profitable) with a Podcast and continues to be the voice of inspiration to a global audience through her award-winning podcasts.
Annemarie continues to live out her mission of 'Changing the World – ONE Message at a Time', with her own podcasts, as well as by supporting Professional Services Businesses (coaches and consultants) who are experts in their field (yet feel like they're the world's best-kept secret) go from Invisible to Influential (and Profitable) with their own Thought Leader Podcast.
Click here to access Annemarie's Industry Thought Leader Podcast Series to help you go from Invisible to Influential (and Profitable) with a Podcast.
Contact Annemarie:
Want to start your own podcast so you can become an influential voice in your industry – but don't know where to start? Access our free Minitraining by clicking here.