2020: How to Navigate Uncertainty and Lockdowns
Welcome to another episode of The Christian Entrepreneurs Podcast.
What an interesting year 2020 has been.
Annemarie shares how she has been navigating uncertainty and lockdowns as her State (Melbourne) has just come out of a lockdown and the tightest restrictions they've ever experienced.
While we don't know what the future holds – we DO know who holds our future.
She hopes you'll find insights and blessings from the personal reflection she shares on today's show.
LISTEN NOW:
Podcast (the-christian-entrepreneurs-podcast): Play in new window | Download (Duration: 31:04 — 43.2MB) | Embed
Subscribe: Apple Podcasts | Google Podcasts | Android | Email | RSS
About Annemarie Cross: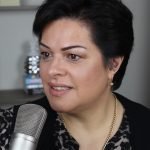 Dubbed "The Podcasting Queen," Annemarie is recognized as an industry pioneer, launching her first co-hosted podcast in 2008 to be the voice of inspiration and hope amongst the deluge of 'doom and gloom' after the GFC devastated families worldwide.
Over a decade on, she's the author of: Industry Thought Leader: How To Go from Invisible to Influential (and Profitable) with a Podcast and continues to be the voice of inspiration to a global audience through her award-winning podcasts.
Annemarie continues to live out her mission of 'Changing the World – ONE Message at a Time', with her own podcasts, as well as by supporting Professional Services Businesses (coaches and consultants) who are experts in their field (yet feel like they're the world's best kept secret) go from Invisible to Influential (and Profitable) with their own Thought Leader Podcast.
Click here to access Annemarie's Industry Thought Leader Podcast Series to help you go from Invisible to Influential (and Profitable) with a Podcast.
Contact Annemarie:
Want to start your own podcast so you can become an influential voice in your industry – but don't know where to start? Access our free Minitraining by clicking here.