Topic: It's how we let our crosses mould us that matters
Today's guest says "It's how we let our crosses mould us that matters."
Joining me today is Tasha Whitt.
Tasha is a wife and stay-at-home mom. She has a degree in special education and a huge heart for kids, especially children who just need love.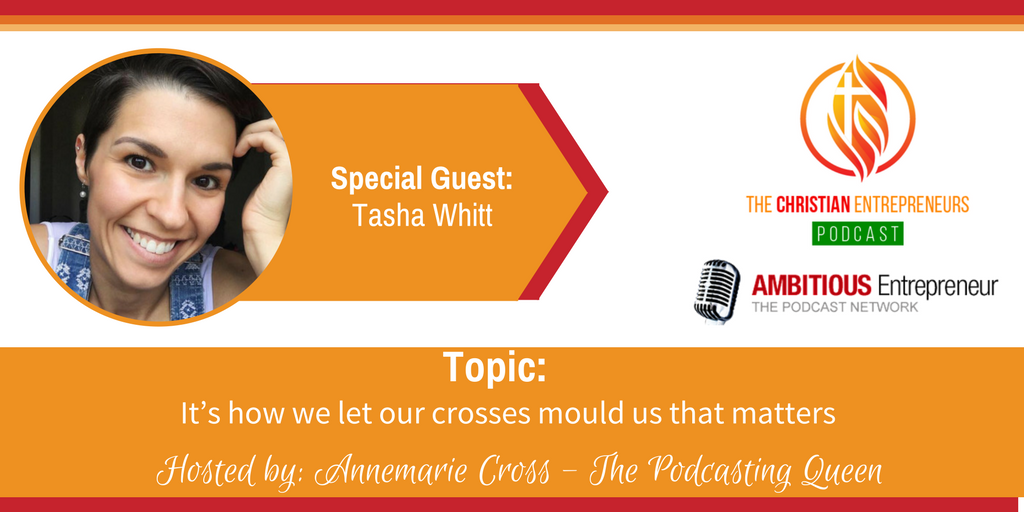 She never really had a desire to be an entrepreneur until she was introduced to network marketing, which she did for some time until realizing that she was hiding behind it and that God had different plans for her. Tasha recently stepped down from network marketing and with God's help, she is navigating the path that He is leading her down.
She is a writer and loves sharing her message through live videos. Tasha's hope in sharing is that she nudges women to step out in courage and be the chosen light that God is calling them to be.
On today's show Tasha is going to share:
Due to my battle with infertility, I learned to accept that I'm not in control at all and that I just have to trust God's plan.
I have let go of perfection after joining a network marketing company (that I'm no longer with). I also realize how much I confused roles and put a ton of pressure on myself to do an unrealistic amount of work each day.
I discovered that I was hiding behind network marketing because I was afraid to step out on my own, but I'm not alone. God is there navigating and nudging me as I move forward.
LISTEN NOW:
Podcast (the-christian-entrepreneurs-podcast): Play in new window | Download (Duration: 30:29 — 28.5MB) | Embed
Subscribe: Apple Podcasts | Google Podcasts | Android | Email | RSS
About Tasha Whitt:
Contact:
Want to start your own podcast – but don't know where to start? Access our free Minitraining: